Volunteering at Our Hospitals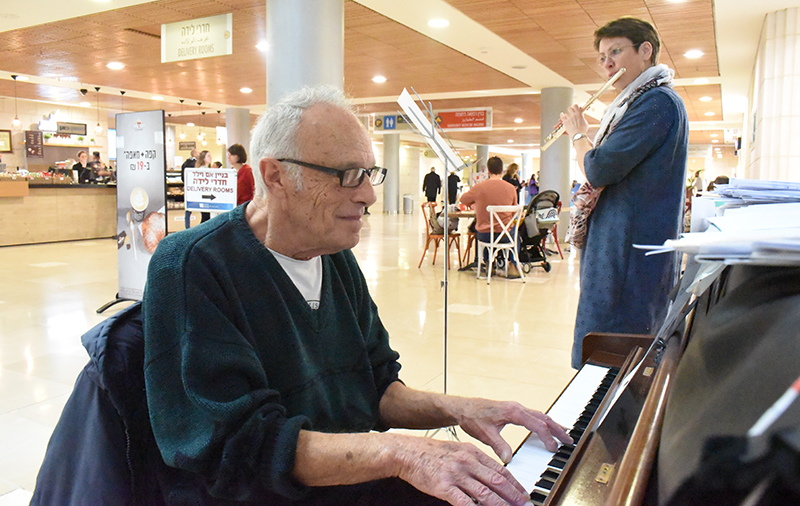 Late last summer, Shuki Rock made global headlines, appearing on CNN and the BBC as well as in Israel's Maariv newspaper for his work as a Hadassah volunteer. The 43-year-old product manager for a high-tech company was among the first recovered Covid-19 patients to donate his time to help in the coronavirus wards at the Hadassah Medical Organization in Jerusalem.
"The moment I heard about the program, I knew it was for me," said Rock, who lives in Modi'in with his wife and their four daughters. Rock ended up serving as one of more than 40 antibody volunteers, as they were called. "I'd been really ill with Covid and knew the importance of having someone with you when you're isolated and afraid, talking to you, bringing a drink and holding your hand."
Hadassah's antibody volunteers made world news, but they were far from the hospitals' only volunteers, nor even their first. Volunteering is integral to HMO's ethos. It was there that the national hospital organization Ya'al (an acronym for Yad Ezer LaHola, Supporting the Sick) was launched in 1954. The organization no longer works out of HMO as its function has been subsumed by Hadassah's Volunteer Department. Nevertheless, Ya'al remains active in 27 other hospitals nationwide, fielding some 7,000 volunteers.
Today, the hundreds of volunteers at HMO, from young men and women in Sherut Leumi (National Service) to retirees, are coordinated by the Volunteer Department, headed for the past eight years by social worker Talia Hirschman. The volunteers, she said, are of multiple faiths and ethnicities, and they work from two to 20 hours a week.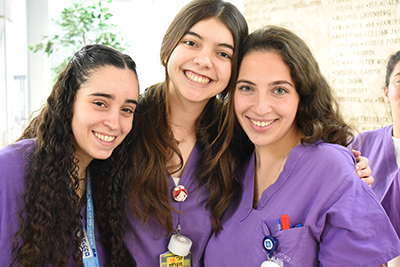 Most departments and units at the Ein Kerem and Mount Scopus campuses have volunteers, as do clinics, offices and even the hospital kitchens. The delivery rooms, maternity wards and pediatrics and oncology departments are among the most requested. Hirschman tries to accommodate requests, and, she explained, she assigns volunteers "according to medical center needs and their skills and choices." The Volunteer Department also places Hadassah members who want to donate several months of their time to the hospital.
Leah Fraiman has been volunteering in maternity at Hadassah Hospital Ein Kerem for the past four years. "I know about children and about C-sections—I've had five of each!" said the 67-year-old haredi mother and grandmother.
Sporting a special purple jacket—purple, whether on scrubs, jackets or other clothing, identifies the volunteers—on her three days a week at the hospital, she reassures new mothers, brings drinks and helps fill out paperwork. Fraiman said that she sees her role as "another pair of hands, which I try to make the best hands possible, whether helping a couple welcome their new baby or trying to comfort those who have lost their child."
British-born Jackie Landau, 71, volunteers at Hadassah's Michaelson Institute for the Rehabilitation of Vision (also called the Pediatric Low Vision Clinic), advising parents on how to help their low-sighted or blind children develop socially and intellectually. A rehabilitation teacher for blind children for almost half a century, she came to Hadassah after retiring six years ago. Widowed within months of her retirement, volunteering at Hadassah became her lifeline. "I was at a loss," she recalled. "Then I thought of volunteering. It's wonderful being able to contribute the experience and expertise of decades."
With Israel's medical facilities chronically understaffed (the country is below the Organisation for Economic Co-operation and Development average in its per capita doctors and nurses), Hadassah relies heavily on volunteers. The pandemic exacerbated the problem as many older and overseas volunteers understandably stayed home. "Our typically 650-strong volunteer corps shrank to 450," said Hirschman. "We had to get out there and recruit."
Antibody volunteers like Shuki Rock and Avraham Zeivald are among those who answered the call. "I was really sick with Covid a year ago," said Zeivald, a 60-year-old haredi rabbi. "At one point, I didn't think I'd live through the night. I prayed: 'Let me survive and I'll help others.' "
These volunteers made a significant difference in the Covid wards, said Rely Alon, deputy director of the Department of Nursing and Health Professions. The staff saw improved breathing and steadier pulses among many patients comforted by the volunteers, she said. The wards, located at the Ein Kerem campus, were closed in late April. Since then, Zeivald has volunteered in the emergency room.
While it was the pandemic that spurred Zeivald to volunteer, the impetus for Lawrence Levene and Karin Goldberg was Irving Berlin, The Beatles and Andrew Lloyd Webber. Three years ago, as a recent retiree after a long career in biochemistry, British-born Levene, 78, had been visiting a colleague in one of the Hadassah laboratories when he noticed a piano in the soaring atrium of the Sarah Wetsman Davidson Hospital Tower. "I love playing, so I asked at the Volunteer Department—and became a volunteer pianist."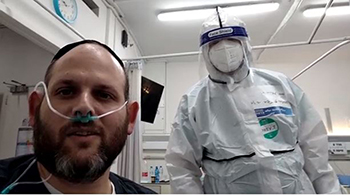 When he started, "I didn't know if it would make any difference, but people stop to listen." Some even sing along, said Levene. "My biggest audience was when a nurse with a truly beautiful voice asked to sing 'Autumn Leaves' "—a jazz standard popular in the United States in the 1950s—"with me accompanying."
About a year after Levene began playing in the lobby, Danish-born Karin Goldberg found herself at Hadassah daily for her critically ill son. "I passed a man playing piano," recalled 53-year-old Goldberg, who plays several instruments. "I thought: 'I want to do this, too, as a thank you to Hadassah.' I plucked up the courage and asked the man—who was, of course, Lawrence—whether I may join him. We found four songs we both knew and played them, Lawrence on piano, me on flute." The two have been performing live concerts in the lobby once a week ever since, except during the pandemic. Meeting weekly to rehearse, the duo has developed a repertoire of over 200 pieces, from show tunes and pop to Israeli folk songs and classical music.
While the lobby concerts began as a volunteer initiative, others are born in response to specific needs. In one project, for example, Sherut Leumi volunteers are assigned to information desks to guide patients and visitors through the often labyrinthine hospital hallways.
This year, Sherut Leumi recruits are being coordinated by Moriya Ben Shitrit, an 18-year-old from Ra'anana and one of more than 18,000 Israelis between 18 and 20 to choose Sherut Leumi instead of serving in the Israel Defense Forces. "I'm good at organizing," Ben Shitrit said of the information desk initiative, "and it makes a huge difference to stressed people trying to get to where they should be."
Sherut Leumi volunteers have worked at Hadassah's campuses since 1988. This year, they number 165, up from 90 seven years ago. Most are religious Jewish women, but there are also 20 Israeli Arab men and women. Hadassah provides transportation to those who live in Arab neighborhoods in East Jerusalem like Shuafat and Beit Hanina and even basic ulpan for those whose Hebrew is poor.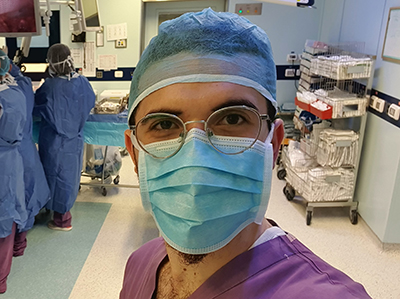 Mustapha Shehadeh, an Israeli Arab, is one of two current Sherut Leumi volunteers at Hadassah from Shuafat. Since he began last September, he has received unsolicited feedback from members of his community. "Some say: 'Sherut Leumi is like serving in the IDF!' " he reported. "I told them, 'I don't have a weapon, I'm not a soldier. My dream is to be a doctor.' High school didn't prepare me for that, so I'm at Hadassah."
Shehadeh, 20, volunteers in the general intensive care unit, where he helps nurses fill out forms and comforts families waiting for news about loved ones. "I watch how the team carries out their responsibilities and try to learn from them. When there's time, the doctors answer my questions, explaining scans to me. I work 8 till 4 every day, and then go home to study into the night for my exams to get into medical school."
Watching these young volunteers learn and grow has been an honor, said Hirschman. "It is my great privilege not only to be in this job, but also to work with the people it attracts, people from every part of Israeli society who are here to give without tangible reward."
---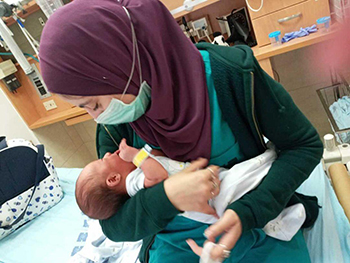 HMO Snapshot: A Volunteer Project Gives Viewers a Glimpse of Life at Hadassah
Among the earliest posts on the @inside_hadassah_hospital Instagram feed was a video of nurses doing Pilates in the main lobby of Hadassah Hospital Ein Kerem. Another post showed a gurney being pushed through operating room doors, and a third featured a candid shot of a midwife cradling a newborn. Increasingly, there are images of selfies and groups (the last day of medical school, the in vitro fertilization team, mass casualty training) and short videos of medical staff dancing or having fun. In the past year, the feed focused on Covid images—figures clad in personal protective equipment dubbed "ghosts of the corona unit" and hospital staff getting vaccinated.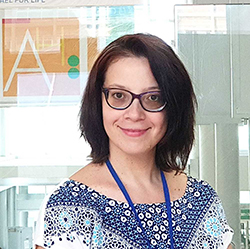 "I show what I see every day, snapshots of life at Hadassah," said Luba Shenkman, who set up Inside Hadassah Hospital in 2016 as a volunteer project. "My idea was that you needn't be a bigshot to be appreciated. Everyone's contribution counts. I chose Instagram because what I share is visual."
Shenkman is an administrator in Hadassah's IVF unit, where she coordinates egg donation. Her background is in marketing and linguistics, which she studied both in Russia, where she was born in 1981, and at the Hebrew University of Jerusalem after she moved to Israel in 2004.
The page got a significant boost during the pandemic. "Hospital staff were on the frontlines, working under enormous pressure," she said. "They needed something positive and light-hearted to click onto."
---
Wendy Elliman is a British-born science writer who has lived in Israel for more than four decades.