Yiddish Is Thriving in the Virtual World
The news sparked thousands of likes across social media: Duolingo, the popular language-learning app, was adding Yiddish to its lineup.
By the time Ben Kaplan, director of education at the New York-based YIVO Institute for Jewish Research, checked out Duolingo's Yiddish app a few weeks after its April launch, there were 217,000 users. Kaplan wasn't surprised: Yiddish language enrollment is up an unprecedented 450 percent over 2020 at YIVO, where the number of spring classes, this year held online, sextupled to more than 20. YIVO's vaunted Yiddish summer program, held annually since 1968, went online for the first time last year with the largest cohort in history, drawing 100 students from 26 states and 14 countries.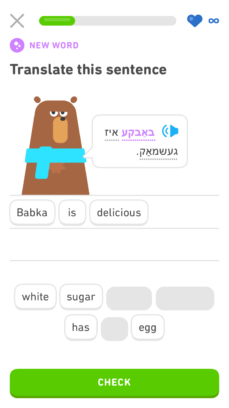 At Duolingo, YIVO and beyond, a recent flowering of Yiddish culture has coincided with the pandemic explosion in online learning—specifically, of foreign languages.
"It's a confluence of people being more comfortable with online learning, working from home and having flexible schedules that free up time," Kaplan noted. Once YIVO's in-person classes transitioned to Zoom last spring, aspiring Yiddish learners finally had access to education that, for many, had been geographically out of reach. "This vibrant online community has formed around Yiddish and the shared experience of the pandemic," said Kaplan, who envisions a future mix of online and in-person classes at YIVO.
Interest in Yiddish—not just the language of a thousand-year European diaspora, but also its rich heritage of literature, theater and music—has boomed among younger Jews over the past decade. Yale University recently announced a Yiddish program that will fulfill its language requirement. The Workers Circle, the century-old progressive Jewish organization, has a robust online Yiddish program. And the nonprofit Yiddishkayt Initiative is offering Yiddish Fun-01, a six-week online conversational course.
But with 300 million worldwide users, Duolingo is responsible for vaulting Yiddish into the language-learning mainstream. At a recent forum sponsored by The Forward, Yiddish experts who consulted on the app discussed the challenge of standardizing grammar and reconciling various dialects (the pronunciation used in contemporary Hasidic communities prevailed, but learners can turn off the audio to learn the language minus any accent).
In this very debate over a language that, against all odds, is thriving 75 years after most of its speakers died in the Holocaust, Kaplan sees "the resilience of the global Yiddish community. In times of crisis, we continue to flourish."