A Beginner's Guide to America
A Beginner's Guide to America: For the Immigrant and the Curious
By Roya Hakakian (Knopf)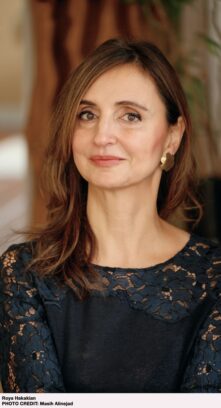 Roya Hakakian brings a fresh, provocative and poignant voice to the immigrant experience in America. Part memoir, part reportage and part work of imagination, as she herself notes in her introduction, her guide is both the story of her own life and an attempt at universalizing the experience of coming to America.
Hakakian, a Jewish writer, journalist and poet who fled the fundamentalist regime in Iran with her mother in 1984 and obtained political asylum in the United States, succeeds in that goal admirably. Framed as a guidebook to the newly arrived, her use of the second-person voice adds immediacy and intimacy for one part of her audience—the immigrant. "No one cares much about what you do as long as you do not harm anyone," she advises in A Beginner's Guide to America. "Bask in the calm of this refreshing indifference."
Both immigrants and non-immigrants, however, will be entertained and enlightened as they follow Hakakian through common experiences of transition and the decoding of new realities—enrolling in ESL classes and learning English from soap operas, among them. There's also the obsession with variety, reflected in enough cereal boxes in the supermarket "to declare a republic of cereal," Hakakian writes.
Going for job counseling is in a class of its own. "What jobs would you list under employment?" she asks rhetorically. "Prisoner? Peddler? Dissident? Persistent Green Card Applicant? The suffering you endured falls under no 'skill,' 'experience' or 'education.' "
Ultimately, America, with its devotion to the "irrepressible self" and to its founding principles, emerges as the hero of the drama. Hakakian doesn't shy away from ugly and inexplicable realities—mass shootings and anti-immigrant hostilities—but she tells readers to keep the history of bigotry in perspective. Her lyrical and authentic voice veers from tongue-in-cheek to bitter, sad to furious, stirring to brokenhearted as she moves from discussions of human rights to civic responsibility, lessons on shopping to discussions about relationships, including a section on the "vices and virtues of American lovers." Despite the likes of Benjamin Franklin and Samuel Gompers, who wrote that certain immigrants were unfit for America, the mix of immigrants is the secret to America's success, "a covenant in red, white and blue," she writes.
"Don't undo who you are. Don't subtract from who you are, add to it," Hakakian exhorts readers. "Fight for your place!"
---
Rahel Musleah leads "NamaStay at Home," virtual tours of Jewish India and other cultural events (explorejewishindia.com).