Jewish Women Fight Period Poverty
In a college lecture hall, a woman turns to her female neighbor and whispers, "Do you have…you know…a tampon?" When the helpful friend reaches into her purse, the first woman is aghast. "Not here! Someone will see!" she exclaims. The exchange is from a 2019 Saturday Night Live sketch, which Anita Diamant describes in her new book, Period. End of Sentence. The scene is a spoof commercial for Tampax Secrets, an imaginary product that hides tampons inside other things considered less awkward to reveal in public. These things, according to the skit, include "a dead mouse, dog poop, a brick of cocaine and a copy of Mein Kampf."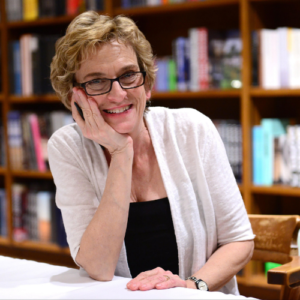 "It's funny because it's true," Diamant said in an interview with Hadassah Magazine. Behind the humor is the nearly universal taboo against exposing a healthy reproductive function that is experienced by half the world's population: menstruation. "We were raised to be squeamish," she added. "We were raised not to say anything about this, to whisper." Diamant is not whispering now. Blending history, journalism and cultural criticism with personal stories gathered from around the world, Period. End of Sentence. has been hailed as a rallying cry for the social and political efforts known as the menstrual justice movement.
From United Nations panels to high school groups, from rabbis to lawmakers, the topic of menstruation is calling people—including Jewish women—into action. In addition to destigmatizing menstruation, they are focusing on the issue of "period poverty," the lack of access to menstrual care products like pads and tampons as well as hygiene and reproductive education, which impacts millions of people globally. The problem is widespread, affecting both developing areas of the world and Western countries, including the United States.
In Kenya, for example, girls unable to afford menstrual products miss school when they are menstruating or drop out entirely, according to the United Nations Educational, Scientific and Cultural Organization.
Research on period poverty across the United States is scarce. A study published in 2019 by St. Louis University found that many low-income women in that city must choose between buying a box of tampons or food. A national study from George Mason University in 2021 found that one in 10 female college students experienced chronic period poverty. Federal benefits, like the Supplemental Nutrition Assistance Program (SNAP), do not cover menstrual supplies, and they are rarely available at homeless or domestic abuse shelters, prisons or schools.
In recent years, the period underwear company Thinx joined with PERIOD, a menstrual justice nonprofit, to commission research among American teenagers. Their studies in 2019 and 2021 found that one in five teenage girls could not afford menstrual care products and one in four had missed class because of lack of access to products at school. Over 60 percent of those surveyed said these barriers had caused them to wear tampons or pads longer than recommended, putting themselves at risk for infection and Toxic Shock Syndrome.
Everyone who's had a period "has a memory of being in school and being caught without something, stuffing your underwear with toilet paper and then trying to go take a test," said Diamant, who is perhaps best known for her novel The Red Tent. "When you've had that experience and you read about young people, girls and women who really have absolutely nothing, or don't know what's going on, I think it's visceral. It's a wake-up call."
Diamant's best-selling novel, published in 1997, is a retelling of the biblical story of Dinah, daughter of Jacob, that imagined a community where menstruation takes place in a female sanctuary of comfort, respect and sisterhood—the titular red tent. The fictional story resonated so deeply with the real-world struggles of menstruators that readers still tell Diamant they long for a tent of their own.
Central to Period. End of Sentence. and the menstrual justice movement itself is the issue of shame and the portrayal of periods as dirty, embarrassing, even a "curse." Rooted in centuries of myth and misogyny, that message often can be cruel and absurd. Period. End of Sentence. mentions the principal of an unnamed American middle school who, in 2019, refused to provide free tampons because students would "abuse the privilege." In an example of period-positive chutzpah, the kids staged a "cookie protest," baking tampon-shaped treats complete with red frosting and a string. After photos of the cookies gained attention on Twitter, the principal apparently relented. But often, stigma is only noticeable as an absence, the silence and invisibility around menstruation that persist despite decades of feminist progress.
---
Anita Diamant Live:
From 'The Red Tent' to Menstrual Activism
Tuesday, September 14 at 7 p.m. ET
Join us for the next Hadassah Magazine Discussion Group on , when Hadassah Magazine Executive Editor Lisa Hostein will interview best-selling author and journalist Anita Diamant, whose most recent book, Period. End of Sentence., explores the cultural taboos and perceived shame surrounding menstruation—and champions an emerging generation of activists advocating for solutions. Free and open to all.
---
Rabbi Elyse Goldstein, an activist as well as the spiritual leader of The City Shul in Toronto, has been a prominent voice for reclaiming menstruation from its stigmatized history. Unable to find a blessing for menstruation in any Jewish source, Goldstein, a Reform rabbi, wrote one. She altered one of the morning blessings for men, which thanks God, "who has not made me a woman." Instead, Goldstein suggested, "Blessed are You, Adonai, our God…who has made me a woman," to be said upon menstruating for the first time or even every month. Goldstein said she uses the blessing to counteract what she calls "the negative implications of Judaism and women's bodies," such as the traditional Jewish laws of family purity, which forbid physical contact between a menstruating woman and her husband until she immerses in a mikveh.
"A lot of people think the mikveh is because women are dirty, so they have to go get clean," said Goldstein. "I thought if we had some positive rituals around this, it would negate that and also make the mikveh a more positive experience."
Goldstein describes menstruation as "a monthly time of power where we are most spiritually connected with our ability to be life-givers and life-continuers." Both Goldstein and Diamant are involved in the "open mikveh" movement, a decades-old effort to reimagine the mikveh as an inclusive space for Jewish spirituality, to celebrate life-cycle events and to heal from trauma.
Period. End of Sentence. draws its title from the 2019 Academy Award-winning documentary that explores how a group of women in rural India fight deeply rooted menstruation stigma and, after the installation of a pad-making machine in their village, began making and marketing the pads themselves. The film's producer, Melissa Berton, said that while she cherishes her Judaism and connects her activism to tikkun olam, traditional Jewish attitudes toward menstruation complicate things for her. "It's hurtful to read that, according to Leviticus, there's something about you that is unsanctified at the time of menstruation or gross or shameful," she said, referencing the verses in the Bible that describe a woman who is menstruating as t'meiah, often translated as ritually unclean. "On the other hand, I feel a cultural acceptance and sisterhood with Jewish women that made it very open for me to be who I am."
A high school teacher in Los Angeles, Calif., Berton learned about period poverty when she attended the 2013 Commission on the Status of Women at the United Nations with a group of students. Compelled to take action, she began a school project to send the pad machine to India. The result for Berton was a six-year journey leading to the documentary and the creation of the nonprofit The Pad Project, where she is executive director.
"A period should end a sentence, not a girl's education," Berton announced to an Academy Award audience of nearly 27 million viewers, referring to the brutal reality for girls in parts of India, Africa, some South Asian nations and elsewhere. But Berton hopes Americans realize that period poverty is not a remote issue. "Two days after the Oscar win," she said, "a person from Los Angeles wrote to us saying, 'Please, can you help me? I have to stuff my underwear with socks or I can't make it through the school day.' "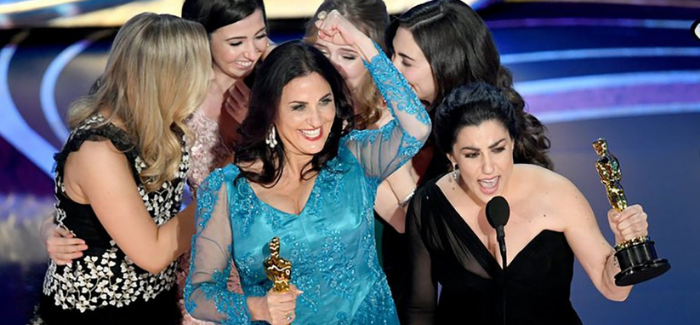 As well as distributing pad machines and menstrual products in 11 countries, The Pad Project awards grants to schools, shelters, halfway homes and nonprofits in the United States to purchase menstrual supplies and host educational workshops.
Eliminating sales tax on menstrual products, known as the "tampon tax," is one of the movement's major goals beyond supplying products to those in need and fighting taboos. Since the tax only applies to those who menstruate, advocates argue, it is a form of discrimination and therefore unconstitutional. Sales tax is governed at the state level, and while the Tax Free. Period. campaign has made significant progress, 27 states still do not classify pads and tampons as "necessities," which are tax exempt. In financial terms, the dollar amount seems small, but it puts these products further out of reach for those on a limited income. And the tax can be seen as even more discriminatory when compared with other tax-free "essentials" like Viagra in Wisconsin (a state that taxes menstrual products).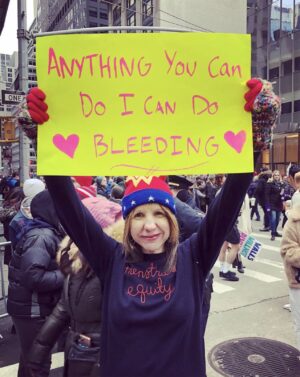 Lawyer and policy advocate Jennifer Weiss-Wolf of Maplewood, N.J., is one of the driving forces behind eliminating the tampon tax. After learning about period poverty through a product donation drive at her synagogue, Temple Sharey Tefilo-Israel, in 2015, Weiss-Wolf co-founded the legal advocacy organization Period Equity, which focuses on improving access to and safety of menstrual products as well as fighting the tax. An executive and fellow at New York University School of Law's Brennan Center for Justice, Weiss-Wolf believes the state-by-state campaign is strategically crucial. It has produced concrete legislation around menstruation issues with bipartisan support. Indeed, Weiss-Wolf has found common ground working with Republican lawmakers on menstrual equity, such as Steve Andersson, member of the Illinois House of Representatives from 2015 to 2019. Illinois became one of the first states to eliminate the tampon tax in 2016 and later passed legislation requiring public schools to provide free menstrual products.
Weiss-Wolf outlined her approach in her 2017 book, Periods Gone Public, explaining that the menstrual justice movement needs both community-level action to provide free menstrual products at schools and other spaces as well as a big-picture agenda, which is a more equitable society overall. "One of the most amazing things about this issue," said Weiss-Wolf, "is that it's a microcosm of how to view any path to justice."
With the extra financial strain of the pandemic, the impact of period poverty has only increased. The menstrual justice movement is striving to meet the growing need through nonprofits and donation drives across the country. In just over two years, the Hartford, Conn.,-based nonprofit Dignity Grows has transformed from a one-time event by the Jewish Federation of Greater Hartford into a national organization with dozens of chapters. Founder Jessica Zachs says her ultimate goal is to eradicate the problem and be able "to close up shop." She does not predict that will happen soon.
Meanwhile, in South Carolina, the Charleston chapter of the Hadassah Southeastern region has partnered with The Homeless Period Project nonprofit to collect tampons, pads and other supplies and assemble them into packets for schools, shelters and food banks. The first "period party" event in 2020 was such a success that the Charleston chapter president, Sharon Hox, organized a second one in March 2021, using drop-off locations for safety during Covid, and has plans for two more.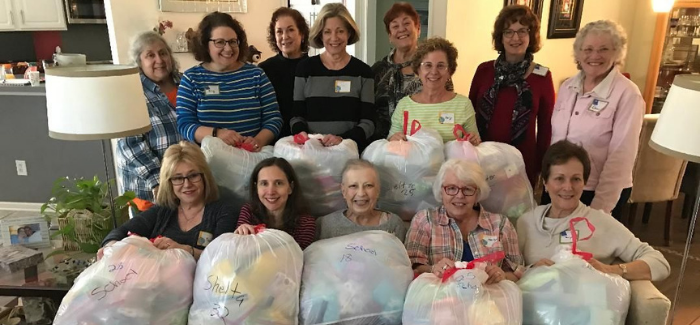 As a Jewish woman, Hox said that she feels a special connection to the issue. "It's about succoring people, the old-fashioned value to provide comfort," she said. "And also women's equality—you're not equal if you're stuck at home because you don't have sanitary products."
---
Sarah Yahr Tucker is a freelance writer and journalist based in Los Angeles.