Meet Willow Zimmerman: 'Super' Jew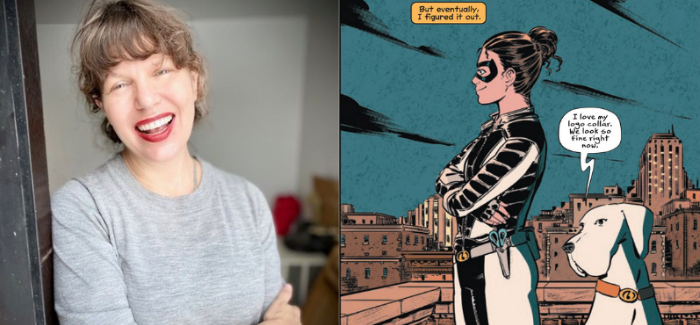 DC Comics, forever associated with Jewish comic book legends Jerry Siegel and Joe Shuster and their brainchild, Superman, is set to debut its newest female Jewish superhero with the publication of E. Lockhart's first graphic novel, Whistle: A New Gotham City Hero, in September. Lockhart modeled her teenage crime-fighting character, Willow Zimmerman, on the young women she knows from her own Brooklyn neighborhood.
"They're so much more socially aware than I was growing up. I'm impressed by their passion," reflected Lockhart. Her heroine, 16-year-old Willow, is a budding social activist frustrated by an inability to effect real change. When a villain menaces local community centers, Willow acquires a canine sidekick—Lebowitz, named for Lockhart's real-life New York hero, writer Fran Lebowitz—and transforms into a superhero with the power to communicate with dogs and whistle for them to come to her even from blocks away.
But Whistle isn't merely a story of good versus evil: Lockhart called it "a fun romp," incorporating a love story, family drama and other relatable teen issues. Lockhart, who wrote her English Ph.D. dissertation at Columbia University on the interplay of pictures and text, said that comics and graphic novels now tell complex stories that reflect American diversity. Indeed, Marvel Comics debuted its first Muslim superhero, Ms. Marvel, in 2013.
Lockhart's 12th young adult book was a departure for the novelist, who has won multiple awards, including from Goodreads and the American Library Association. Past hits include We Were Liars, a thriller that has spent seven years on The New York Times best-seller list. Whistle also breaks new ground for DC Comics, the 87-year-old company that counts Wonder Woman among its stable of heroes.
Lockhart, who is Jewish herself, pointed out that while other DC characters have been Jewish, the most popular one, Harley Quinn, "is still a villain."
For Jewish girls, the character of Willow is a chance to see themselves positively in a format long known for exaggerated muscles and bosoms. Lockhart's heroine is short, with "big curly hair and prominent features, elements people often associate with Jewish beauty," the author said, referring to Manuel Preitano's illustrations.
"That kind of representation is a powerful thing."