This Queer Black Rabbi Plays by Her Own Tunes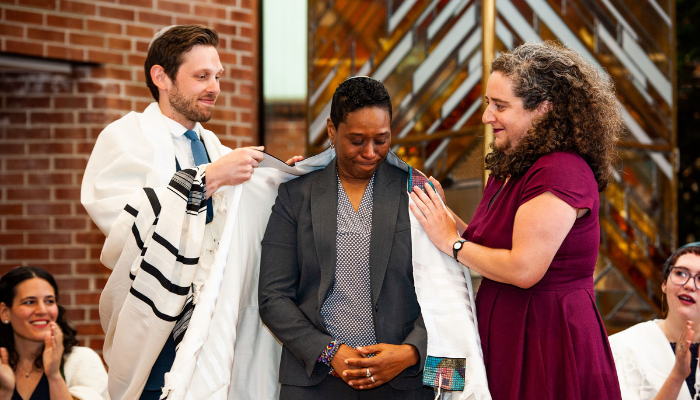 For Sandra Lawson, one of the hardest things about becoming a rabbi was learning Hebrew in her 40s. At the Reconstructionist Rabbinical College, where she was ordained in 2018, Lawson struggled with the new language until one day, she picked up a guitar and put the alephs and bets to music. "And that's how I learned Hebrew," Lawson said with a chuckle.
It's just one example of how Lawson, 51, does Judaism her own way. In the process, she has become an increasingly visible and influential advocate and spokesperson for American Jews of Color. Earlier this year, Lawson became the first director of Racial Diversity, Equity and Inclusion at Reconstructing Judaism, the central organization of the Reconstructionist movement.
When we chatted virtually in May, Lawson sang the prayer Or Hadash, or New Light, to the tune of "This Little Light of Mine," an African-American spiritual. As she strummed in her home office, surrounded by more guitars and a collection of cowboy hats, a dog leaped into her lap—one of three Lawson shares with her wife, Susan Hurrey, a court reporter whom she married in 2015. "I'm gonna let it shine," Lawson sang, mixing the English lyrics with the Hebrew liturgy. Traditional Ashkenazi Jewish musical idioms, like klezmer, Lawson explained, "are not in my DNA. Rock, country, blues—that's what resonates with me."
Lawson's own style clearly resonates with her legions of online followers on TikTok (30,000-plus) and other social media platforms. A self-taught musician, she accompanies her own singing on guitar or banjo and often posts the results.
Whether humming a prayer or speaking directly to the camera, Lawson might wear a T-shirt that reads "This is what Jewish looks like," accessorized by a kippah and, in a nod to her queer identity, a rainbow tallit.
Last year's YouTube series, "Bare-foot, Bluegrass and Blues on the Porch," shot on the porch of her Burlington, N.C., home, featured the rabbi accompanying her low, reedy voice on guitar. The Torah of the Blues—her occasional blog—combines favorite southern tunes with reflections on the intersection of African-American and Jewish narratives. One spring post drew parallels between Black slavery and the Passover story.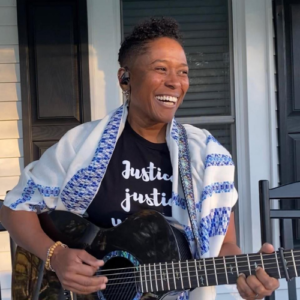 Singing, speaking or writing, Lawson both inspires and reflects the priorities of many progressive Jews, especially those who also have racial or gender identities outside what has been perceived as the American Jewish mainstream. While still in rabbinical school, Lawson was nicknamed "Snapchat Rabbi" and made the Jewish Telegraphic Agency's 2016 list of "10 Jews you should follow on Snapchat."
Three years later, JTA named Lawson to its list of 50 Jews everyone should follow on Twitter (19,000 now do). And last year, after Lawson's searing personal essay about experiencing racism in virtually every Jewish space became one of the year's top-read articles in The Forward, the publication included her on its list of 50 essential Jewish voices of 2020.
The pandemic hardly slowed her down. A year ago, Lawson launched an online congregation called Kol HaPanim (Hebrew for All Faces) aimed at Jews of diverse backgrounds and funded by grants from the Center for Rabbinic Innovation and the Nathan Cummings Foundation's Rise Up Initiative, which supports Jewish social justice projects. More than 100 people turned up for the first Kabbalat Shabbat. Kol HaPanim's private Facebook group reaches some 1,300 members from as far as Germany and Australia. Once a month, Shabbat services feature guests like Rabbi Mira Rivera, the first Filipino-American woman to receive ordination from the Conservative movement's Jewish Theological Seminary.
"Sandra is an incredibly effective communicator, which is why she's so effective on social media," said Rabbi Deborah Waxman, president of Reconstructing Judaism, who tapped Lawson both for the new director position for racial diversity and as co-host of the current season of Waxman's podcast, Hashivenu, about Jewish resilience. Reconstructionist Judaism "is a smaller movement, and as such we're deeply relational," Waxman added. "Sandra leads from a place of connection and healing. She is about nurturing what is generative, rather than settling scores or shaming."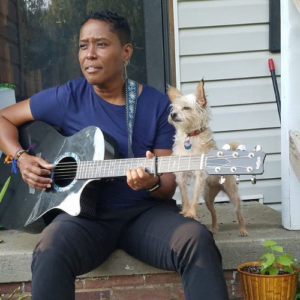 In Lawson, Waxman also recognized a fellow pioneer. Waxman was the first woman and the first LGBTQ Jew to lead a Jewish movement and its seminary and knows well "that feeling of being the only woman, and the only queer person" in Jewish professional spaces. When considering Reconstructing Judaism's new strategic plan—which includes promoting racial justice, equity and inclusion as one of five central goals—Waxman created Lawson's position not only around her former student's evident strengths but also her multifaceted identity.
Waxman said she hopes Lawson "will create policies that will make space for Jews of Color to rise up within their communities and into leadership across the movement."
Among Lawson's priorities is the creation of an online tool that the movement's congregations can use to assess their progress on racial equity. Aware of her power as a role model, she has also begun mentoring the Reconstructionist Rabbinical College's students of color through regular meetings. In June, the college appointed the first Jew of Color to lead a major American Jewish seminary—Amanda Beckenstein Mbuvi, a Bible scholar who is now the college's vice president of academic affairs, the school's highest post. Lawson cited this hiring as a sign of progress toward the world she envisions—where Jews hardly blink at co-religionists of color, and nobody will endure the kinds of slights Lawson says remain routine for Jews who look like her and Mbuvi.
"There are a lot of synagogues where the first question I'd be asked is, 'Do you know where you are?' 'When did you convert?' " Lawson recounted. "Even wearing a kippah, I still don't 'track' as Jewish, because people still rely on unreliable markers of what a Jew looks like."
Little in Lawson's background suggested she would influence American Jewry. She was born in St. Louis to a military family that moved frequently. The rabbi, who growing up had nominal exposure to Christianity, was unimpressed by religion as a child. "Homophobia, sexism and misogyny were very present in all the churches I was exposed to" sporadically, she said. Her family has been supportive of her Jewish journey, she said: "My dad said I was the child who dared to be different, and this was just one more thing."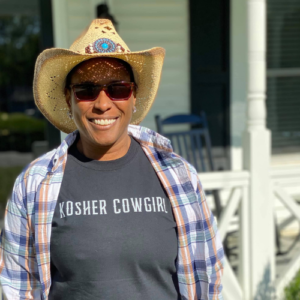 After Lawson dropped out of college, her father, an armed forces recruiter, suggested she enlist in the military. For eight years in her 20s, Lawson served and thrived in the Army, mostly as a military police investigator. "I learned how to problem solve, how to accomplish goals and how to be seen as successful," she reflected.
In 1999, Lawson left the Army to settle in Atlanta. "I just feel more comfortable in the South," she said, explaining why she continues to work remotely for the suburban Philadelphia-based Reconstructing Judaism. "I can recognize the racism there. In the Northeast, it's more subtle."
Having completed her bachelor's degree at Saint Leo University in Florida, Lawson earned a master's in sociology from Clark Atlanta University. Her focus was environmental racism, the disproportionate impact of environmental hazards on people of color.
Throughout her 30s, Lawson also worked as a personal trainer. One of her early clients was Joshua Lesser, whom she was surprised to learn was a rabbi: "He was gay, and he had an irreverent sense of humor." When she reminisced about Shabbat dinners she'd shared with Jewish ex-girlfriends, Lesser invited her to services at his Reconstructionist temple, Congregation Bet Haverim.
"I really liked it, even though I didn't understand a word of it," Lawson recalled. "It was the first time I was in any religious space where I felt safe being queer, where I felt I could be my whole self. And I had nothing better to do on Friday nights, so I just kept coming back."
Lesser deliberately nurtured a congregation that welcomed those who felt marginalized in mainstream synagogues—people of color, non-Jewish partners, LGBTQ people. In the 22 years he led the synagogue before retiring this year, he performed conversions more than any other life-cycle ritual; one of them, in 2003, was Lawson's.
The unlikely pair mentored each other. Lawson pushed her client to compete in bodybuilding competitions, while the rabbi encouraged his trainer to explore Jewish life. "We'd have deep, philosophical conversations about social justice as we'd lift heavy weights," Lesser recalled. Feeling at home in synagogue, Lawson first became a Jew, then joined the shul's board before applying to the Reconstructionist seminary.
"I wanted to see more leadership that looked like me," she explained. "I knew that to create change, I needed the title of rabbi."
Lesser concurred. "I know as a gay man that it's always more effective to have people speaking their own truths," he said. "Change can't just come out of the mouths of well-meaning folks who've done the work. We need the voices of Jews of Color to chart their vision of what Jewish community looks like."
That such change was necessary, even within the historically liberal Reconstructionist movement, was evident as Lawson applied for rabbinic internships and pulpit positions. Again and again, she recalled, she was politely turned down by congregations that gave excuses like, "Our community isn't ready for a Black rabbi."
Finally, Lawson landed the job of Hillel chaplain at Elon University in North Carolina. She was gratified that her students also bonded with Hurrey—a non-Jew who doesn't practice religion, but who won over the Hillel crowd with homemade challah. (Reconstructionism is the sole Jewish stream to permit rabbinic intermarriage, starting in 2015.)
When Lawson arrived at Elon, where about 10 percent of the roughly 7,000 students are Jewish, the Hillel didn't offer Shabbat services. Lawson changed that, starting with monthly gatherings. By the time she left Elon to assume her new role at Reconstructing Judaism, she said, "we had created a weekly culture of musical services." Another highlight of her tenure was the improvised pandemic High Holiday program, held online last year with record attendance. The observance included a Mourner's Kaddish for Black Lives, which coincided with a Black Lives Matter Rosh Hashanah rally on campus, organized by some of Lawson's Black Jewish students.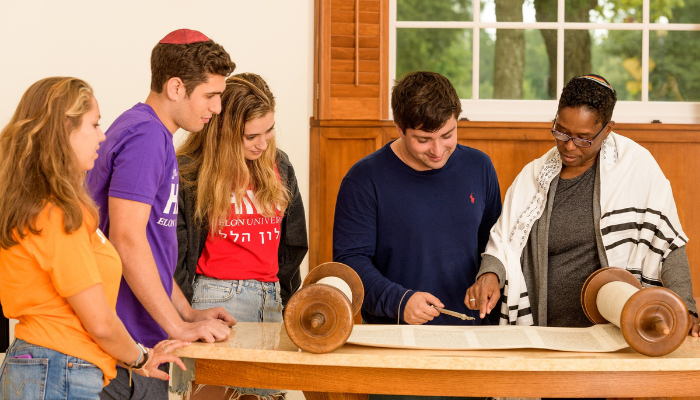 As Lawson advocates for racial justice both within the Jewish community and in wider society, she is asking the hard questions, including: Why does Jewish racism persist? Lawson thinks it is because, despite theoretical acknowledgement of the problem, "we're still focused on the racism that happens somewhere else," she said. "In order to cultivate empathy, sensitivity and awareness, people need to have actual relationships with people of color."
Like most public Jews, Lawson has encountered her share of online antisemitism, much of it from "people claiming to be pro-Palestinian." Israel, of course, is an increasingly contentious subject among American progressives—a quarter of Jews surveyed recently by the Jewish Electorate Institute, a nonprofit liberal group, called Israel an apartheid state—but Lawson refuses to take the bait from online provocateurs. "I support the State of Israel, but I'm not invested in the political atmosphere of the State of Israel," she said, adding that she supports "freedom and equality" for Palestinians as well as for Israelis. "I'm more concerned about the current struggles in our country. I don't even write about Israel. But I get targeted just because I'm Jewish—because 'rabbi' is in all my usernames. So that's just antisemitic."
At the same time, Lawson contended, she faces antisemitism from Jews who are more politically conservative than she is. "If I don't match their political ideology, they'll try to strip my Judaism away," she said. "They'll say, 'This is not Jewish and this is why she's not Jewish, therefore whatever she says has no credibility.' "
"Today, everything seems polarized and political, and people like to put belief systems on me," the rabbi reflected. "But I live my life with a nuanced perspective."
Increasingly, that perspective has made Lawson one of America's go-to Black Jews for comment on social justice issues. "It can be exhausting," she admitted a few weeks after she was interviewed on National Public Radio. "But this moment is unique. If my presence makes it easier for the next Black queer rabbi, then it's all fine."
---
Hilary Danailova writes about travel, culture, politics and lifestyle for numerous publications.