Hebrew: Beautifying Sukkot With an Etrog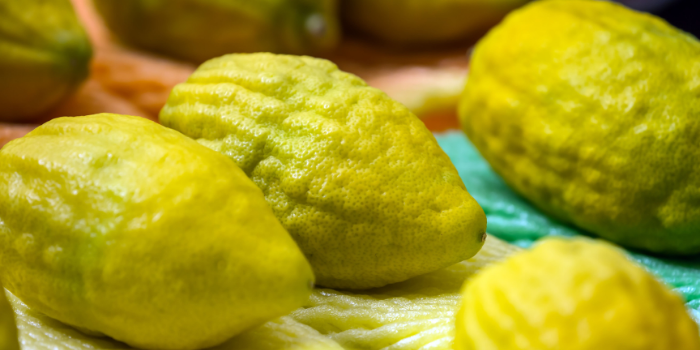 What is the connection between beauty and citrus fruits, editors and Talmudists? They come together in a Hebrew root that sometimes provides dubious pairings, ה-ד-ר (heh, dalet, resh), which can mean to return, or to adorn.
Students of the Talmud who complete a tractate use the root by proclaiming הֲדְרָן עֲלָך (hadran alakh), "We shall return to you." By doing so, according to the late eminent Talmudist Saul Lieberman, they praise the text's alluring beauty while noting that they have not yet exhausted the tractate's teachings. Two exclamations of praise are heard in concert halls, נֶהְדָר (nehedar), "Superb!," and—converting an ancient Aramaic verb into a Modern Hebrew noun—הֲדְרָן (hadran), "Encore!" When a מַהְדִּיר (mahdir), editor, reviews a text, it is often to prepare it for a new מַהֲדוּרָה (mahadurah), edition—perhaps a new volume of Hebrew roots? Another Aramaic term, מְהַדְּרִין (mehadrin), originally meant "Jews who would return to their mitzvot in order to enhance them." Today, the expression מְהַדְּרִין מִן הַמְהַדְּרִין (mehadrin min ha-mehadrin), translated loosely as the best of the best, assures that you're getting the "most kosher" products available.
In the Book of Isaiah, Cyrus the Great is imagined as speaking in the name of God, threatening to level the הֲדוּרִים (hadurim), "puffed-up hills," of His enemies. One of the rules of Jewish ethics found in Scripture teaches that in a court of law לֺא תֶהְדַּר (lo tehedar), you shall not show favoritism to either an illustrious man or a penniless person.
Today, when life gives you a lemon, American folk wisdom suggests you make lemonade. In the matter of הָדָרִים (hadarim), citrus fruits, Jewish tradition takes another tack. To celebrate Sukkot, one acquires a פְּרִי עֵץ הָדָר (peri etz hadar) "attractive tree fruit," called an etrog, and thus performs הִדּוּר מִצְוָה (hiddur mitzvah), adornment of a biblical commandment.
In Israeli popular culture, the term אֶרֶץ נֶהֶדֶרֶת (eretz nehederet), "This Wonderful Land," is both the title of a beloved Zionist song and the name of a satirical television show. The root has given birth in Israel to the family name Hadar as well as to a gender-neutral first name, הֲדַר (Hadar), with which we solemnly honor the memory of Israel Defense Forces soldier Hadar Goldin, murdered by Hamas terrorists in 2014, and joyfully welcome into the world the newest addition to the family, Hadar Lowin, my granddaughter.
Not all unexpected pairings are dubious, after all.
---
Joseph Lowin's columns for Hadassah Magazine are collected in the books HebrewSpeak and HebrewTalk.