Compassion and Commitment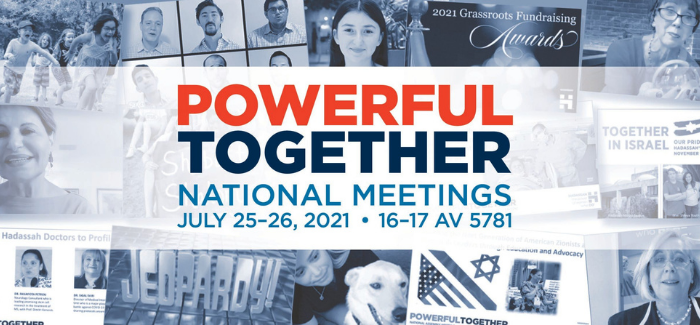 Placing paramount importance on the value of being together, almost 600 Hadassah members and Associates gathered virtually for the National Assembly meetings on July 25 and 26. Despite regret that these meetings were transpiring for a second year over Zoom, leaders, delegates and devotees of Hadassah reminded each other that at this organization, the "F" word means flexible—a definition they have lived up to in their successful efforts during the pandemic to further Hadassah's advocacy and fundraising goals.
Indeed, as Hadassah National President Rhoda Smolow stressed to viewers, "We are powerful together, and together, we will make a difference." Whether it is the scourge of rising antisemitism or living through almost 18 months of Covid-19, Smolow added, "We will conquer the challenges ahead of us."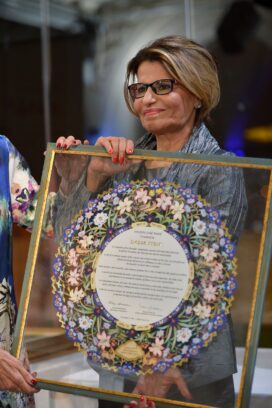 Over the two days, participants took part in lively sessions that included updates from the Hadassah Medical Organization; a Q&A with former Member of Knesset Dalia Itzik, chair of the HMO board; and reports from Hadassah International, Young Judaea and Youth Aliyah as well as the Philanthropy and Education and Advocacy Divisions. (Relive your favorite moments from the meetings by watching the recorded sessions.)
HMO Chair Diane Gottlieb along with Vice Chair Dr. Ann Karty and board member Shelly Kaplan took viewers through the latest developments at our hospitals. After noting the departure of HMO Director-General Dr. Zev Rotstein and the appointment of Dr. Yoram Weiss as acting director-general, the three described short-term goals—including stabilizing finances after the end of HMO's recovery agreement with the Israeli government and after a year of strained finances due the pandemic—and long-er-term plans, such as capital improvements at both the Ein Kerem and Mount Scopus campuses. Dr. Karty then outlined the hospitals' many successes in treating and researching Covid. In a later session, participants learned that one floor of the Round Building at the Ein Kerem hospital would remain ready to receive Covid patients in the event of increased virus spikes in Israel.
During the Philanthropy Division presentation, Chair Vivian Kovacs recounted Hadassah's work on behalf of victims of the Surfside, Fla., building collapse to illustrate Hadassah's "mission moments," when "compassion meets commitment." After the Champlain Towers South fell, Hadassah issued an appeal that raised over $23,000—100 percent of which was donated to the Jewish Federation of Miami's Emergency Fund for the Surfside Building Collapse.
Among the top agenda items for the Education and Advocacy Division, reported its chair, Frieda Rosenberg, was the adoption of a new policy statement that demands accountability for antisemitic curricula and resources used in schools run by the United Nations Relief and Works Agency for Palestine Refugees in the Near East (UNRWA).
Looking ahead to next year, viewers heard about several opportunities to be "powerful together" in person, starting with a conference dubbed The Power of Purpose: A Day of Inspiring & Empowering Women set for January 9 in West Palm Beach, Fla., which will feature an array of female changemakers. And several presenters promoted upcoming Hadassah trips to Israel, beginning this fall and culminating with the 100th Hadassah Convention, slated to be held in Jerusalem from November 14 to 17, 2022.
And in an engaging special program, Janice Weinman, the recently retired executive director/CEO of Hadassah, interviewed Hadassah Lieberman and Rebecca Lieberman, the wife and daughter, respectively, of Senator Joe Lieberman and successful career women in their own rights who are both Hadassah members. The conversation touched on the pillars of family and Jewish roots, each of which is explored in Hadassah Lieberman's recent memoir, Hadassah: An American Story. She recounted a time on the national campaign trail with her husband when she realized that "it's important to know who you are when you go out" to meet with Americans "and to bring honor to your people, to your roots."
A return to the foundational roots of Zionism and healing underscored the messages of many Hadassah presenters, who emphasized the power that lies in members' voices when they harmonize together to create "mission moments."