New CEO Naomi Adler Shares Her Vision for Hadassah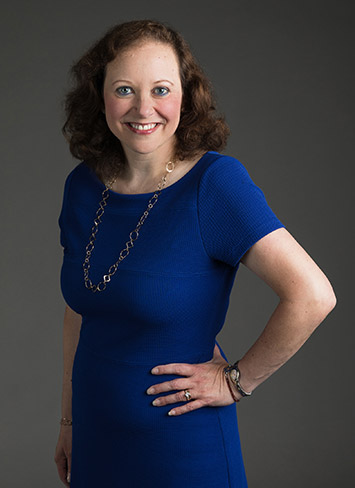 In September, Hadassah, the Women's Zionist Organization of America, welcomed Naomi Adler as CEO/executive director. Adler, 55, most recently served as president and CEO of the Jewish Federation of Greater Philadelphia, the first woman to serve in that position. Prior to that, she led two United Way organizations in New York and was an assistant district attorney in Monroe County, N.Y. Adler's reputation as a successful prosecutor in cases of violence against women and children, and later as a community advocate for families living in poverty, earned her several honors. This interview has been edited for brevity and clarity.
---
​​What are your top priorities as you begin your tenure as Hadassah CEO/executive director?
One cannot be successful without taking the time to learn from members, donors and other supporters. This is especially true at Hadassah, where thousands of leaders throughout our nation help power our tremendous network of influence. Creating opportunities for these leaders to share their experiences with me is a top priority.
Another is making sure everyone reading this knows they're needed. Please, tell the people in your life about Hadassah. Invite them to get involved with the Hadassah initiatives that speak most to them—to advance women's health, fight antisemitism, connect younger generations with all that Israel has to offer and support the exceptional work of Hadassah's hospitals.
One of my other top priorities is to make more people aware of our unique impact and how their philanthropy can be a part of this work. I want women from every generation to know they have a place at Hadassah. And that goes for our male Associates, too.
Hadassah has struggled to bring in and engage younger women. What strategies are needed to address this issue?
Our ideal, as we create opportunities for increased engagement from new and existing members, is to make it clear that Hadassah understands and accommodates the time pressures that impact women at various stages of life. This means ensuring there is a path for younger generations to become passionate supporters now and feel comfortable in the knowledge that if they need to, they can pause their engagement during busier times of their lives. Indeed, every woman should feel that there is not only a place and purpose for them in Hadassah, but that they are welcome to re-join or enhance their participation at any time.
I'm very excited by the progress we're already making in this area. The women in Hadassah's Evolve initiative, our growing community of active, empowered young women, are working hard to reach more young women.
College-age Jews and others in their 20s are reporting less support for Israel. As a Zionist organization, how can Hadassah try to counter that?
I am extremely focused on enhancing the opportunities for Hadassah to attract and engage women of all ages, including women exploring Zionism for the first time. Let's utilize Hadassah's platform of empowerment and healing to reach and educate young Jews and to make clear that what Hadassah does in Israel has nothing to do with politics.
Hadassah members, supporters and friends hold many different views on Israel. Yet there's one we all share: If you want to help Israel and its people, Hadassah is the place to do so. When you support Hadassah, you're supporting a model for a shared society, health equity and at-risk youth who depend on our work.
Just as the world has changed in big and small ways during the pandemic, so has the Jewish philanthropic world. What lessons can a Hadassah learn from the pandemic?
It's wonderful to come into an organization that's been so responsive and relevant during the pandemic here in the United States, not just at Hadassah's hospitals—although we should all be proud that our innovations have helped make Israel a global leader in the fight against Covid-19.
Hadassah attendance at our U.S.-based virtual programs has skyrocketed. We're excited by these additional chances to engage new people and will incorporate these virtual connections when we return to in-person events.
Members have demonstrated a real commitment to healing our world on the macro and micro levels, including in their communities and chapters, helping many find resilience, resources and purpose in the face of isolation.
Fostering an active, growing, diverse membership is more important than ever, as is the generosity of our supporters. We need to grow our base of donors and the number of legacy gifts, to help us thrive during these challenging times.
Tell us about your Hadassah connections and your earliest memories of the organization.
Hadassah is part of my family story, and many in my immediate and extended family have served as leaders in various parts of the country. When my grandparents and their children escaped Nazi Germany in 1939, as my Aunt Marianne proudly reminds me, their local Hadassah chapters helped my Oma (grandmother) feel accepted in their new Jewish community in Worcester, Mass., and later in Hartford, Conn. Hadassah was a social lifeline as well as a chance to support our beloved Israel through tzedakah.
Since the announcement of my new position, hundreds of relatives and friends from around the world have reached out. I've heard how Hadassah is an important part of their own multigenerational family story and their personal identity. It makes me even more proud to be not just Hadassah's newest CEO, but a life member whose family has supported Hadassah's work for so many years.
You grew up in Rochester, N.Y., birthplace of the Rochester Hadassah Cookbook, one of the most popular Hadassah cookbooks of all time.
When I was growing up in Rochester, I loved the elaborate desserts my mom would bake when we entertained my father's colleagues from the Eastman School of Music. In our community, that cookbook was the bedrock of such occasions.
And today, I appreciate the way Hadassah is making food not just a part of our culture and tradition, but also a way to infuse health and wellness into our lives.
Anything you'd like to add?
Hadassah's mission speaks to me, deeply, and I know that if more people heard about Hadassah's incredible work, it would move them to action, too. So many of you have already invested your time, talent and treasure to help us expand our impact, and I look forward to hearing ideas of how to ensure that Hadassah continues to thrive. I'm so humbled to be part of an organization where there is a path for each person to make a difference, and I can't wait to meet more of the people who make up Hadassah and the Power of Women Who Do.