Gemstones Mined in Israel Make Exclusive Jewelry
The spectacular one-of-a kind ring on Tali Shalem's finger is decorated with blue and green sapphires, shiny black spinel, dark-red garnets and has a bluish-gray gem called Carmel Sapphire at its center. All these rare jewels were found near Haifa by the only mining company focusing on precious stones in northern Israel, Shefa Gems.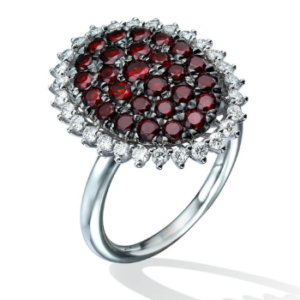 Shalem, a mother of three sons, is CEO of both Shefa and the company's new jewelry branch, Holy Gems, which is now marketing its gems in limited-edition bracelets, rings, earrings and necklaces crafted in 18-karat white and yellow gold by Shalem's mother, Michaella Taub. The jewelry is sold at private auction and on the company's website.
While Israel is known for its distinctive green-blue Eilat stones, no other precious gems had been found in Israel in recent years until Shefa, which means abundance, began exploring the region in 2000. Among the company's major finds was the Carmel Sapphire, a stone with inclusions of the new mineral carmeltazite. Named for its major chemical components—titanium, aluminum and zirconium ("taz")—and Mount Carmel, where it was discovered, carmeltazite was chosen Mineral of the Year by the International Mineralogical Association in 2018.
The rarity of precious stones found in Israel is evident in the small number of carats that have been unearthed: fewer than 100 carats of sapphire; fewer than 200 of garnet; fewer than 200 of spinel; and fewer than 300 of Carmel Sapphire.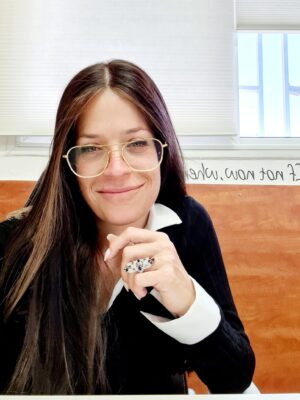 Tali Shalem was born into a family with roots in Czechoslovakia, Germany and Poland. Her grandfather, Chanan Taub, fled Europe for Israel in 1938, leaving behind his parents and eight brothers and sisters; his family all died in Auschwitz. In Palestine, he joined the Zionist youth movement Betar and fought for the establishment of Israel as a member of the Irgun. In 1942, he settled in Netanya, today Israel's diamond center, and helped develop the country's diamond cutting and polishing industry. His son Avi Taub—Shalem's father—became a Chabad-Lubavitch Hasid after a visit to Chabad headquarters in Brooklyn in the 1970s. It was Avi Taub who expanded the business from polishing and trading diamonds to producing and selling jewelry in showrooms around the world.
Wearing a brunette sheitel and thin-rimmed gold aviator glasses, Shalem recounted, over a Zoom call from her office in Netanya, the story of Shefa's founding. In 1988, Aryeh Gur'el, then mayor of Haifa, visited the Lubavitcher Rebbe, Menachem Mendel Schneerson, to consult with him on events in the city. Mid-conversation, the rebbe said that the Almighty had concealed precious stones near Haifa. The conversation was filmed, and years later, Taub saw the video. In 1999, he set off to explore the rebbe's revelation and ultimately created Shefa. Though geologists and scholars said finding gems in Israel was all but impossible, Taub persisted.
When Taub died from cancer in 2019 at the age of 68, Shalem, the oldest of six siblings, was appointed CEO. She had worked for many years in various roles at the company. Now, she said, she's fulfilling her father's vision as well as biblical prophecies about a land rich in natural resources, including gemstones. Her personal favorites are sapphires—both the Carmel and the conventional blue ones. "Sapphires are said to bring good luck, to promote wealth and good business decisions," she explained. "The Bible is filled with quotes about the beauty of sapphires."
Sapphires and other gems mined by Shefa and used in Holy Gems designs will be part of an auction on the jewelry company's website (register before November 20). Among the 101 pieces for sale are Shalem's ring as well as distinctive pieces such as the "Cluster of Sapphire Necklace," inspired by the biblical story in Numbers 13: 21-24 of the fruits that Moses' scouts brought back from the Holy Land—a clusters of grapes as well as pomegranates and figs. The necklace has over four carats of blue and green sapphires and is studded with small diamonds. Opening bids for different pieces range from $23,000 to well over $100,000.
Shalem believes that all people will feel a spiritual connection to the gems and noted that none of the jewelry features religious symbols.
"We don't want to be involved in anything political or religious," she said. "We believe this land is holy to all people and religions."
---
Rahel Musleah leads "NamaStay at Home," virtual tours of Jewish India and other cultural events (explorejewishindia.com).