The "Hadassah Kidney"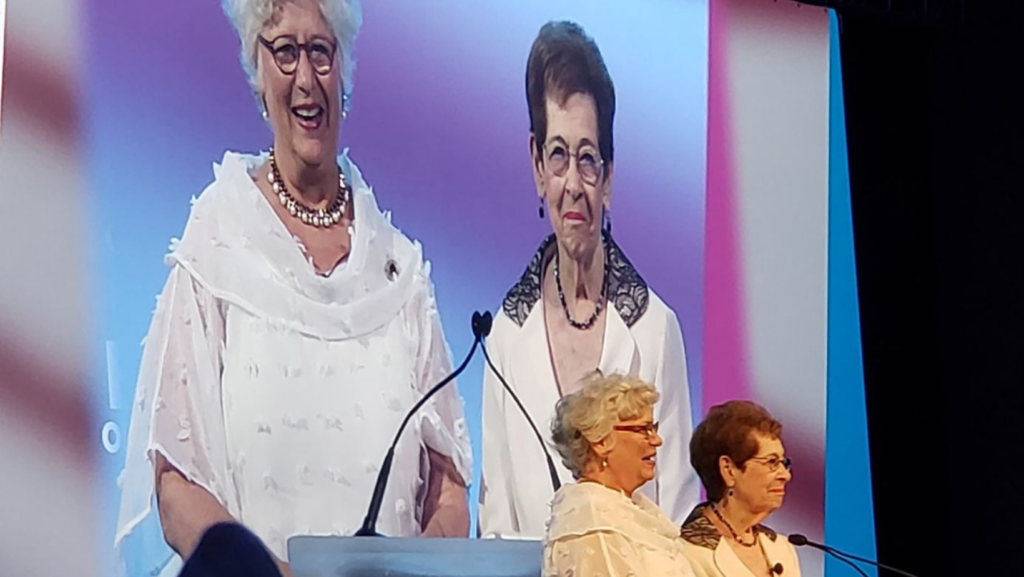 The "Hadassah kidney" is doing just fine.
And so are Katie Edelstein, who donated the kidney 17 years ago, and Belle Simon, then a fellow national board member, who was the grateful recipient.
Edelstein and Simon were just acquaintances when, during a Hadassah National Board meeting, Edelstein learned that Simon, who had kidney disease, was in desperate need of a new kidney. In the years since, filled with memories that Edelstein made possible, they have become close friends.
"To tell you the truth, I wouldn't have lived without it," said Simon, who was 66 at the time of the transplant and was told by doctors that she had an estimated five-year wait before an organ would be available. "It's just been a very meaningful gift," the Boynton Beach, Fla., resident added. "I praise Katie every day."
During a recent Zoom conversation about the "Hadassah kidney," as it is now known, they joked about how that long-ago decision continues to fascinate others. But the two turned serious when they shared that they have been privileged to inspire others.
They recently coached another Hadassah leader, who prefers not to disclose her name, through the process. A few acquaintances have donated kidneys. Readers were inspired to become live donors after Hadassah Magazine published their story in 2004. Edelstein's local newspaper in Bellingham, Wash., The Bellingham Herald, once wrote about a bone marrow registration drive encouraging people to "Be like Katie."
When you have two kidneys, Edelstein, 72, explained, neither function at 100 percent, but when you have one, it grows larger and works at full capacity.
Thanks to Edelstein, Simon has been to many bar and bat mitzvahs, seen children and grandchildren graduate from elementary school, high school and college and has traveled around the world. And just this year, she became a great-grandmother.
She has also had her share of heartache. Simon, now 83, lost her husband, Arthur, in August 2020 to Covid-19. But she mostly focuses on the positive—the 17 years she wouldn't have had without Edelstein's generosity.
Edelstein says her life has been enriched as well.
"I'm not sure I would have made that offer had I not been involved with Hadassah for so many years," she said. Meeting the many volunteers, doctors, nurses and researchers who made a difference in so many lives rubbed off on her. After all, Edelstein noted, the opportunity to save someone's life doesn't come around very often.
---
---