Jewish Woman Gives Birth to a New Book! Mazal Tov!
Jewish writer Remy Maisel first conceived of her debut novel when she began her master's thesis in creative writing in 2015 at the City University of London. Now, six years later, she is celebrating the publication of Grounds for Divorce. But Maisel's excitement over what she describes as the fulfillment of one of her biggest dreams has been tampered by the tepid response from her friends, few of whom attended the novel's launch party in London on Oct. 28.
Maisel, 28, who lives in London, said she is used to flying around the world for friends' weddings and baby showers. "I think this has been hurtful to me because particularly with my very close friends of many years, they know that I'm not anticipating necessarily getting married or having a baby myself," Maisel told Hadassah Magazine. Fed up and hurt by the lack of support, Maisel took to Facebook, where she posted a "baby" announcement for her new book: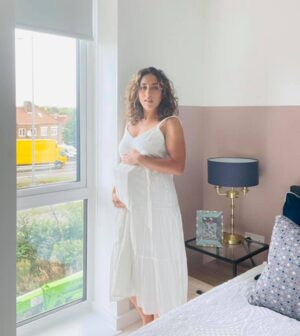 "Either a huge percentage of my friends are enormous jerks or society has failed you and you aren't able to see non-marriage and baby achievements as significant," she wrote. "I prefer the latter so allow me to contextualize my book release for you with this photoshoot entitled "Book Baby." Gestation: 5 years. Labor & Delivery: 1 year. Birth weight: 144g. Registry to follow."
Grounds for Divorce is about a young paralegal named Emily who gets a phone call from the U.S. State Department for a mysterious job interview and finds herself recruited to mediate the Israeli-Palestinian conflict as if it were a divorce settlement. It's a case of mistaken identity, and she's woefully under qualified, but she did witness her parents' ugly divorce and go to Hebrew school! So what sparked this dramatic post just days before the publication of her novel?
"Many of the people I consider my nearest and dearest are not coming to my book launch. It isn't because I didn't give them any notice, or because of Covid. Nobody is in hospital or house arrest, or jobless, or on the no-fly list," Maisel said. "This has led me to conclude that they simply don't think this is important enough to prioritize the same way we've all prioritized other major events we have shared, like weddings, significant birthdays and baby-related events. These people aren't typically selfish or mean, so I have to consider that there's a bigger picture here."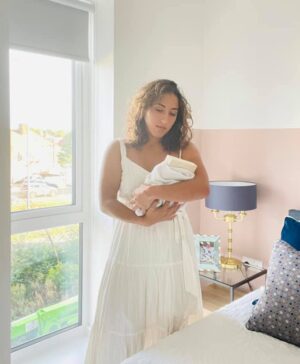 Feedback from her friends, she says, included a few willful misinterpretations and some instances of selective memory. One friend told Maisel that her post was brilliant. When Maisel asked if the friend would be attending the launch party, her friend responded probably not. Even though she lives a train distance away, she didn't think she needed to be in London that day for work. "I said to her that the post MAY have been implying it was worth a train journey," Maisel said. Meanwhile, the reaction from strangers has been largely positive. "Brilliant! You make a glowing Mum and your baby is beautiful, can't wait to hold it in my arms!" one commenter wrote. "Thinking about a younger sibling yet?" another asked. "It's just a zygote at the moment," Maisel responded.
Maisel hopes that her Facebook announcement will help people to reconsider what success and achievement looks like, particularly for women.
"This month, I ran the London Marathon, raised over $3,000 for the British Red Cross in the process, have won 3 rosettes in showjumping with my horse so far, and my novel is out on Thursday," Maisel said, but in the eyes of the world, "I am single, therefore I am failing."