Food for Thought at New Cultural Center in Tel Aviv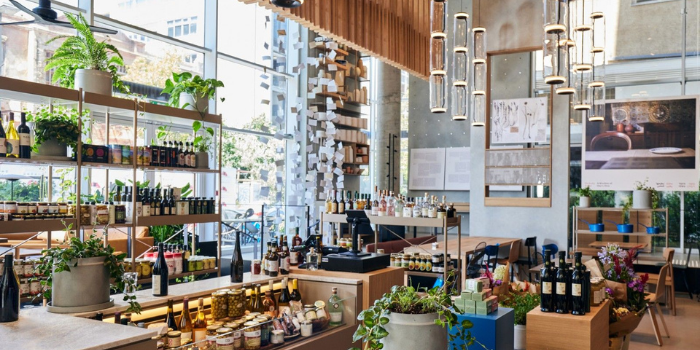 Safaa Ibrahim, a Syrian Druze Israeli cook, and Sigi Mantel, a Syrian Jewish Israeli cook, twinned their culinary traditions in a recent conversation and cooking event at Asif: Culinary Institute of Israel. The event was a prime example of the how the new cultural center in Tel Aviv encourages discourse around food and identity.
Housed at Tel Aviv's Start-Up Nation Central—a nonprofit connecting international thinkers and investors with Israeli innovation—Asif opened in July as a joint venture with the Manhattan-based Jewish Food Society, an initiative that is working to preserve myriad Jewish culinary traditions. Asif's facilities include a test kitchen, library, rooftop farm, gallery, cafe and deli.
"In Hebrew, asif means harvest, but it also denotes a gathering of people, curation and collection," said New York-based Naama Shefi, founder of both the Jewish Food Society and Asif. "It's not just our name; it stands for what's important to us."
For the Syrian cooking event, which was not kosher, Asif's test kitchen prepared a 10-course meal with dishes such as shish barak (meat-and-walnut dumplings), purslane salad and kataif (cheese pancakes flavored with rosewater).
Asif offers popup dinners, tours, dialogues, storytelling, lectures and classes. For example, in September, Adeena Sussman, the author of Sababa: Fresh, Sunny Flavors from My Israeli Kitchen and Hadassah Magazine's longtime food columnist, led "Flavors From the Library," an event about her favorite cookbooks and High Holiday menus.
Can't get to Israel yet? Find food for thought on Asif's website, including a tutorial on growing the herbs with which to make the za'atar spice blend at home; a reminiscence about freekeh, the smoked green wheat popular in Palestinian cuisine; and recipes for dishes such as sayadieh, Jaffa-style spiced fish. You can also take a virtual tour of Asif's inaugural exhibition exploring the kitchen of Israel's late first lady and culinary icon Nechama Rivlin.