Environmental Justice Through a Jewish Lens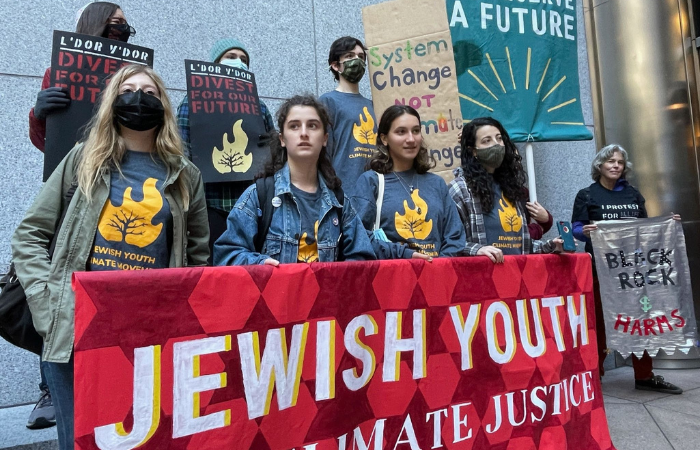 I was a seventh grader on Memorial Day 2015 as I watched the first in a series of rapidly intensifying "500-year floods" strike my home city of Houston. Then came the Tax Day Flood in 2016, Hurricane Harvey in 2017 and Tropical Storm Imelda in 2019. Throughout my adolescence, the storms, floods and destruction statistically slated to occur only once in half a millennium arrived nearly every year, uprooting the lives of those around me.
The storms so traumatized one peer that she would lock herself in the bathroom at school every time she saw lightning and heard thunder. After one close friend's house flooded, she was separated for months from her single parent, living with different families until they could move back home. And when the grandparents of a classmate were killed in one of the floods, I watched him struggle to smile each morning at school.
My Jewish community proved far from impervious to the climate devastation. Hundreds of homes in the heavily Jewish neighborhood of Meyerland were waterlogged, major synagogues sported pools in their sanctuaries, the Jewish bakeries closed and the local Jewish community center scrambled to dole out funds and supplies.
I was drawn to the Jewish Youth Climate Movement, a Gen Z-led effort to combat climate change and environmental injustice from a Jewish lens, because among this group, stories like mine are abundant. For Jews, the climate crisis is emerging from a past in which our concern for survival transformed our traditions and culture into a way of life perpetually fixated on the existential. Today, there is no greater existential threat we face.
We learn from peer movements, especially Indigenous leaders fighting for land sovereignty amid pipeline expansion and labor unions advocating for green jobs expansion, how to use the fight against all forms of oppression as the driving factor of climate justice work. So, too, must we Jews understand climate efforts as intertwined with the fight against antisemitism. This means proudly demonstrating our place and our stake as Jews within this movement, honoring our culture and applying the wisdom and resilience learned from millennia of persecution.
In honoring that culture, we look to our tradition for guidance in protecting our planet and its peoples. One such tradition is shmita, the biblical practice of radical land rest for one year out of every seven—including our current Jewish year, 5782. Though the laws of shmita pertain specifically to the Land of Israel, throughout the centuries, Jews around the world have created various ways of marking the year.
The Jewish Youth Climate Movement is leading a Shmita Campaign to reframe the ancient idea through systemic climate action. Just as the Bible notes for the shmita year "the land shall rest a Shabbat to God" (Vayikrah 25:2), we, too, must allow the earth to heal from centuries of fossil fuel extraction by ceasing all pipeline expansion and swiftly transitioning to renewable energy.
Our goal as young activists is to make collective action toward climate justice a central, defining feature of what it means to be Jewish and to empower the next generation of Jewish youth to be leaders in the fight to build a sustainable and equitable world. We are building chapters in local Jewish institutions, training youth leaders, partnering with national Jewish and climate organizations, researching transformative public policy and planning protest actions to spur those in power to effect change.
This shmita year, we celebrate Tu B'Shevat beginning the evening of January 16. Traditionally known as the new year of the trees, the day is also a way of measuring time by listening to the rhythms of the environment. Let us view this environmental holiday not just as a celebration of the earth, but also as the opportunity for Jewish organizations, communities and families to make bold plans to protect the earth. We are calling on all Jews to sign our Shmita Commitments, a pledge to educate, organize, protest and advocate for climate justice over the next decade. In the spirit of Tu B'Shevat, we hope you will join us.
---
Madeline Canfield, a sophomore at Brown University, is the associate at the Jewish Youth Climate Movement, a project of Hazon. You can read more about the organization's Shmita Commitments at jewishyouthclimatemovement.org/shmita-pledge.