Hadassah Mobilizes to Counter Antisemitism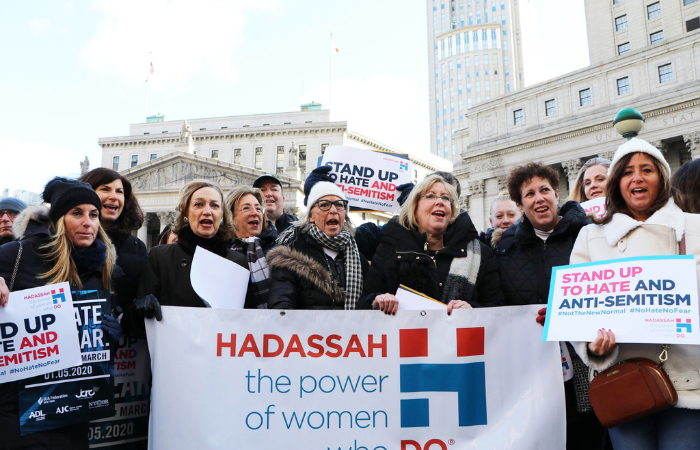 Jewish communities across the country are facing a sharp increase in antisemitic violence and hate speech—an alarming trend that demands swift action from lawmakers at every level of government and an unwavering commitment from us to stand proudly as Jews and Zionists.
Hadassah is an influential leader on Capitol Hill, working hand in hand with members of Congress to pass bipartisan legislation that strengthens America's capacity to combat antisemitism at home and abroad. Hadassah advocates have been urging federal lawmakers to codify the International Holocaust Remembrance Alliance (IHRA) Working Definition of Antisemitism and are building support for bills that hold the United Nations and the Palestinian Authority accountable for the antisemitic and anti-Zionist curricula in United Nations Relief and Works Agency (UNRWA)-run schools. In the last Congress, Hadassah members were instrumental in passing legislation supporting Holocaust education and enhancing the prestige and budget of the United States Special Envoy to Monitor and Combat Anti-Semitism.
Hadassah knows that combating antisemitism requires robust action at the state and local levels, too. Just recently, armed with valuable information from his wife, Carol Rosenthal, a Hadassah National Board member, Hadassah Associate Stephen Rosenthal brought a request to Governor Kristi Noem of South Dakota for her to adopt the IHRA definition, which she did by executive proclamation in coordination with Shine the Light, a new national initiative to spotlight antisemitism and bring together partners, including Hadassah, to educate and advocate.
Over the last year, Hadassah members in Arizona, Massachusetts, Nevada and Ohio have appeared before state legislatures in support of mandates to include Holocaust education in schools. Through letters, interviews, opinion pieces and testimony before legislative committees, members are having a tremendous impact. For example, when Unilever-owned Ben & Jerry's chose to align itself with the antisemitic Boycott, Divestment and Sanctions movement (BDS), Hadassah members in Florida, Illinois, New Jersey, New York and Texas spoke up quickly to demand punitive action under anti-BDS statutes.
The energy and enthusiasm of members who advocate for a more tolerant world is the lifeblood of our efforts in Washington and in state capitals. Engaging your elected officials is easier than you might think thanks to Hadassah's Day in the District and Date with the State programs, when our members meet in person or virtually with federal and state legislators. To learn more about how you can get involved, email advocacy@hadassah.org or contact your region president.
---
READ MORE: Battling Antisemitism on Campus
---