Q&A With Archie Gottesman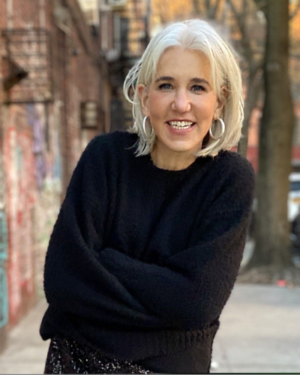 Antisemitism—and the way the American Jewish community generally responds to it—makes Archie Gottesman mad. She addresses it by placing pink, attention-grabbing billboards around the country, from Times Square in New York City to San Francisco. Before Gottesman launched the nonprofit organization JewBelong, which is behind the billboards, she was already in the zeitgeist-capturing business as the brand manager for Manhattan Mini Storage, which she made famous for its edgy and amusing ad campaigns. When she left the firm in 2016 to co-create JewBelong with Stacy Stuart, her impetus was to give disaffected Jews online resources to connect them with their heritage. JewBelong also began putting catchy, often provocative messages on public ad spaces. One said, "Even if you think kugel is an exercise for your vagina…JewBelong," which so upset someone that they spray painted over the body part reference. Last May, amid a surge of anti-Zionist, antisemitic rhetoric around Israel's conflict with Hamas, JewBelong pivoted to focus on antisemitism. Gottesman, 58, is the mother of three daughters in their 20s and lives with her husband in Summit, N.J. This interview has been edited for brevity and clarity.
---
Why did you start JewBelong?
When my husband converted to Judaism 28 years ago, I started seeing Judaism through his eyes. There was a marketing problem with the way Judaism portrays itself. We don't live in shtetls. People are free to choose. Yet we don't work to sell ourselves. So many people assimilate. You don't leave something you think is terrific. I decided to rebrand Judaism.
Why turn JewBelong's focus to antisemitism?
When Israel's conflict with Hamas re-started in May 2021, I was watching our community get the shit kicked out of it. I couldn't believe the amount of venom and misinformation. I was appalled by the lack of reaction in the Jewish community.
Kids in school were being told, "Hitler should have finished the job, you're killing baby Palestinians every day." And still Jewish organizations were sharing challah recipes, carrying on what they'd been doing. Our audience said, "What the hell is going on? I'm trying to correct the narrative, trying to explain that of course I want humane treatment of Palestinians—and all I'm being met with is hostility."
We started by putting up 800 billboards throughout Manhattan, Brooklyn and in New Jersey. One said, "Let's ask everyone who's wondering if antisemitism is real to wear a yarmulke for a week and then report back." Another said, "We're just 75 years since the gas chambers. So no, a billboard calling out Jew hate isn't an overreaction."
How effective are the billboards and what campaign is next?
We know they're effective because of the responses we get from Jews and non-Jews, especially on social media, where people post photos of our billboards and comment. We have almost 400,000 people visit the website a year, with an increasing number signing up for our newsletter. The JewBelong website continues to provide resources about Jewish traditions and practices, but for now the focus of our work will continue to be the antisemitism campaign in New York and elsewhere. It doesn't look like antisemitism is going anywhere soon, so we are sticking with this important battle. We are going to bring it to some college campuses next. That's a real pain point for the Jewish community, with so much casual antisemitism happening there.
Last August, you appeared on The Real Housewives of New York City. How did that come about?
Cast member Eboni Williams and I are friends. She'd been to my house for Shabbat dinner. She pitched my appearance to the producers. Of course I said yes, because it was genius. Eboni is a non-Jewish Black woman, but her last boyfriend was Jewish. Judaism doesn't get into pop culture often or positively enough. It was great. I was glad I did it and would do it again.
---
READ MORE: Battling Antisemitism on Campus
---
Debra Nussbaum Cohen, author of Celebrating Your New Jewish Daughter: Creating Jewish Ways to Welcome Baby Girls into the Covenant, is a journalist in New York City.