Ruth Fast, Witness to Zionist History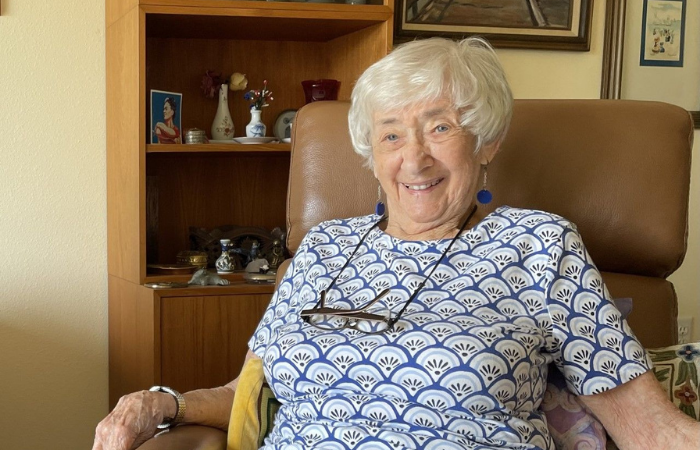 Most people who meet a centenarian ask the same question: What is the secret to a long life? The answers are seldom surprising, centering on healthy habits and genetics.
But when you ask Ruth Fast, a Seattle woman who turned 101 last August, her answer is a little different. Fast credits Hadassah and its founder, Henrietta Szold, for saving her life when she immigrated to Palestine in 1936 as a member of Youth Aliyah. She was 15 at the time.
Soon after German law limited the number of Jewish children attending German public schools, Fast learned about Youth Aliyah from a representative of the organization who visited her hometown of Stettin.
"I was raised as a Zionist, so when Hitler came in, I felt immediately that we had to get out of Germany," Fast recalled. "I told my parents, 'I want to go to Palestine. I'm not going to stay in Germany, they don't want us.' "
In 1935, she traveled with her mother to Berlin for an interview at the Youth Aliyah offices and soon was accepted. Before the long journey by train and then ship to Haifa, Fast joined a group of 60 Jewish recruits from across Germany at a retreat near Berlin, studying Hebrew and learning what to expect when they reached Palestine, where they would live on a kibbutz.
The following year, when Fast's ship arrived in Haifa, Henrietta Szold was waiting at the pier to greet the children, whom she addressed in both German and Hebrew.
But that was not the only time Fast had an opportunity to meet Hadassah's founder. After the rest of Fast's immediate family immigrated to Jerusalem in the wake of Kristillnacht in 1938, they ended up living three houses away from Szold.
After spending two years on Kibbutz Ein Herod with her Youth Aliyah group, Fast moved to Jerusalem to be near her family. In 1942, at age 21, she enlisted in the British Army, went to officers training school and performed a tour of duty in Egypt.
Once World War II was over, Fast traveled to the United States to visit family and ended up meeting her future husband, Alfred, in Portland, Ore. She remained in the United States. When members of the local Hadassah chapter in Portland learned there was a new neighbor from Palestine, they reached out to her. Fast joined the organization and became a popular speaker, even after she and her husband relocated to Seattle in the 1950s. She continues to give talks to this day, including at a recent West Coast fundraising event focused on Youth Aliyah, then and now.
"I was devoted to Hadassah," Fast said. "I still am devoted to Hadassah, because I felt it saved my life and it saved the lives of many, many people, and it still does wonderful work."