Using Anne Frank to Discuss Race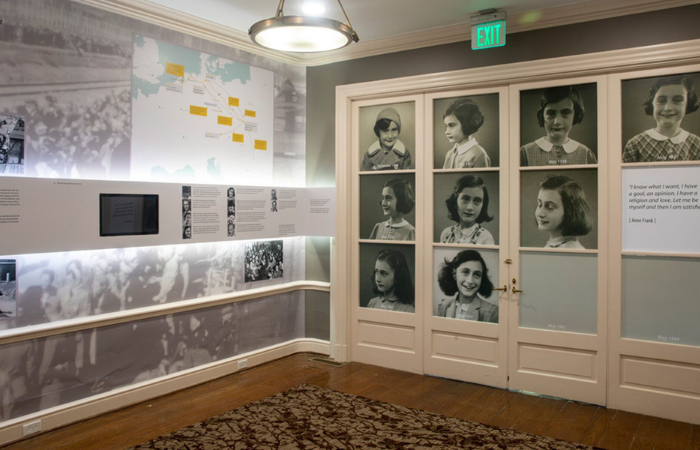 Could Anne Frank be the key to educating Gen Z Americans about antisemitism—even if they've never met a Jew?
The Anne Frank House in Amsterdam is betting yes. In September, it launched a partner institution in the United States, the Anne Frank Center at the University of South Carolina. Although the new center, set in the heart of the American South, will likely have a largely Christian audience with little experience with Jewish culture, Doyle Stevick, the center's executive director, thinks the Holocaust's most famous diarist can educate modern youths about racism and discrimination through parallels to contemporary issues.
In many schools' Holocaust curricula, Anne Frank is often "the only child you get to know in detail, and in her own voice," Stevick explained, noting the popularity of the diary on school reading lists. An associate professor at the university's College of Education, Stevick, who is not Jewish, had been working with the Anne Frank House since 2013 and, with the university, has brought exhibits about Anne Frank to South Carolina schools. "Anne's words help us appreciate how young people have the potential to bring out the best in one another," he said.
To that end, student volunteers lead nearly every visitor through the center's exhibition "Anne Frank: A History for Today." Four rooms with photos, videos and original artifacts are divided between Holocaust history and its relevance to the American racial landscape—incorporating stories like that of economist Milton S.J. Wright, the only Black American known to have met Hitler. The two met in 1932 in Germany, when Wright was pursuing his doctorate at the University of Heidelberg. Hitler's tirade against Wright, the exhibit explains, found echoes in the racist words that mass murderer Dylann Roof was reported to have said, about Black people "taking over the world," as he attacked Black congregants at Emanuel African Methodist Episcopal Church in Charleston in 2015.
Like Anne and her fellow Jews, those worshipers were targeted primarily for their ethnicity, not their religion. Stevick said audiences are surprised to learn that that Nazis considered "Jewish" a racial rather than a religious category. "We use one example to address another," he explained. "It's all part of a common conversation."