Hebrew: Yisra'el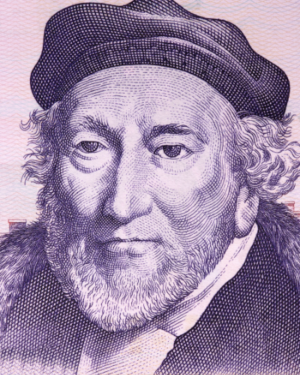 Words matter, as readers of this column surely know. And, as readers of the Bible, newspapers and history books also know, words about power and those who hold it may matter even more. Take the example of two closely related Hebrew roots, ה-ר-שׂ (sin, resh, heh) and ר-ר-שׂ (sin, resh, resh), both of which mean to rule over, to strive with.
Let us begin with what may be the most important Hebrew word in the Bible: יִשְׂרָאֵל (yisra'el), Israel. According to The Brown-Driver-Briggs Hebrew and English Lexicon, this proper noun was originally a verbal exhortation, Yisra'el, meaning "Let God reign," with the suffix "el" originally being the name of a Canaanite deity. In Hebrew scripture, Yisra'el is forefather Jacob's second given name; the name for the northern half of the Israelite kingdom; and the term for a Jewish "layman," i.e., neither a Cohen nor a Levite.
According to American Bible scholar Jon Levenson, the changes of name made by God in Genesis connote a change in destiny for the matriarch or patriarch involved. The Talmud explains in Berachot 13a that before her name was changed to שָׂרָה (sarah), "She rules [over the nations of the world]," our foremother was just called שָׂרַי (sarai), which means "princess," but only of a local tribe. Following his famous wrestling match, Sarah's grandson Jacob is told that because שָׂרִיתָ עִם אֱלֺקִים…וַתּוּכָל (sarita im elokim…va-tukhal), "You successfully struggled with God," you will have an entire nation—יִשְׂרָאֵל (yisra'el)—named after you. A midrash on the Exodus story euphemistically and mystically uses שַׂר שֶׁלָהֶם (sar shelahem), "their prince," to refer to the Egyptians' guardian angel, whose necessary drowning would prefigure the fate of the Egyptian army.
The old-new word מִשְׂרָה (misrah) runs the gamut from the Book of Isaiah's ascription of "abundant authority" to the Messiah to a modern-day worker looking for a מִשְׂרָה מְלֵאָה (misrah mele'ah), full-time job. Hebrew slang of the 1950s gave us יִשְׂרָאֵל הַשְּׁנִיָה (yisra'el ha-sheniyyah), The Second Israel, a reference to impoverished Israeli development towns of that era.
And then there is the Zionist folk hero, Sir Moses Montefiore. He is immortalized in a Haim Hefer poem sung by superstar Yehoram Ga'on in the 1970s. The song's refrain, וְכָל הַכָּבוֹד לַשַּׂר (ve-khol ha-kavod la-sar), "All hail to our prince," sings the praises of the supreme Jewish leader of his day for using the power he has accumulated to intervene on behalf of the Jewish people. Given the popularity of that song in Israel even today, we might say that lyrics matter, too.
---
Joseph Lowin's columns for Hadassah Magazine are collected in the books HebrewSpeak and HebrewTalk.