A Memoir of Family Secrets
Asylum: A Memoir of Family Secrets
By Judy Bolton-Fasman (Mandel Vilar Press)
In this tender, poetic and suspense-filled memoir, Judy Bolton-Fasman examines the gaps in her parents' pasts, trying to unlock the essential mystery of her life: her father. His enigmatic presence haunts the pages of her vivid and unstinting portrait of a family burdened with secrets and colliding cultures.
Her improbably matched parents—Ashkenazi, Yale-educated K. Harold Bolton, and Cuban-born, Ladino-speaking Matilde Alboukrek—married when he was 40 and she was 24. A naval officer during World War II and fervent patriot who found a career as an accountant after the war, Bolton orchestrated summer cookouts in red, white and blue plaid shorts.
Meanwhile, her "scary yet irresistible" and emotionally abusive mother tutored neighborhood kids in Spanish, learned Portuguese from women she met on the bus and went on to earn a degree from Trinity College in Hartford, Conn. At the nexus of these two worlds, Bolton-Fasman belonged to neither. Growing up with her two siblings, John and Carol, she developed a host of physical and emotional issues, from sleepwalking to a panic disorder and crises of faith in part because of the secrets that had, in her words, "saturated the air" in her home.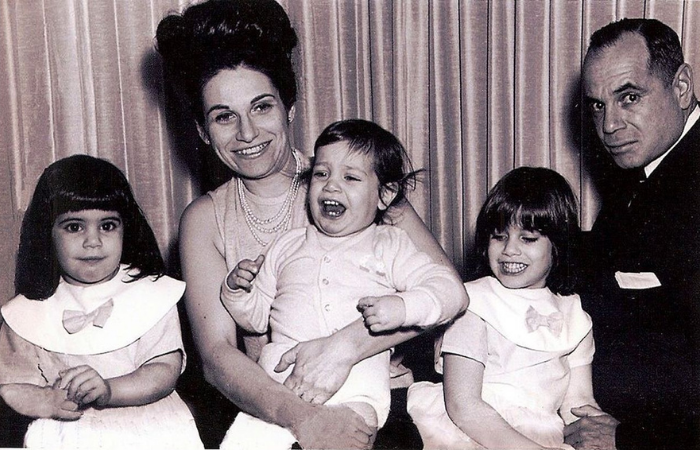 The book opens with an adult Bolton-Fasman receiving a long letter from her father, who had recently been diagnosed with Parkinson's disease. The letter, she feels, is a portal to his "trastiendas," a word her mother had used to mean secrets, adapted from the Spanish term for storage room. Just as she is about to open the letter, her father calls and instructs her to burn the letter—which she does without reading it. Consequently, she is forced to keep turning over her family's narratives and inexplicable silences about his life before his marriage. "My parents were an accumulation of random details that mostly pointed in diverging directions: culture, nationality, age," she writes. "Their union made them unique and, ultimately, incomprehensible. Like the household budget, their stories never added up."
And so, she felt compelled to reconcile their stories. "I had to reconcile them in my mind as a couple, and as my father and my mother. They were exotic, mismatched, yet perfectly matched. I needed to get to the bottom of the murky story of how they eventually married. They activated a curiosity and a need to build a world that made sense to me."
No exploration is too much to unearth the answers to her burning question: Did her father live a hidden life in Latin America during and immediately after the war? She tracks down his old friends and requisitions government records through the Freedom of Information Act. Even reciting the Kaddish for her father after his death in 2002 becomes an opportunity to engage with him.
Bolton-Fasman's childhood home at 1735 Asylum Avenue in West Hartford, Conn., gives her memoir its title. The roadway was named for the institution once located there: The Connecticut Asylum for the Education and Instruction of Deaf and Dumb Persons, since relocated and renamed the American School for the Deaf. The title not only reflects the author's hyphenated, complex family, but also her search for sanctuary, shelter and healing.
Dense with intrigue, frustration, discoveries, dead ends and paths not taken, Bolton-Fasman's book is above all a fierce search for parental love, solace and inner peace.
---
Rahel Musleah leads virtual tours of Jewish India and other cultural events and hopes to lead her first post-Covid in-person tour in November 2022 (explorejewishindia.com).