Tu B'Shevat, Shmita and the Carob Tree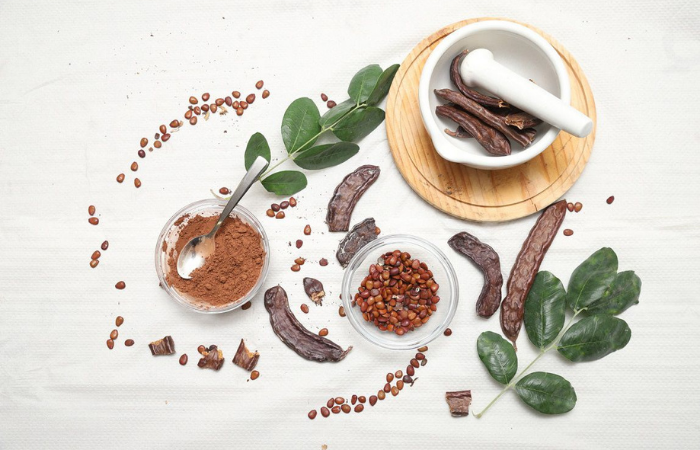 When I was a child, the Tu B'Shevat holiday—the new year for trees, which begins this year on January 16—was all about watching my grandfather bite into a hard black pod that he called bokser in Yiddish. Years later, I learned that bokser means carob—charuv in Hebrew.
Five species of this flowering evergreen grow in Israel. Carob, a type of legume, primarily is used to make a cocoa substitute or locust bean gum, a common thickener in products such as ice cream and baby formula.
Mentioned in Talmudic lore, today the carob is the subject of a research project by the Israeli company CarobWay and the Keren Kayemeth LeIsrael-Jewish National Fund (KKL-JNF). They're using Israeli irrigation and pollination innovations to grow high-yield carob trees nationwide.
"Carob is highly nutritious and flavorful, low in calories and high in energy. But its true potential has yet to be realized," said CarobWay co-founder and CEO Udi Alroy. Indeed, the company's food scientists are developing 14 products from carob.
"Some carob species with a higher sugar content and low glycemic index could provide viable sugar alternatives," noted Alroy. "Other trees bear more seeds, well-suited for locust bean gum. The germ, or protein, of the flower is highly functional and can be used in the gluten-free market. Other parts of the plant are beneficial for gut health or oral health. Carob honey, for instance, is a good antibiotic mouth rinse."
Carob also has potential for weight-loss products because it provides a feeling of satiety, said Alroy.
Meanwhile, KKL-JNF Chief Forest Officer Sohel Zedan explained that Israeli carobs are a "highly sustainable, low-maintenance crop, well acclimatized to extreme weather and other environmental changes."
All the carob trees for the research project were planted before Rosh Hashanah. That's because the Jewish New Year 5782 ushered in a shmita year when the land is left fallow, and any produce grown must be shared rather than sold. Therefore, CarobWay will make carob honey from this year's experimental crop and distribute it to schoolchildren through KKL-JNF's educational arm.
"The whole idea of Tu B'Shevat," added Alroy, "is to plant what is native to Israel and compatible with its environment—fruits such as carobs, dates and olives."