Timely Opera at the Folksbiene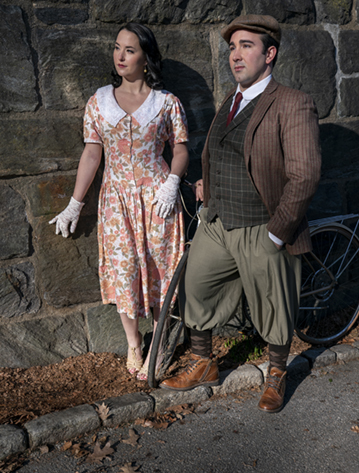 Two new productions from the National Yiddish Theatre Folksbiene, located at the Museum of Jewish Heritage in lower Manhattan, offer distinct looks at the issues of assimilation, antisemitism and acculturation.
The first, The Garden of the Finzi-Continis, premiers tonight, just at International Holocaust Remembrance Day was coming to a close. The opera is based on the novel by Giorgio Bassani of the same name, which also inspired an Academy Award-winning 1970 film. Harmony, by famed American singer Barry Manilow and his long-time collaborator, lyricist and librettist Bruce Sussman, is the second. The production is about the Comedian Harmonists, an ensemble of six young male singers who performed in interwar Germany.
Set in Italy on the eve of World War II, The Garden of the Finzi-Continis tells the story of the aristocratic, Jewish Finzi-Contini family. Behind the walls of their vast estate—which includes tennis courts and a spectacular garden—they behave as though they are immune to the changes wrought by Italy's alliance with Germany. A co-production with the New York City Opera, with music by Ricky Ian Gordon and libretto by Michael Korie, it will run through February 6.
Although The Garden of the Finzi-Continis takes place during the rise of Nazism and fascism in Europe, said Gordon in ana interview with Hadassah Magazine, the opera is not "solely a story of World War II, of Nazis, of discrimination against Jews. It's a story about unrequited love, against the backdrop of catastrophe."
The production focuses on the lives and doomed loves of a group of young friends: Micòl Finzi-Contini (played by Rachel Blaustein) and her brother, Alberto (Brian James Myer); and their friends Giorgio (Anthony Ciaramitaro) and Malnate (Matt Ciuffitelli). The group includes both Jews and non-Jews who gather to play tennis at the Finzi-Contini estate even as Jews are barred from the local tennis clubs. "Giorgio loves Micòl, who cannot love him back, at least in the way he wants her to," explained Gordon. "We imply as well that she doesn't love him back because she senses her family's doom and wants to protect him from her fate.
"And then there is the greatest tragedy of all," he added. "The [Finzi-Continis] are Italians who love a country that doesn't love them back and stands by while they are sent off to their slaughter."
Zalmen Mlotek, artistic director of the National Yiddish Theatre Folksbiene, noted the poignancy of the theater presenting the story of highly assimilated Italian Jews "who are not scared when it comes to racism and fascism."
Indeed, the racism and divisiveness in the United States today were a focal point for Gordon, a Jewish composer whose body of work includes Morning Star, an opera about the Triangle Shirtwaist Fire. "I see evidence that what we hold dear could be snatched away from us in an instant," he said, "that we could potentially be blind and deaf, or at least impotent before the looming march toward autocracy, just like the Jews of Europe before World War II. Could there be a better time to do an opera about a family foolishly believing their means keep them impervious to what is happening, that they are protected in the safety of their garden?"
Harmony was also created in reaction to rising division and discrimination. "Across the globe, incidents of antisemitism remain at some of the steepest levels since World War II, offering fertile ground to those who wish to divide instead of unite," Manilow and Sussman told Hadassah Magazine in a joint email. "Our show is about the quest for harmony in what turned out to be the most discordant chapter in human history, and at the root of that discord was antisemitism."
The musical will have its New York City debut on March 23 and run for seven weeks.
The story of the internationally famous Comedian Harmonists, who were among the most successful singing ensembles of their day until a 1934 Nazi edict led to the exile of its two Jewish members, is a "piece of history very few people know about," said Mlotek.
"It touched Barry Manilow and Bruce Sussman as Jewish artists, and it touches [all of] us as well."
Jane Levere is a New York-based freelancer for The New York Times, The Washington Post, CNN, Architectural Digest and Metropolis, among other publications, and a life member of Hadassah.