Holy Sparks: Celebrating Fifty Years of Women in the Rabbinate
Seven bronze shins, the Hebrew letters ascending like a ladder to heaven, spark rays of light against a shifting and shimmering blue background. When the letters reach the top of Shira Hadasha, artist Laurie Gross's mixed-media piece, they are crowned with a phrase from Psalm 96: "Shiru l'Adonai shir hadash" (Sing a new song to God).
Shira Hadasha is one of two dozen original works in "Holy Sparks: Celebrating Fifty Years of Women in the Rabbinate," a new traveling exhibition. The piece is Gross's tribute to Reform Rabbi Angela Buchdahl, the senior spiritual leader of Central Synagogue in Manhattan and the first Asian-American to be ordained as rabbi or cantor (she is both). The blue background is a photograph of the tapestry designed in 2002 for the interior of the ark at Central Synagogue. To reflect Buchdahl's immersion in Jewish spirituality and her Buddhist roots through her Korean mother, Gross imagined the meditative "sh" sound of the shin floating and vibrating, evoking words connected to spirituality such as the Shema prayer and Shechinah, the Divine presence.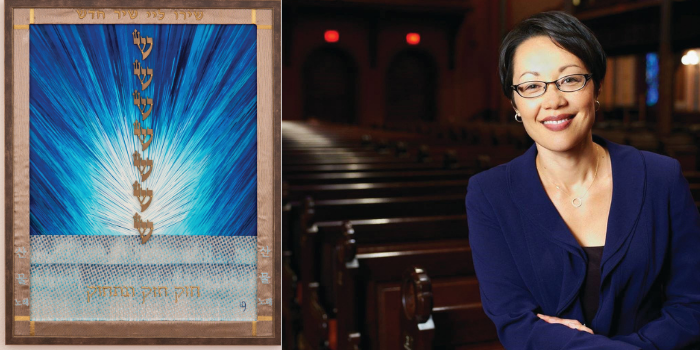 "Holy Sparks" is at the Dr. Bernard Heller Museum at Hebrew Union College-Jewish Institute of Religion in Manhattan through May 8 and is scheduled to move to the Skirball Museum at HUC's Cincinnati campus from May 19 to September 4. Each of the rabbis featured in the exhibit was paired with a contemporary female Jewish artist. The photographs and artworks on display are accompanied by artist statements as well as short biographies of the rabbis. The artists and rabbis span a range of ages, denominations, identities and global geographies, illuminating the "creativity, commitment, and vision of 24 women who were 'firsts' in their time," Jean Rosensaft and Abby Schwartz, directors of the Heller and Skirball museums, respectively, wrote in the exhibition catalog. "From the pulpit to the college campus, from philanthropic foundations to Jewish communal organizations and agencies, from military to healthcare chaplaincy, women rabbis have indelibly redefined Jewish leadership."
---
Then and Now: The 'Four Firsts' ordained in their respective denominations weigh challenges to the Jewish community
---
These trailblazers represent the achievements of over 1,300 women ordained around the world, in all the Jewish streams, since Sally Priesand became the first female rabbi in the United States after her ordination at HUC in 1972.
Photographer Joan Roth sets the stage for the exhibit with her colorful, radiant photograph, Opening Doors: The World Moves Forward Every Day Because Someone Is Willing to Take the Risk. In the image, Priesand stands in front of the ark at Monmouth Reform Temple in Tinton Falls, N.J., the synagogue she served for over two decades. A text panel near the display pays tribute to a little-known pioneer who preceded Priesand by decades: Berlin-born Regina Jonas, who was ordained by Rabbi Max Dienemann, executive director of the Conference of Liberal Rabbis in Germany, in 1935; Jonas was murdered in Auschwitz in 1944.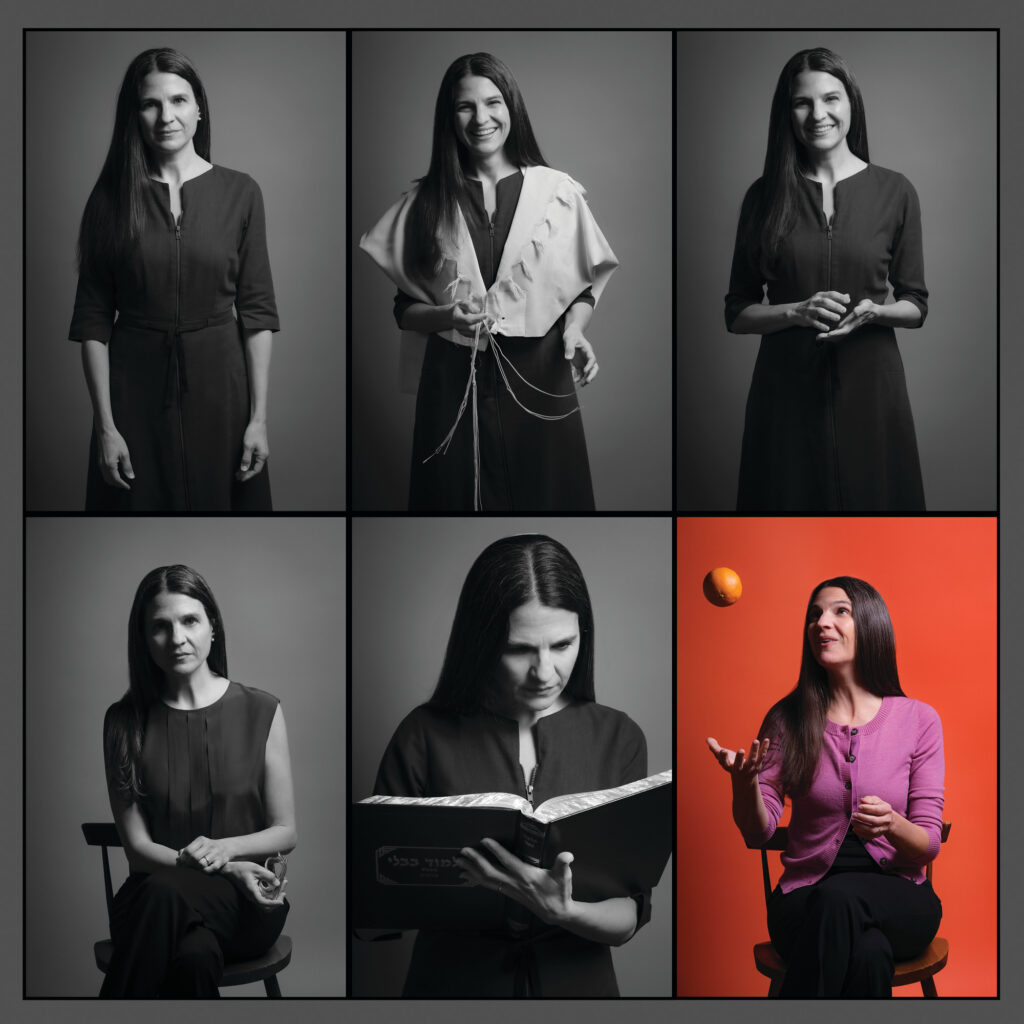 In another pairing, photographer Penny Wolin's multi-image study of Sharon Brous captures both the serious and playful sides of the founding and senior rabbi of IKAR, a spiritual community and post-denominational congregation in Los Angeles. Set as a contact sheet, the six images—five in black-and-white—include one of Brous in her short, bespoke linen tallit, and another with an open volume of Talmud. The final frame pops with an orange-colored backdrop as Brous, dressed in a deep-pink sweater, tosses an orange into the air. The fruit has become a modern symbol of inclusion in Judaism and is today sometimes placed on the seder plate to symbolize those marginalized within the Jewish community. It also gives Wolin's work its title: Orange.
"The orange shows that, yes, we are an old culture, but it's one that we can change," said Wolin, who called Brous "an iconoclast who is serious but approachable."
The diversity in the exhibition, Brous said, allows viewers to stretch their preconceived notions of female rabbis in a visceral way.
---
A virtual event featuring Rabbis Sally Priesand, Sandy Eisenberg Sasso, Amy Eilberg and Sara Hurwitz, all of whom made history by becoming the first ordained rabbis in their respective denominations.
---
"There's a perception that non-Orthodox women rabbis are all of one sort, but in fact we have very different perspectives, approaches and ways of using our platforms," noted Brous, who was ordained at the Conservative movement's Jewish Theological Seminary in 2001. "The Torah of our IKAR community is serious and heartfelt as well as fluid. I love that Penny captured the motion. She took in the multiple faces of the rabbinate."
Five years in the making, "Holy Sparks" is the brainchild of Ronda Spinak, founder and artistic director of The Braid (formerly Jewish Women's Theatre) in Los Angeles, which brings stories of contemporary Jewish women to the stage. In 2010, together with board co-chair Lynne Himelstein, Spinak created the Story Archive of Women Rabbis, which grew to include filmed interviews with 190 rabbis from around the world. The interviews feature "intimate, gentle and compelling conversations," Spinak said, that tackle rabbinical school experiences; when the rabbis got their "callings"; their understanding of God; and holy moments, greatest obstacles and more. Edited stories from 75 rabbis are now online at the Jewish Women's Archive, with 25 more in the works.
Spinak and Himelstein, both Hadassah life members, wanted to infuse their archive with an artistic vision as well. The Heller museum in Manhattan provided curatorial guidance, identifying leading artists who were charged with creating a work of art inspired by the words and life of their assigned rabbi. About half met the rabbis in person.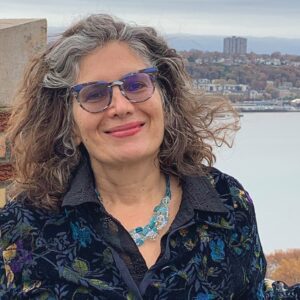 The matches were made with intentionality, according to Rosensaft and Spinak. Mumbai-born Siona Benjamin, for instance, well understands the radical journey of Rabbi Dianne Cohler-Esses, the first female rabbi from the Syrian community and currently associate rabbi and director of lifelong learning at Romemu, a large progressive and egalitarian Jewish Renewal congregation in Manhattan. Benjamin's mixed-media work Holy Flying Sparks depicts Cohler-Esses in her tallit, "breaking through the glass ceiling, flying over a geological terrain, soaring between oceans and transcultural terrains symbolizing her two identities," the artist said in her exhibit statement, adding that Cohler-Esses "is a Jewish woman of color, as am I…and her blue skin reflects the sky and ocean, borderless and beyond boundaries."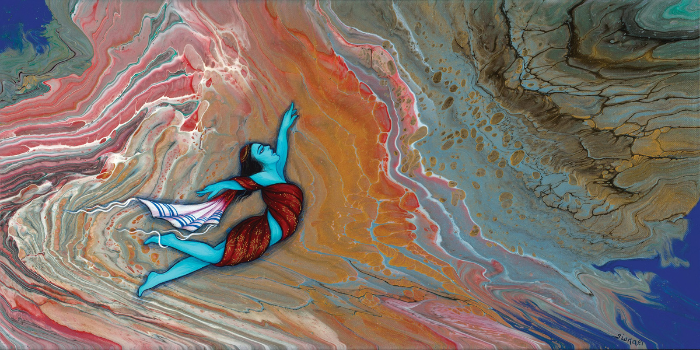 Overseas, fascinating stories like that of Gesa Ederberg are no less stirring. Born a Lutheran Christian in Germany, Ederberg visited Israel with a church group at the age of 13, fell in love with Judaism, converted in 1995 and was ordained at the JTS. The first female rabbi to serve in Berlin since Regina Jonas, she helped found the Masorti (Conservative) movement in Germany in 2006. Yona Verwer, a Dutch-born visual artist who lives in New York, tells Ederberg's story through her painting of the iconic Neue Synagogue's dome, which morphs into a scroll that unfurls to reveal the Hebrew letter mem for Masorti. The scroll seems to be lit from within, illustrating how Ederberg has revitalized the German Jewish community in Berlin.
---
---
"In highlighting the empowerment of women as Jewish leaders, HUC also made the decision not just to celebrate its own rabbis, but to broaden the scope of the exhibit to all denominations, showcasing pluralism and vitality," said Rosensaft, another Hadassah life member who also serves as HUC's assistant vice president for communications and public affairs.
"Putting women's faces and depictions of the work we do in the public sphere is symbolic of how far we've come. It rights a wrong of erasing our faces for so long," said Rabba Sara Hurwitz, co-founder and president of Yeshivat Maharat, the first institution to ordain Orthodox women as clergy, and part of the rabbinic staff at the Hebrew Institute of Riverdale. (In 2013, Hurwitz was awarded the Hadassah Foundation's Bernice S. Tannenbaum Prize.)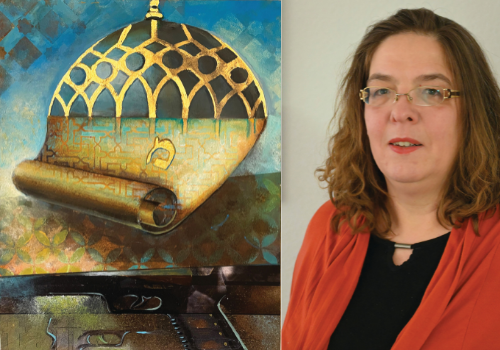 Artist Kathryn Jacobi's painting embeds Hurwitz in her family and community yet embodies her strength to make a courageous change. An image of Hurwitz looms large in front of the ark curtain at the Hebrew Institute. The curtain itself serves as a framework for smaller images of her family—her parents with her at her bat mitzvah in South Africa, where she was born; her maternal grandparents at her wedding; her husband and children. In the right-hand corner of the painting, Hurwitz is shown embracing a group of newly ordained women at Yeshivat Maharat.
Hurwitz noted that she only added her family to her professional biography a few years ago, representing "an evolution of balancing the work of a community leader with family life." Women in the rabbinate are still very new in Orthodox circles, she said, noting how "the fact that they're women is core to their identities but not the reason they're becoming rabbis: They want to serve the Jewish people."
---
Rahel Musleah leads virtual tours of Jewish India and other cultural events and has scheduled her first post-pandemic, in-person tour for November 2022 (explorejewishindia.com).