It's Good to Be the King, or Queen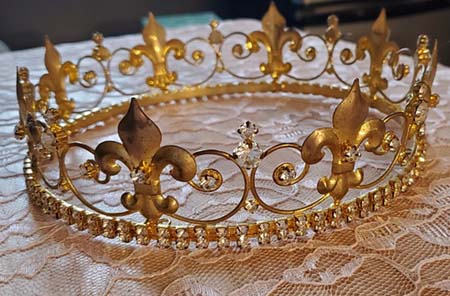 From the big bang theory to today's conspiracy theories, what we appear to prize most, as we seek to explain our world, are origin stories. Take the example of the Hebrew root מ-ל-ך (mem, lamed, khof), to rule. The word מֶלֶך (melekh), king, when it refers in Scripture to the Israelites, is first mentioned not in a reference to our first king, Saul, or his successor, David, but, in an apparent anachronism in Genesis 36:31, לִפְנֵי מְלָך מֶלֶך (lifnei melokh melekh), "before there reigned any king [over the Children of Israel]."
But was Saul truly the first Jewish king? In Judges, a certain Abimelekh rose up to kill 70 of his brothers לְהִתְּמַלֵך (le-hitmalekh), to crown himself, the "first" king of Israel. King David, דָוִד הָמֶּלֶך (david ha-melekh), is recognized as the founder of our first dynasty; from his promised progeny we eventually come to our Messiah, מֶלֶך הַמָּשִׁיחַ (melekh ha-mashi'ah), literally, "anointed king." And then there is the Semitic deity known in English as Moloch, to whom parents would offer their children as sacrifices. In Hebrew, this god is called מֺלֶך (molekh), a word clearly related to melekh. But commentators explain the pronunciation change by saying that the vowels of the word בֺּשֶׁת (boshet), "shame," were affixed to the name of the deity to show Israel's horror at the practice of child sacrifice.
Depending on how it is read, the story of the origin of the hymn Eishet Hayil, the Woman of Valor, can be edifying. Was it composed originally by a woman, a מַלְכָּה (malka), queen, even? The late Victor Avigdor Hurowitz, professor of Bible, archaeology and ancient Near Eastern studies at Ben-Gurion University of the Negev, hinted that the "ideal wife," the eishet hayil in Proverbs 31:10-31, should be read as a corrective to the negative image presented by the Queen Mother of King Lemuel in the first nine verses of that chapter, where she uses our root to warn her son to be wary of giving his strength לַמְחת מְלָכִין (lamhot melakhin), to women who "destroy kings."
In 1928, David Ben-Gurion prophetically coined a new adjective from our root. In a coming State of Israel, he implied, every government function would be not factional but מַמְלַכְתִּי (mamlakhti), run by the entire state, including all its different parties.
Which brings us to three מְלָכת (melakhot), queens, who all threw parties. Maybe this Purim, which begins the evening of March 16, we can, metaphorically, join Queen Esther, Queen Vashti and מַלְכָּת שְׁבָא (malkat sheva), the Queen of Sheba, in a "traditional" Purim masked ball—socially distanced and fully vaccinated, too. In keeping with our theme, during the event, we might play Simon Says, which in Israel is called הַמֶלֶך אָמַר (ha-melekh amar), The King Said. And in the topsy-turvy spirit of Purim, we might ask Vashti to be the king.
Joseph Lowin's columns for Hadassah Magazine are collected in the books HebrewSpeak and HebrewTalk.