Confidence and High Fashion as Beauty Enhancers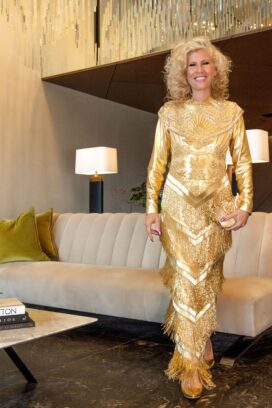 If Queens Esther and Vashti had opted to hire a fashion designer, they might have picked Donna Leah Goldstein of Miami, whose one-of-a-kind gowns, lounge and evening wear glitter with outrageous individuality.
Conversely, the 58-year-old Modern Orthodox founder of Donna Leah Designs knows exactly how she would dress each queen, whom we celebrate on Purim, beginning this year the evening of March 16. She would swathe Esther in the same gold gown of stretch silk and satin that she designed for her own birthday celebration last year, she said, an ensemble featuring a gold-embroidered top and layers of gold fringe. Vashti, she said, would shine in a metallic silver gown festooned with appliqués.
Goldstein, who grew up in Queens, N.Y., is a graduate of Columbia University and the Fashion Institute of Technology. She designed her first gown only eight years ago—a head-turning white dress that glistened with blue and green rhinestones and crystals that she wore to Shabbat morning services. The response was so positive that after decades of dreaming about starting her own fashion line, she launched Donna Leah Designs in 2019.
Though not intentionally created with modesty in mind, much of her line features long sleeves and low hemlines. Now, congregants at her Chabad synagogue in Miami look forward to the dramatic outfits she wears every Shabbat.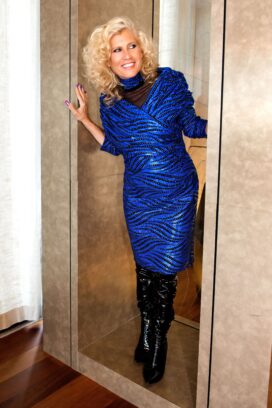 "I just want to make myself happy," Goldstein said, "and my clothing is an expression of who I am."
Initially, Goldstein had hoped to tap the celebrity market with her gowns, but the pandemic and its stay-at-home ethos motivated her to create a casual line of hoodies, tops and leggings in vibrant shades from lime green to fuchsia. But now that red-carpet events are resuming, she has created a number of striking dresses for the likes of American singer-songwriter Tanya Tucker and, on the younger spectrum, Instagram influencer Alexandra Dieck, who wore a coral-colored evening dress designed by Goldstein to the Latin Grammy Awards in 2021.
"I want to help women feel comfortable with themselves," Goldstein said, "because confidence enhances beauty and appearance. My goal is to empower women."