Connecting the Dots Between Power, Purpose and Engagement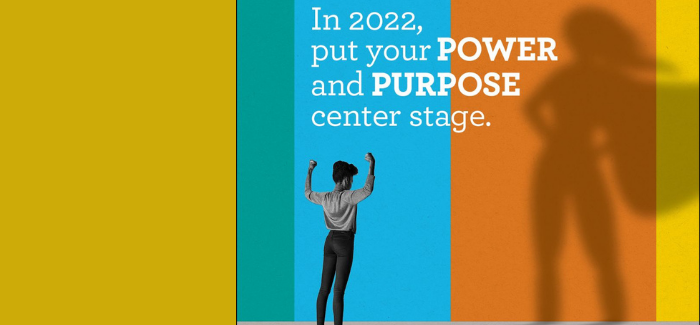 How do we find purpose and how do we integrate that purpose into our daily, busy lives? Deriving meaning from something greater than ourselves was explored at Hadassah's Power of Purpose Conference, held virtually on January 9 and featuring an array of impressive female entrepreneurs, social activists and health workers.
Before the day of panel discussions and workshops kicked off, the nearly 300 participants heard from emcee Lesley Stahl, the pioneering CBS journalist, and NBC TODAY show personality Jenna Hager Bush; Janice Weinman, immediate past CEO of Hadassah and chair of the Power of Purpose Committee; and Rhoda Smolow, national president of Hadassah. "There are few things I can think of," Smolow told the audience, "that are more exciting than the feeling of fulfilling one's purpose and doing so alongside like-minded women."
That camaraderie was underscored in the conference's four panels—and in concluding remarks delivered by Naomi Adler, Hadassah's new CEO/executive director. "At a time when our world faces so many crises and challenges," Adler said, "I am convinced that the leadership, intelligence and vision of women—especially Hadassah women!—are desperately needed. I can't wait to see how much more we'll be able to accomplish together."
Voice (Advocacy) Panel
Moderated by attorney Brooke Goldstein, founder of the Lawfare Project, panelists Mandana Dayani and Tamar Manasseh shared their different paths to advocacy and the value they see in their work. Dayani, an Iranian Jewish immigrant, drew on her family's experience of finding safety and success in America in discussing her interest in encouraging civic participation and voting through her "I am a voter" initiative. For her part, Manasseh, a newly minted rabbi who lives and works on the South Side of Chicago, recounted how she came up with the idea for Mothers/Men Against Senseless Killings in the wake of neighborhood gun violence, and explored how the Black and Jewish communities can be better allies in the fight against racism and antisemitism.
Soul (Israel) Panel
Historian and Israel educator Rachel Fish joined Israeli-born actress and producer Noa Tishby in conversation—led by Israeli tech executive Lee Moser—about how to defend the Jewish state in a world of rising antisemitism, especially in the wake of the May 2021 conflict with Hamas, which sparked a significant rise of anti-Jewish sentiment on social media. Both Fish and Tishby, author of Israel: A Simple Guide to the Most Misunderstood Country on Earth, stressed the importance of not being afraid to counter online hate. Fish implored those watching not to shy away from talking about the country. There should be "no more safe spaces, but brave spaces," Fish said. "Engage bravely and challenge ideas."
Body (Health) Panel
New York City criminal court judge Ruchie Freier, the only female Hasidic jurist in the United States and the founder of the all-female volunteer ambulance service Ezras Nashim, moderated a panel that focused on supporting women's health and equity as a means of creating opportunities for women to lead. TODAY show nutritionist Joy Bauer; ob-gyn Dr. Anat Walfisch of Hadassah Hospital Mount Scopus; and Erin Zaikis, founder of RISE by Sundara, joined Freier to explore how offering women—in America and Israel as well as in developing nations—the chance to improve their access to medical care and hygiene benefits the community at large. As Zaikis, whose nonprofit is tackling water, sanitation and hygiene poverty, told attendees, "When we invest in women's health, it's the best possible investment of our time, of our money and of our advocacy. When you're supporting one woman, you're supporting her family and you're supporting her community at large."
Mind (Empowerment) Panel
Marcy Syms, former president of the Syms retail chain and today an advocate for the passage of the Equal Rights Amendment through her involvement in the ERA Project at Columbia Law School, spoke with two women who are themselves active in the fight for equal and civil rights. Tiffany Dufu, author of Drop the Ball: Achieving More by Doing Less and founder of peer-coaching platform The Cru, exchanged stories with Syms and attorney Amy Spitalnick, executive director of the civil rights group Integrity First for America, which recently won its groundbreaking federal lawsuit against the neo-Nazis, white supremacists and hate groups responsible for the Charlottesville violence in 2017.
Spitalnick's account of the harrowing courtroom scenes from last year, when the neo-Nazis on trial spewed hate from the witness stand—including making Holocaust jokes—was shocking as well as a reminder, both for her and those watching, that Jews should counter hate when confronted with it.
---
Save the Date to Celebrate Marlene Post!
Hadassah will bestow its top prize, the Henrietta Szold Award, on former national president and Hadassah Magazine's beloved chair, Marlene Post, during the organization's 100th convention, to be held in Jerusalem from November 14 to 17 .
Post first became active in Hadassah as a young mother raising three daughters in Long Island, N.Y., eventually working her way up through regional leadership positions to the national presidency, where she served from 1995 to 1999. Long a popular figure in Hadassah, Post, 84, remains indefatigable in her charitable roles beyond Hadassah as well, including with Birthright Israel, the Claims Conference, the Jewish National Fund, the Israel Sport Center for the Disabled and the Jewish Agency for Israel. Mazel tov, Marlene!