Israeli Mother Sees Herself in Refugees She Helped in Moldova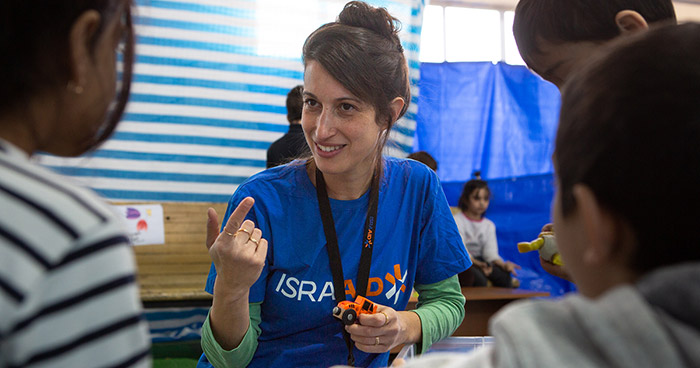 In the nearly three weeks that Hagit Krakov spent assisting Ukrainian refugees in Moldova, certain encounters stood out. There was the 60-year-old man whose lone suitcase contained a pet hamster he couldn't bear to leave behind. The local librarians anticipating bombs landing in nearby Odessa, frantically triaging which books to save should Moldova be invaded next. And the woman who, on hearing the word "refugee," looked up at Krakov and asked, "Are they talking about me? Am I a refugee now?"
Ukrainians "had jobs, went to school, came home at night, talked to their neighbors. Suddenly they had to run away"—mostly women and children, leaving fighting-age men behind—"and not knowing when they'd be back," reflected Krakov, 36, initial head of mission in Moldova for the Israeli humanitarian organization IsraAID.
By mid-March, IsraAID had 22 aid workers in Moldova, among them therapists and medics, dispensing food, diapers, blankets, gloves and toys, along with trauma counselors fluent in Ukrainian and Russian. Such is the scale of displacement that the privately funded, 21-year-old organization is planning to continue operations for at least one to three years—even should the war end tomorrow.
---
---
Krakov oversaw the group's initial team of 12 workers in Moldova, among the poorest in Europe. With so much attention devoted to refugees in Poland and elsewhere, IsraAID decided to focus on this nation of just 2.6 million that has received the largest share of refugees by proportion of any host country, according to IsraAID officials. Nearly 400,000 Ukrainians have crossed the border into Moldova, and more than 100,000 so far have stayed, 40 percent of them children. One in eight children in Moldova is now a Ukrainian.
"It was chaos," Ethan Schwartz, IsraAID's media manager, recalled of the first days. In the overwhelmed border town of Palanca, hundreds of Ukrainians arrive daily "and need a safe, warm space to recharge," he said.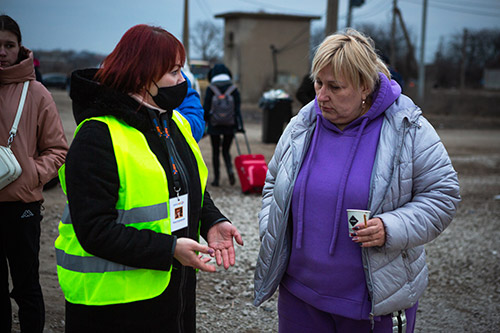 Starting with border tents, the group partnered with local governments and nonprofits to expand operations, which now include shelters in the capital, Chișinău, about 80 miles from Palanca, as well as along the Romanian border. Most clients spend just hours at IsraAID's sites, collecting themselves while the children enjoy IsraAID's play spaces before transiting onward. Jews, a sizable minority among the refugees in Moldova, typically head to Israel.
Moldova is Krakov's first crisis posting since having her own children, aged 2 and 5. Since refugees are overwhelmingly mothers with youngsters, "it's much easier to see yourself as one of them," reflected Krakov, a London-based Israeli who has worked for IsraAID for six years. "These are the most powerful, strong women you could ever meet."
Among them is Elena Prysiazhniuk, one of several refugees hired by IsraAID in Moldova. Prysiazhniuk, 36, until recently spearheaded economic development initiatives for the city of Vinnytsia, southwest of Kyiv. Her experience helping disadvantaged communities—migrants, veterans, those with disabilities—to find jobs and skills training is particularly valuable. So is her ability to speak Ukrainian, Russian, English and even Turkish.
"Moldova is my new home, because I can be useful here—as a motivation for refugees," said Prysiazhniuk, a single mother whose daughters, 7 and 9, are enrolled in a local school. As she helps her compatriots find local housing and jobs, Prysiazhniuk is struck by the warmth and hospitality of her adopted country.
"It is difficult to start from zero, but I show by my example that everything is possible," she said. "I am convinced that even in a foreign country, two sets of clothes are enough to begin a new life."
---
Hilary Danailova writes about travel, culture, politics and lifestyle for numerous publications.