Jewish 'Psychonauts' Take a Spiritual Trip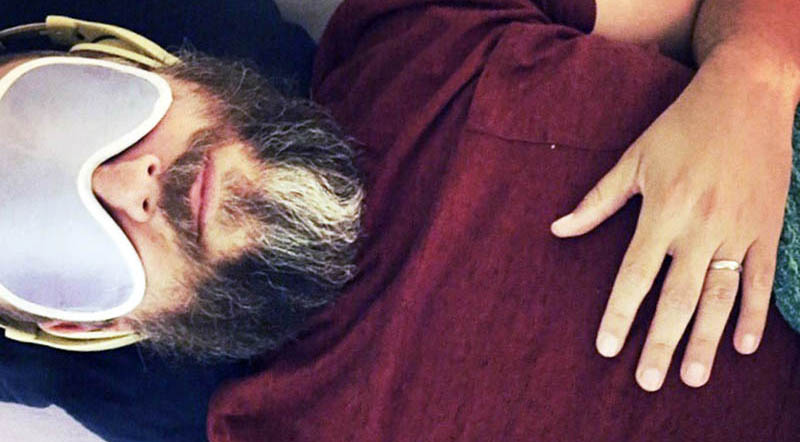 "Today feels like a coming out," declared a panelist at the inaugural Jewish Psychedelic Summit—likely the first event of its kind, ever—which was held on Zoom in the waning days of lockdown last spring.
Organized by Rabbi Zac Kamenetz, journalist Madison Margolin and Natalie Ginsberg, policy and advocacy director of the Multidisciplinary Association for Psychedelic Studies (known as MAPS), the summit served as an ingathering of a different kind of exile—that of the "plant medicine" variety—which includes mushrooms, ayahuasca, cannabis and other entheogens that produce psychotropic effects when ingested.
For two days, more than 1,500 Jews of varying backgrounds—from Orthodox to unaffiliated to Buddhist-believing "JewBus"—convened to discuss the connection between Jewish spiritual tradition and mind-altering substances. Though the atmosphere was more celebratory than sheepish, the subtext was clear: Even though psychedelics have been illegal for personal use in the United States and Israel for nearly half a century, an underground Jewish subculture has been using them anyway, exploring how altered states of consciousness can deepen and diversify Jewish life.
"There's something about direct religious spiritual experience that I believe is at the heart of Jewish existence," Kamenetz, founder of Shefa: Jewish Psychedelic Support, told me during an interview.
Kamenetz, 40, who lives in Berkeley, Calif., wasn't always a "psychonaut," a term coined in the 1970s to describe those who induce altered states of consciousness to explore the unconscious mind and which literally means "sailor of the soul." He grew up in Southern California in a secular Jewish family which celebrated "some" holidays but in which there was no conversation about spirituality or the Divine.
It wasn't until Kamenetz attended high school in Israel and visited a famed archaeological site that something extraordinary happened. "I had a very powerful, unexpected, endogenous, overwhelming mystical experience," he recalled. "I knew God was real."
That's when Kamenetz walked to a falafel stand that also sold a few Judaica items, bought a kippah and became an observant Jew.
A decade later, Kamenetz, who was ordained in a seminary in Jerusalem, was serving as rabbi of the Jewish Community Center of San Francisco when the magic of that mystical experience began to wear off. "I couldn't even open up a siddur without feeling like, 'Ugh, this is so boring,' " he said.
He decided to join a Johns Hopkins University study in 2017 that was seeking clergy to participate in research trials focused on psychedelics and spiritual leadership.
It was the first time he had tried psychedelics, and the experience at Johns Hopkins changed him. He described the internal journey as beautiful, powerful, deep. There was only one problem: "The protocols for the experience were created by people who do not necessarily have Jewish cultural, spiritual and psychological needs in mind," he said.
To meet that need, Kamenetz created Shefa in 2020, an organization that offers routine private "integration circles" in which Jews can process psychedelic experiences within a Jewish context. Often, these circles include storytelling and learning Jewish texts.
---
Read our related story, "Can Psychedelics Make You Whole?" A look at research on using psychedelic-assisted therapy to treat severe trauma at prestigious institutions in the United States and Israel.
---
"Jewish people are meeting [to do psychedelics] and not broadcasting it," Kamenetz said of the Jewish psychonauts he now encounters through his work. "Everyone is searching for the direct experience that our tradition promises."
At a time when younger generations of Jews view traditional synagogues as stale or out of touch, proponents of psychedelics say they offer a more immediate, experiential, embodied Jewish practice; a way to reclaim the Jewish mystical tradition for modern times. For some, psychedelics can imbue Jewish rituals and holidays with enhanced power. For others, they're a chance to explore collective Jewish trauma or open a portal into a deeper realm of mind, advocates say.
While some presenters at the summit were eager to point out the presence of plant medicine in ancient Israel (several years ago, cannabis resin was found upon a pair of limestone altars from the ancient temple in Jerusalem) Kamenetz bats away the speculation. "What's happening today is a novelty. We are doing something new."
"This is going to inspire a creative, spiritual renaissance that puts the Jewish people back in touch with that burning core that sits at the heart of our mystical tradition," Kamenetz added.
To that end, Shefa is launching a program to train rabbis in how to talk to congregants about their psychedelic experiences and integrate their insights into Jewish practice.
But what Kamenetz envisions is even bolder: He sees psychedelic-inspired creativity radiating to all aspects of the Jewish experience, producing new rituals, texts and music.
"This is about rewiring ourselves in some essential way," Kamenetz said. "For increased connectivity and friendship; for a greater sensitivity to existence and our role in it."
---
Danielle Berrin is an award-winning journalist based in Los Angeles.