Roots Amid the Rubble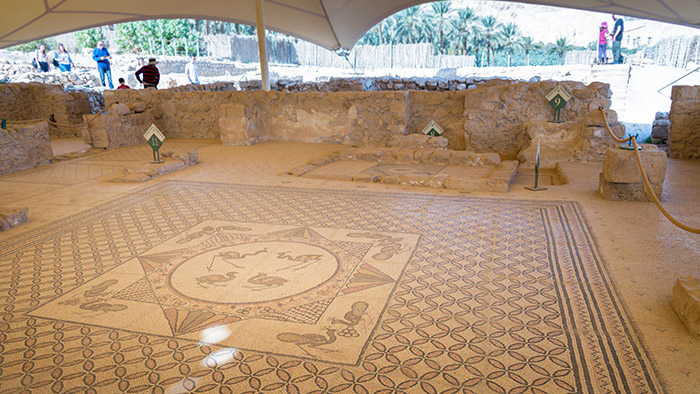 ---
Like so many others at the height of the Covid-19 lockdowns, I escaped isolation by turning to television. When I watched The Dig, a movie on Netflix about amateur archaeologist Basil Brown's discovery of a seventh-century Anglo-Saxon ship buried at Sutton Hoo on Edith Pretty's estate in Suffolk, England in 1939, I was reminded of my own life-changing archaeology experience in Israel half a century ago.  
In the spring of 1972, I was 19 and taking what would now be called a gap year before college. After finishing four months as a member of a dance company in Greece, I flew to Israel for the first time. While riding in a bus to see friends at Kibbutz Kvutzat Shiller in the center of the country, I heard a radio report about an archaeological excavation underway near the Dead Sea. The Israel Exploration Society believed that its crew was digging at the site of an ancient synagogue. I had come to Israel to understand more about my Judaism; digging in the earth seemed literally and figuratively an ideal way for me to learn more about my roots.   
The next morning dawned bright and beautiful as I stood on the road outside the kibbutz and stuck out my thumb to hitchhike. Eventually, I made my way to the Dead Sea and then to the bottom of the road to the Ein Gedi Field School, excavation headquarters.
The field school was perched on a hill across the road from the Dead Sea, facing Jordan. Upon arrival, I climbed up the hill and found the excavation director loading tools into a truck. His name was Dan Barag, a well-known and respected professor at the Hebrew University of Jerusalem's Institute of Archaeology. When I asked him if I could join his team of workers, he laughed.
"Do you have archaeology experience?" he asked me.
"No," I replied, "but I'm a hard worker."
"This is an extremely important excavation," he said. "Experienced archaeologists and anthropologists are here from all over the world. Many of them waited one or two years to work here, paid their own expenses and came great distances to work on this site. People don't just show up at this dig. Go home, girl!"
Undeterred, the next day I found my way back to the archaeological site and again asked the director if I could work. Again, he told me there was no room.
When I returned a third time, Barag threw his hands in the air when he saw me. "You don't quit, do you? O.K. I will let you work, but you have to follow all of my directions."
He teamed me with Shalom, an elderly man with a deeply tanned, weathered face framed by a white beard. He wore the blue workpants typical of a kibbutznik, a short-sleeved shirt and canvas work gloves. I was the youngest member of the group; Shalom, the only other inexperienced worker, was the oldest at 85. As an oleh from Russia, he was living his Jewish dream as he worked in the dirt.
Barag and his fellow academics believed that the Ein Gedi site was once a fifth-century Byzantine-era synagogue. Two years earlier, a mosaic floor in beautiful condition had been unearthed, its center gloriously depicting geometric patterns, floral motifs and groupings of peacocks. These symbols and their location indicated the layout of an early synagogue, but so far there had been no definitive proof. The archaeologists were anxious to find evidence that Jews had lived in the area. Such a discovery would be the earliest sign of Jewish civilization in the Dead Sea region.
I was allowed to eat and sleep with the 16-person group at the field school dormitory. We woke daily at 4 a.m., when the sky was still black and the air cold. After a quick breakfast of fresh yogurt and tomatoes, we were driven to the site. By 5 a.m., with the sky still dark and filled with stars, we began work. Before long, the crimson sun rose over the Dead Sea. We worked until noon, when it became too hot to continue.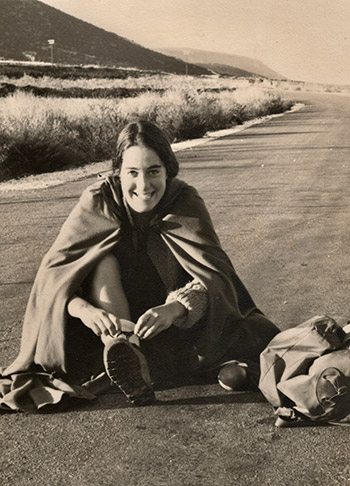 Shalom and I had been assigned the dismantling of a 7-foot-high rock wall that lay atop the northern edge of the excavated floor. He spoke as little English as I did Hebrew, but we managed to communicate. Together, we disassembled the wall, loading dirt and stones that had settled over centuries into a wheelbarrow and dumping the loads in the garbage pile at the edge of the site. When a rock was too large for one of us to move, we lifted it off the wall together.
Each day, cries of excitement would fly across the active site: Crew members were discovering bronze coins, an intact pottery vase—and once even a cloth purse. When that happened, we all dropped our shovels and brushes and rushed to see the find. Work would pause while the directors figured out the best way to photograph and preserve the treasure. Then they would give us an on-the-spot lecture describing the significance of the new discovery.
But Shalom and I were finding only dirt and rocks.
After almost three weeks of digging, only a 1-foot-tall section of our wall remained. Barag approached Shalom and me. "You're done here," he said. He pointed to another 7-foot wall on the other side of the excavation. "Start taking down that wall over there."
Shalom's body stiffened and his hands squeezed the handle of the pick he held. We had worked tirelessly for weeks and were now only inches from what was believed to be the floor of an ancient synagogue. Shalom began to argue with Barag in Hebrew while I beseeched him in English. But Barag kept insisting that we leave the spot, saying that we lacked the technical ability necessary for the final work.
After others in the group joined the debate, advocating for Shalom and me, Barag relented. Under his supervision, we used delicate brushes to sweep away the last dirt from a surface that had not been seen in over a thousand years.
It was immediately apparent that the floor did indeed continue underneath our wall. And when we used rags and water to wash the tiles, we found a mosaic design. Shalom's hands were shaking as we washed off the final layer of dust. In that same instant, we both recognized it—and so did Barag. The tiles formed a perfectly shaped menorah. Shalom began to weep, saying this was the most joyous moment of his life.
"The menorah indicates that this was a synagogue," Barag told us. "The placement of the menorah indicates that this is where the bimah was. This is the proof we have been searching for that Jews inhabited this area near the Dead Sea."
Decades later, I returned to Ein Gedi with my husband and our two sons. By then, not only was the synagogue fully excavated, but nearby streets and buildings of the ancient Jewish settlement had been partially uncovered. A huge white protective tent covered the synagogue's remains and its mosaic floor. The menorah I helped to reveal turned out to be part of a trio, and I was now able to see all three menorahs in the mosaic tile in front of where the bimah and ark had stood. 
I had left my sweat and footprints in Israeli soil, and that effort had left me with an indelible memory of my own heritage and good fortune.
---
Claudia Chotzen is a former attorney and documentary film producer and director. This story is adapted from her recently published memoir, The Dark Room: A Memoir of Triumph.