'Before and After': An Artist Responds to the War in Ukraine

Israeli artist Zoya Cherkassky responds to Russia's ongoing invasion of Ukraine the best way she knew how. She picks up watercolors, markers, pencils and crayons—"whatever was on my desk," she said—and begins to create, letting her imagination take her to disturbing places.
It was her way of processing the horrific images of the war on the news, she explained. On social media, she watched in real time as Kyiv, where she was born, and other areas of her native country were bombarded by Russian forces.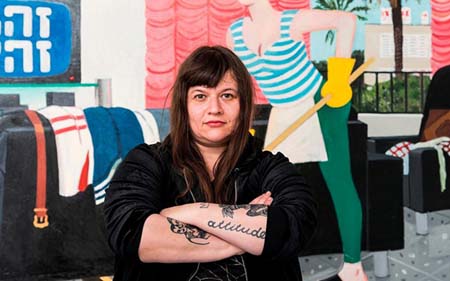 "I can't avoid thinking about what is going on there," said Cherkassky, who made aliyah with her family in 1991 at the age of 14.
After footage emerged on February 27 of a Ukrainian man trying to stop a Russian tank with his bare hands, the 45-year-old artist drew an image of a pig-tailed girl in a white blouse and red-and-black checked skirt looking out over the snow-covered street from her apartment's window. The girl is watching a man with outstretched hands stand before a tank; the building on the other side of the street is burning.
This new piece was inspired by one that Cherkassky drew in 2016, titled, Mama. That image also depicts a little girl perched at a window, but she is happily looking at her mother who is waving at her from the outside courtyard.
Mama is one of the drawings in Cherkassky's "Soviet Childhood" series, 100 small-scale drawings and 50 larger (about 4 by 6 foot) paintings that depict the artist's early years in Ukraine. Cherkassky, who now lives in Ramat Gan and has a studio in Tel Aviv, is an established artist whose brightly colored and often ironic painting and drawings have been displayed around the world. Parts of the "Soviet Childhood" series, ongoing since 2014, have been exhibited in galleries in New York City and Los Angeles, and at a 2018 solo show at the Israel Museum in Jerusalem.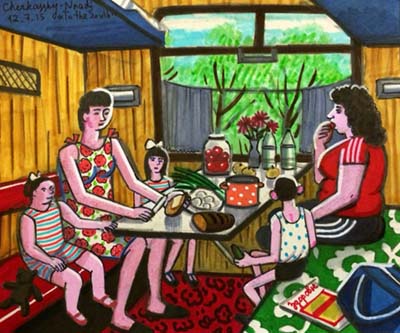 Cherkassky, who has visited Ukraine frequently as an adult, selected 10 of the "Soviet Childhood" drawings as "before" images. For each, she has created a parallel "after" scene expressing what she imagines the same subject would look like now, during the Russian siege. Whereas the original images are lively and humorous, the "after" ones are somber and shocking. Cherkassky uses the same vivid colors in each set—bright reds, yellows and greens—but in the new works, the tone of the pieces has shifted, where the "before" pieces are cheerful and inviting scenes, the "after" ones are dark and foreboding, expressing the pain she feels about the invasion. "They are destroying my childhood," she said about the Russian troops.
For example, Train to the South (2015) depicts a train compartment with two women and three children dressed in summer clothing and enjoying a snack on their way to a vacation. In the "after" version, the same space is crammed with refugees evacuating to the east in winter coats, their faces despondent and worried.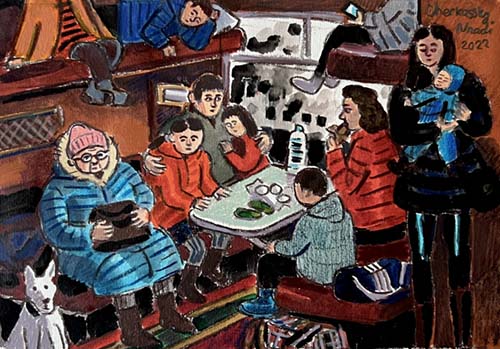 She Forgot to Wear Her Skirt (2016) presents three older women sitting in front of their apartment building. The piece's title reflects a snide remark the trio made about a young woman in the image, who passed by wearing a micro-mini skirt and fishnet stockings. In the "after" image, the building has been bombed and the same young woman kneels in grief at the graves of the elderly women, buried in haste in the front yard. "War" the artist explained, "changes the relationships between people."
Cherkassky is posting what she is calling her "Before and After" art pieces on her Facebook and Instagram accounts. She has received requests to exhibit them, but she is holding off for now.
"I don't want to do an exhibition of these until the war is over," she said. "For right now, creating them is therapeutic for me."
---
Renee Ghert-Zand is a Jerusalem-based freelance writer and journalist covering Israel and the Jewish world.