Elegant and Cosmopolitan Trieste, Italy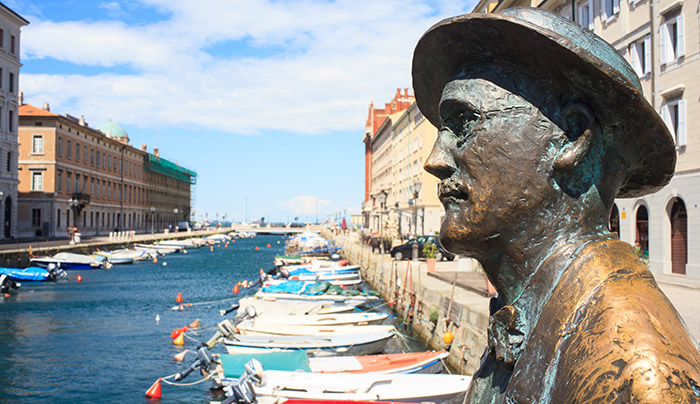 I bumped into James Joyce on a bridge in Trieste, Italy. Our meeting was hardly a coincidence. In a jaunty pose, wearing his signature spectacles, Joyce is frozen in statue form along a route he traversed frequently during his almost 15 years in this Northern Italian city. It was here, beginning in 1904, that the young Irish author penned his most iconic works, including Dubliners, Portrait of the Artist as a Young Man and much of Ulysses, the latter inspired in part by Trieste Jewish friend and literary colleague Italo Svevo. 
Like Joyce, I found Trieste to be a place where one stumbles into Jewish stories. On my first night in the city's marvelous medieval quarter, over a post-dinner gin and tonic, I struck up a conversation with the woman at the next table while our kids played on the piazza. An American from the San Francisco Bay Area, she had relocated to Trieste to reconnect with her father's Italian Jewish roots; her kids had just started at the local Hebrew school.
Decades after the Holocaust, during which most of Trieste's 6,000 Jews had either fled, converted or were deported to concentration camps, Jewish life feels present here to a degree rarely found in Southern Europe. It's impossible to miss the fortress-like grand synagogue, built during Joyce's sojourn, with its huge rose window overlooking a downtown boulevard. There's the statue of novelist Svevo, Joyce's confidant, striking a pose along the bike racks on the Piazza Hortis. Along the façades of Via Francesco d'Assisi, Hebrew lettering is a clue to the Jewish community headquarters inside.
For a small city of 200,000 residents, Trieste boasts a notable cosmopolitanism that a century ago attracted not only Joyce, but also Jewish intellectuals like Sigmund Freud and Italian poet Umberto Saba, whose antiquarian bookstore lives on at Via San Nicolò 30. This ancient port on the Adriatic Coast 100 miles northeast of Venice has only been part of Italy since World War I. Before that, Trieste was part of the Hapsburg Empire for roughly 600 years, during which time it was populated by Austrians, Serbs and Slovenes, including a minority of Jews and others, and briefly contested by Napoleon.
In Trieste, few sights are more staggeringly beautiful than the sun slowly slipping into the Adriatic Sea, punctuated by silhouetted ship masts and distant towers as a rosy glow envelops the palazzo-studded hills above the city. Though she never personally visited the area, 18th-century Empress Maria Theresa (the only woman in 600 years of Hapsburg rule) played a major role in the city's development by ordering the construction of the Borgo Teresiano, a neoclassical Viennese-style neighborhood. Trieste's Grand Canal is its centerpiece, lined with trattorias and crisscrossed by bridges.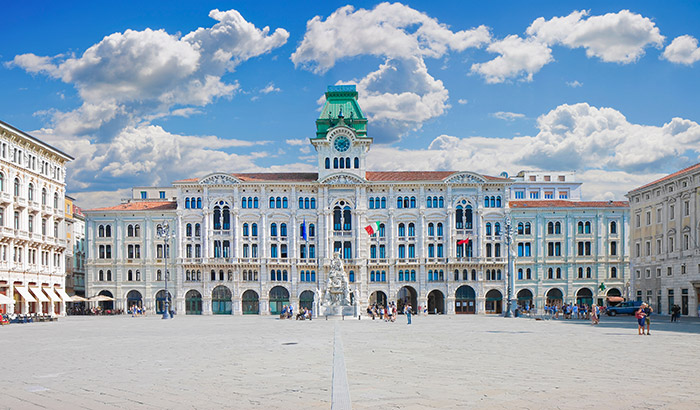 But the best vantage point for sunset-watching may be the Piazza Unità d'Italia, Europe's largest waterfront square. Surrounded by palazzos that predate the namesake unification of Italy, the piazza shimmers after a recent facelift that restored both the iconic Fountain of the Four Continents in front of City Hall and the elegant sandstone that had, in postwar years, been repaved with asphalt. A statue of Hapsburg Emperor Charles IV (Maria Theresa's father) stands atop an obelisk, pointing toward the free trade port he established to cement Trieste's commercial status. 
Even before Hapsburg rule, as the city prospered, a Jewish bourgeoisie wove itself into the social fabric. Fortified by Ashkenazi Jews from German-speaking lands and, later, by a Sephardic community with roots in Corfu, Trieste Jewry coalesced toward the end of the Middle Ages and reached full flower in the late 1800s, when the population peaked at around 6,000. As elsewhere, the Jews' fortunes rose and fell according to the whims and prejudices of whomever was in charge, but overall, Trieste was one of the better places to be Jewish in Europe in the centuries before World War II. It was also a major port of Jewish immigration to Haifa as well as to America in the interwar years.
Today, there are roughly 600 Jews in Trieste, one-tenth the prewar figure. But numbers don't tell the whole story. Local Jews maintain an active day school, employ a full-time Orthodox rabbi and proudly oversaw the recent renovation of their synagogue's landmark dome. The community is fortified by a steady influx of Jewish academics drawn to the city's many research institutions, including the renowned University of Trieste—a Fascist-era complex in the hills overlooking downtown.
Along the elegant boulevards of Trieste's centuries-old Jewish quarter, I passed Viennese-style cafes and watched the sun glint off a Serbian church spire. Yet I never felt I was anywhere other than Italy. In Trieste, it seems, anyone—Irish poets, French emperors, American Jews—can feel right at home.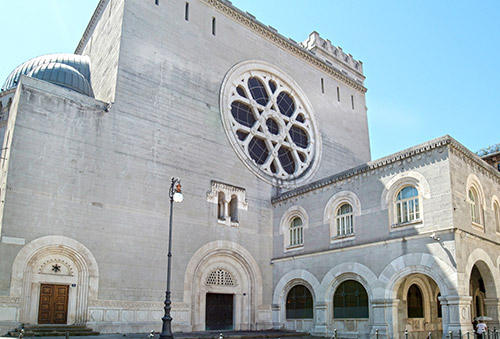 WHAT TO SEE
Best programmed as an overnight side trip, Trieste is an easy drive from Venice (2 hours); Ljubljana, Slovenia (1.5 hours); and Zagreb, Croatia (3 hours). 
Trieste's top sights are clustered around the waterfront on flat, easily navigable streets and piazzas, many pedestrian-only. Since the coast faces west, the sun sets into the Adriatic every evening.
The heart of Trieste is Piazza Unità d'Italia, a grand square surrounded by 19th-century palazzos that was known as Piazza Grande before the unification of Italy. To the south is Trieste's medieval quarter, a mostly pedestrian zone full of cafes and inviting smaller piazzas. North is the neoclassical Borgo Teresiano neighborhood, centered around the Grand Canal. East of Piazza Unità is Trieste's historic Jewish quarter, which used to be home to the city's Jews. Have a pastry at Caffè San Marco (nonkosher), which retains the fin-de-siècle ambience and piles of books that made it a refuge for intellectuals like James Joyce and Italo Svevo. A block away on via S. Francesco Assisi is the imposing synagogue, the Tempio Israelitico di Trieste (entrance fee about $6). 
Housed in a former Jewish hospital building a few blocks southeast of the Jewish quarter, the Museo della Comunità Ebraica di Trieste Carlo e Vera Wagner illuminates history through Judaica, photographs and a Holocaust exhibit. Displays and tours are available in English.
For a look at how Trieste's 19th-century Jewish bourgeoisie lived, visit the Civic Museo Morpurgo located on the preserved second-floor residence of the wealthy Morpurgo family. Lavishly furnished in red velvet, gold gilt and glittering chandeliers, the Morpurgo house, two blocks north of the Jewish museum, offers a glimpse into a lifestyle involving separate men's and women's entertaining spaces and parlors for concerts and poetry readings.
James Joyce is everywhere in Trieste: in statue form on a Grand Canal bridge; as the Hotel James Joyce in Trieste's medieval quarter (a convenient choice, with parking); and, a few streets away, at the Museo James Joyce, which hosts an annual Bloomsday celebration on June 16 that celebrates the iconic hero of Ulysses, Leopold Bloom, said to be inspired by Italian Jewish writer Italo Svevo. This year's festivities will honor the novel's centennial. In December, the museum also celebrates Svevo's birthday.
On Trieste's outskirts lies Risiera di San Sabba, the site of a Nazi concentration camp that housed Italy's lone World War II crematorium. Built as a rice mill in 1913, the building was commandeered by Nazis for the detention and killing of more than 3,000 political prisoners—mostly Italian and Yugoslav Resistance members and suspected partisans—and as a transit camp for Jews en route to Auschwitz. 
After the war, the Risiera served as a camp and transit hub for refugees and the displaced, including ethnic Italians fleeing a newly socialist Yugoslavia. Today, the camp is a national monument that offers guided tours and multimedia exhibits, including wartime photographs and artifacts.
Trieste's hilly coastline has few real beaches, but a short trip west of the city is the suburb of Barcola, on the Gulf of Trieste. From the waterfront promenade, staircases lead down to a strip of pebbly sand. While here, visit Castello di Miramare, a Hapsburg palazzo with romantic balconies overlooking the water.
---
Hilary Danailova writes about travel, culture, politics and lifestyle for numerous publications.