Outreach One Pair of Socks at a Time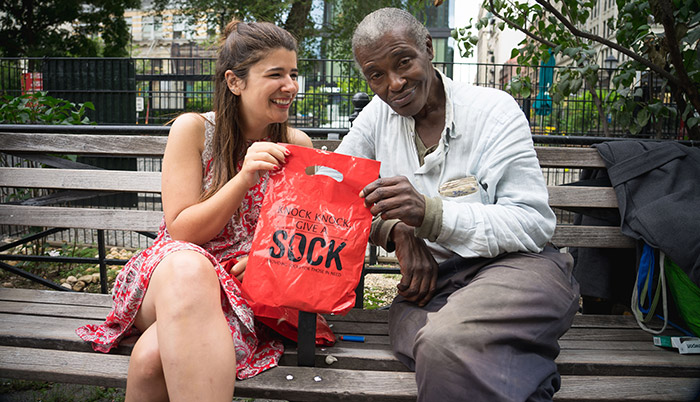 The name of Adina Lichtman's nonprofit—Knock Knock Give a Sock—may sound like a silly joke, but its purpose is deeply serious: to humanize homelessness. Over the last nine years, the 29-year-old Manhattanite has donated over three million pairs of socks to people experiencing homelessness and, in the process, put a name, face and story to those living in shelters and on the street.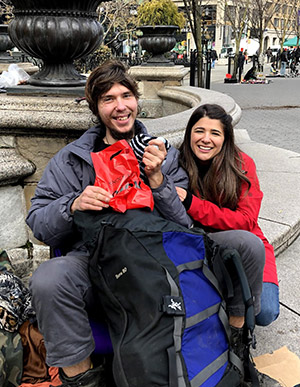 Lichtman started the organization, known as KKGS, as a New York University sophomore in 2013, after a Hillel-sponsored sandwich-making event for people living in shelters. When she gave a sandwich to a man on the street near NYU, he thanked her and added, "What we really need are socks." Returning to her dorm, she knocked on the doors of all the rooms on her floor and collected 40 pairs within 15 minutes.
Today, there are two parts to KKGS's model: engaging colleges, communities and companies in 25 states to host sock drives and encouraging groups, mostly in the New York City area, to host "Meet Your Neighbors Dinners" to foster relationships between people living in homes and in shelters.
Lichtman has written two children's books, Knock, Knock Give a Sock and Knock, Knock Where's My Sock?, which tell the stories of two girls who make an impact regardless of where they live. She dedicated the books to her grandmothers, Hanka Goldkorn, a survivor of Auschwitz, and Roz Lichtman, whose family fled Poland before World War II.
Jewish values continue to motivate Adina Lichtman. "When you see your neighbor in need," she quotes the Torah, "don't look away."