Shavuot Reflections on Kindness, Respect and Resourcefulness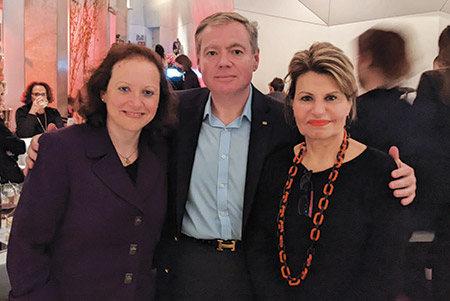 In February, I had a homecoming, setting foot on Israeli ground for the first time as the CEO of Hadassah, the Women's Zionist Organization of America. As we celebrate the upcoming holiday of Shavuot, we reflect on the lessons of the Book of Ruth, including the importance of kindness, respect and resourcefulness—three qualities clearly demonstrated throughout all my encounters in Israel.
Thanks to many planning sessions with National President Rhoda Smolow, I arrived with a robust schedule of meetings with new colleagues at the Hadassah Medical Organization, a visit to one of our youth villages and several days of diplomatic business. Thankfully, it also included my favorite pastime of taking long walks in Jerusalem on Shabbat and making up for two years without Israeli breakfast!
I arrived in Israel aware of Hadassah's long history of impactful response to crises; however, the experience of being there when the missiles started raining down on Ukraine will stay with me for a lifetime. One example truly illustrates why Hadassah is so unique.
During the first week of the war in Ukraine, Dalia Itzik, the chair of the HMO board, received an urgent plea from Yevhen Korniychuk, the Ukrainian ambassador to Israel, asking for medical supplies. Within hours, HMO's acting director-general, Dr. Yoram Weiss, executed a plan to ensure we could answer the request.
By the time Itzik and I sat down to dinner with Ambassador Korniychuk, those supplies—which Dr. Weiss and I helped send off—had been driven to Tel Aviv, then directly airlifted. Distraught and exhausted, the ambassador poignantly acknowledged Hadassah as the first Israeli hospital to help as a stream of people stopped by our table to share condolences.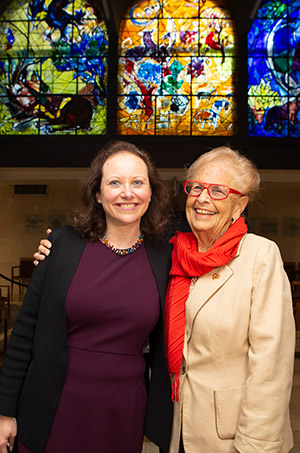 Just after that dinner, in collaboration with Hadassah International, the first of several HMO teams arrived in Poland. In addition to assisting in Lublin, our nurses and doctors partnered with the World Health Organization and others to help Ukrainian refugees. Armed with their deep trauma experience and the knowledge that Hadassah supporters would fund these efforts, our medical personnel were able to set a strong, nimble foundation for whatever lies ahead.
Simultaneously, Hadassah has been working with the Israeli government to resettle young refugees in our Youth Aliyah villages, created to provide refuge to children fleeing Nazi Germany. One teenager encouraged me to walk through their farm, explaining that he works with the animals to cope with the anxiety he feels with his parents still in a war zone.
Throughout the trip, I was extremely fortunate to partner with our incredible professionals in Israel as well as several Hadassah volunteers, among them Dianne Gottlieb, Viviane Kovacs, Shelley Kaplan, Ruth Ann Freedman and Joyce Rabin as well as staff including Max Winer and Stacey Horowitz. At each stop, we heard praise for our mission of taking care of others of all backgrounds, identities and places of residence.
Now that I'm back in the United States, I've been thrilled to share this experience as I start to meet in person with members and supporters. Many thanks to hosts in Texas, Florida, New York, Pennsylvania, California and Massachusetts who clearly share the pride I feel every day about Hadassah's power to help heal the world.