Jewish Tradition's Nuanced Approach to Abortion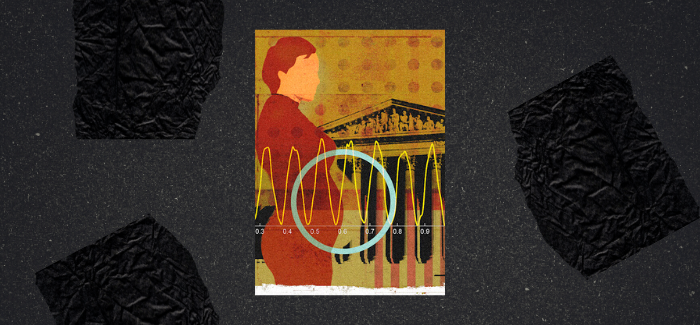 At my daughter's postponed Barnard College graduation ceremony in May, actress Cynthia Nixon, one of the featured speakers, reacted to the leaked draft Supreme Court opinion that would overturn Roe v. Wade. She told the audience that legal access to abortion is of "paramount importance to everyone with a uterus being able to control" their bodies and their lives and that "abortion is normal." Her statements were a stark reminder to me of how traditional Jewish views, not only about abortion but also about our relationship to our bodies, diverge from American ideas about the rights to privacy and bodily autonomy.
Halachic sources do not recognize a right to privacy or ownership of our body as understood by both American jurisprudence and contemporary culture. The Torah states that we were created "in the image of God," and therefore our bodies are "on loan" from God. As custodians of our bodies, tradition teaches us to treat them with reverence—neither to harm, permanently mar nor destroy them. Thus, when it comes to medical decision-making and autonomy, including seeking an abortion, Jewish texts historically have taken us on a different path than "My Body, My Choice."
The assertion of absolute bodily autonomy is one example that leaves little room for Jewish tradition's nuanced view of termination of pregnancy, which gives primacy to the woman's physical and mental health while also addressing the sanctity—and loss—of potential life.
Jewish debate around abortion has been going on for centuries. From ancient to contemporary times, there are differing rabbinic views, for example, on the status of the fetus. In the Talmud, a fetus is described as the thigh of the mother, i.e., a part of the pregnant woman and not a separate"person" (Chullin 58a). Indeed, in the first 40 days after conception, it is described as mere fluid (Yevamot 69b). The 11th-century biblical and Talmudic commentator Rashi, commenting on the discussion in the Talmud (Sanhedrin 72b), writes that a fetus in utero is "lav nefesh hu,"not a living being, and as Mishnah Ohalot 7:6 teaches us, may be forfeited when the mother's life is at risk, as long as no part of the child has emerged into the world.
Yet throughout rabbinic literature, we find recognition that although a fetus is not a person in a legal sense, it nevertheless represents potential life. For example, Talmudic dispensation is given to violate Shabbat to save a fetus—in order to help it stay alive so it can observe many more Shabbats in the future. Thus, the rabbis saw the potential life as important enough to break a core halachic precept, which in most cases is allowed only for pikuach nefesh, the saving of a life.
Similarly, Maimonides, the revered medieval Jewish philosopher, taught that the life of a woman should take precedence when a conflict arises between her life and her fetus. But unlike Rashi, Maimonides saw the fetus, in the case where it endangers its mother, as akin to a pursuer, i.e, a person. This suggests that a fetus should be treated with a certain reverence that would permit its termination only in dire circumstances.
When religious leaders—such as Rabbi Eliezer Waldenberg, a Jerusalem rabbinic authority who died in 2006—have sanctioned abortions in cases of severe fetal abnormalities, the focus is on the interests of the woman rather than the fetus's anticipated quality of life. Here, her life and mental well-being are at stake, and this concern for the pregnant woman certainly is extended to cases of rape and incest. (The 18th-century rabbi, Jacob Emden of Germany, was the first to include mental health risks among the considerations that would allow termination of a pregnancy.
Jewish tradition makes a much-needed contribution to the discussion of abortion. Its approach can perhaps be summed up as neither pro-life nor pro-choice, but pro-woman, combined with a sensitivity to the gravitas of the loss of potential life.
This nuanced approach should serve as a model for how American law and the American public can address this complex issue.
Rabbanit Adena Berkowitz, a practicing therapist and founder of the Hadassah Attorneys' Council, is scholar in residence at Kol HaNeshamah NYC and author of The Jewish Journey Haggadah.