How I Learned to Relish Playing Pickleball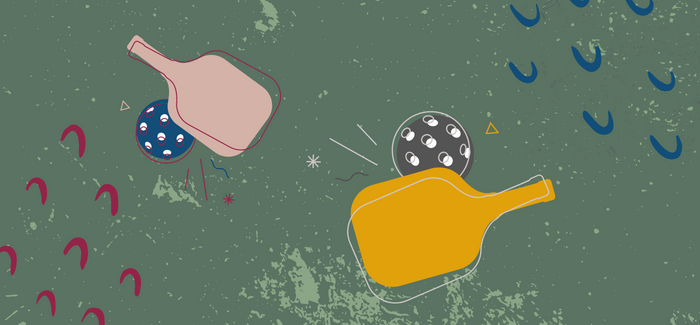 Unlike many of my friends, I had an unremarkable Covid experience. I didn't hunker down to write a new children's book. I didn't take a virtual vacation anywhere. And while I tried Duolingo to learn Spanish, the only phrases that stuck were "café con leche" (which I already knew) and "me gustan mucho las manzanas," which means something like, "I like apples very much." But it seemed like a good idea to take up something new, something outside where I could distance myself from people.
When I saw that the local Vermont Green Mountain Academy for Lifelong Learning was offering an outdoor clinic for pickleball, I was intrigued. Pickleball sounded, well, a bit silly—like something immigrant Jewish kids played on the Lower East Side of New York after pulling a half-sour out of a barrel. Boy, was I wrong!
There is a tribe mentality to pickleball, but it wasn't initially my tribe—though my first three lessons on the court were promising. I was a tennis player. I know my way around rackets and balls. The court is smaller and I'm older, so that sounded like a win-win.
"The play is all about friendly competition," chirped Annie, the ponytail-coiffed instructor running the clinic. But in the throes of cultivating this new community of people, it hit me: I was not like them. Call it my Ted Lasso moment without the British accents. They were congenial.
They were chatty. They exuded Ted Lasso's Midwestern "nice." They were a welcoming bunch of men and women. They played with finesse and didn't break a sweat. For my part, I was friendly, but not chatty. I was focused. I was optimistic I could nail this game. I played to win. I bought a sweatband.
I think it was the sweatband that gave me away.
"You're not making a highlight reel of grand slams," Max, one of the higher-ranked players, told me. "Shift yourself into third gear, play slow and steady, and let your opponent make the mistakes. Oh, and remember, once you dink, get out of the kitchen."
And there you have it. My Achilles' heel.
In pickleball, the kitchen is the colloquial term for the non-volley zone, or NVZ. It's a 7-foot area on both sides of the net that players can enter only after the ball bounces there, usually on a dink, or soft shot. Its purpose, I guess, is to keep the short-court game from being one of grand slams and smashes at the net. The thing is, I love hanging out in the kitchen.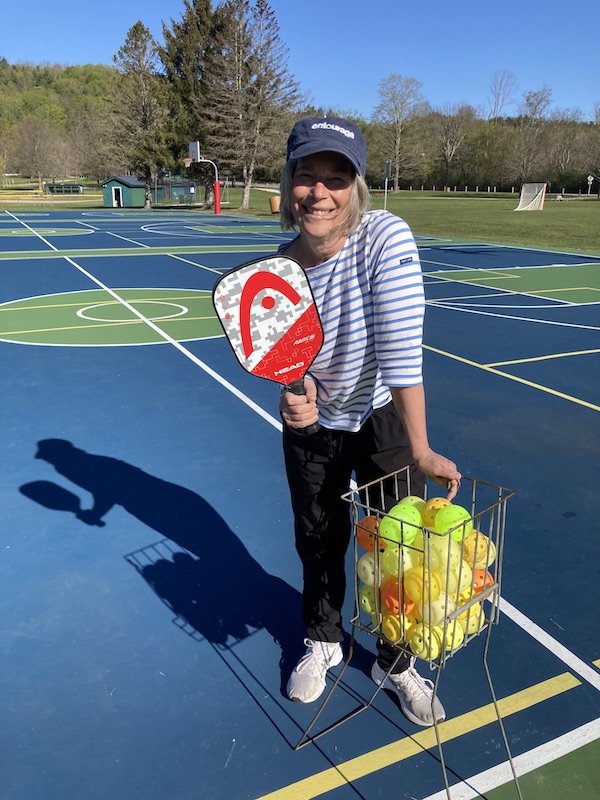 Maybe it's my Eastern European grandparents' genes, but that's where I am most comfortable. So a game that mandates largely staying out of the kitchen is a challenge. But the more I played pickleball, the more I saw the similarities between the game and my own upbringing.
Growing up in a three-generational Jewish family, my parents' kitchen was filled with laughter. No one fled this sacred space unless it was their turn to do the dishes. It was a place where everyone was welcome, where we could keep up a friendly banter and occasionally land a drop shot that surprised, delighted or stunned those around us—like when I told my parents that I had fallen in love with an Israeli and would be moving to Israel, where I lived from 1977 to 1991.
Turns out, the sport of pickleball has a lot in common with the wonderfully warm and sometimes chaotic kitchen of my youth. It's multigenerational, full of laughter, inclusive and always surprising. It is quick to learn but hard to master, despite my years of playing matkot on the beaches of Netanya.
And while I'll always be a grand slam kind of gal, I'm learning to kick back, keep my feet out of the kitchen and play for the love of the game. Oh, and if someone yells "falafel," don't look for the nearest food truck. Just watch the ball fall short of the net and savor the point.
Deborah Riemer, a former broadcast journalist in Israel, currently works and plays in Vermont.