Israeli Shop Fights Sex Trafficking With Sustainable Fashion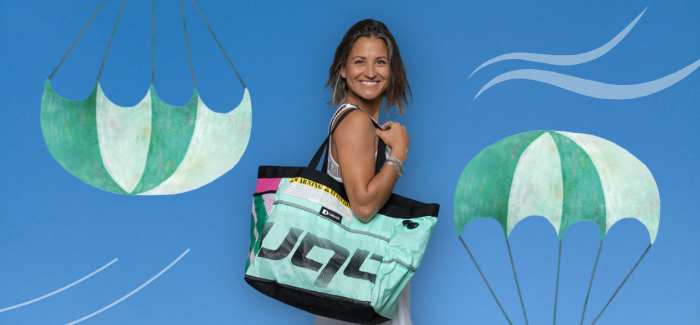 Combining a passion for social justice with sustainably upcycling discarded sail fabric is the business concept behind KitePride, a Tel Aviv operation that employs former sex workers to produce fashionable and functional bags from recycled ocean sports' fabrics.
KitePride, founded by Tabea and Matthias Oppliger, is an offshoot of GlowbalAct—a nonprofit that the couple created in 2011 to fight sex trafficking initially in Switzerland before expanding globally. Tabea Oppliger and her team at KitePride oversee the company's production of colorful, one-of-a-kind bags made from donated surfing kites, parachutes and wet suits that would otherwise go in a landfill.
The daughter of Swiss parents, 44-year-old Oppliger grew up in Papua New Guinea before moving to Switzerland as a teenager. She describes herself as a Christian Zionist who relocated with her husband and three children to Tel Aviv in 2014. "I can't explain why," Oppliger replied when asked what motivated her move to the Jewish state. "We just felt we needed to do our work in Israel."
Looking back on her first years in Israel, she recalls how she met trafficked women in the street near her office in Tel Aviv's red-light district, close to the Central Bus Station. "I saw women in so much pain—not only sore backs and legs from standing in high heels all day but fighting numbness because they didn't want to feel their bodies," she said. Oppliger, a trained massage therapist, began offering the women healing massages before they entered their places of work, which was done with the brothel owners' permission during quiet afternoon hours.
With an estimated 14,000 men and women in Israel trapped in prostitution, Oppliger notes that it takes courage to leave and find employment. "They want to get rid of labels and find a future with an independent life," she said. "KitePride gives them a safe environment tailored to their needs." Currently, KitePride employs 13 people, Oppliger said, noting that since its founding in 2018, the business has provided almost 30,000 hours of safe employment for staff.
KitePride's colorful handmade totes, pouches, backpacks and laptop sleeves are sold online and in a small South Tel Aviv store. Oppliger sees KitePride as a metaphor for people and material: "We take something discarded and turn it into something of value."
Helen Hill is a freelance writer based in Florida.