'Who by Fire: Leonard Cohen in the Sinai'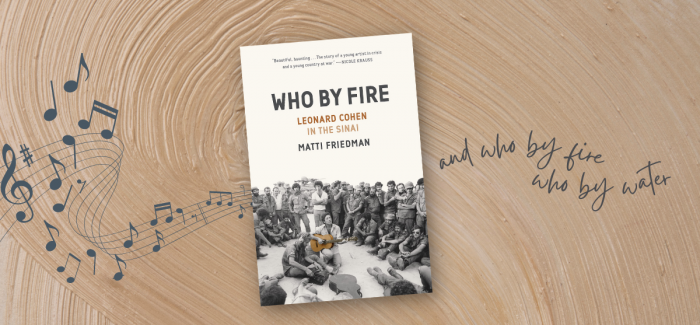 Who by Fire: Leonard Cohen in the Sinai
By Matti Friedman (Spiegel & Grau)
Shortly after the Yom Kippur War broke out on October 6, 1973, 39-year-old Leonard Cohen left his wife and infant son on the tiny Greek island of Hydra and finagled a flight to Tel Aviv, intending to pick oranges on a kibbutz. Recognized at a seaside cafe in Tel Aviv by a group of Israeli pop musicians, the already legendary Canadian singer-songwriter instead agreed to join them on a road trip to the southern front in Sinai, where Egyptian commandos had recently overrun a series of supposedly impregnable bunkers called the Bar Lev Line.
Matti Friedman's impeccably researched and exquisitely written account of Cohen's unlikely foray into the front lines of a nightmarish war answers the never quite explicated question—just what in the hell did the reluctant scion of a prominent Montreal rabbinical family think he was doing on an Israeli warfront?
Relying on first-hand accounts by Israeli soldiers and musicians who encountered him during his desert wanderings as well as the contents of Cohen's cryptic, previously unpublished notebook-cum-diary, Friedman makes the case that this "poet of cigarettes and sex and quiet desperation, who'd dismissed the Jewish community that raised him as a vessel of empty ritual," sought to turn a page on an unsatisfactory life and career by putting himself at the service of his tribal "brothers" during a moment of near apocalyptic crisis.
This act, Friedman demonstrates, was nonpareil. Jewish entertainers like Danny Kaye and Enrico Macias turned up after the war to express solidarity with their imperiled brethren, but Cohen was the only foreign celebrity to show up during wartime, grab a sleeping bag and an army-issued guitar and entertain tiny groups of soldiers who, for the most part, were too dismayed by their recent battlefield experiences to respond to most attempts at entertainment. Indeed, Cohen, who would later obscure his wartime sojourn, discovered that his melancholic tunes of lust and longing were precisely the balm needed for forlorn soldiers.
Published six years after Cohen's death in 2016, Who by Fire offers Cohen aficionados a welcome opportunity to get lost in their own longings.

Sheldon Teitelbaum is a Los Angeles-based writer and editor and is co-editor of the sci-fi anthologies Zion's Fiction and More Zion's Fiction.