Making Connections in Morocco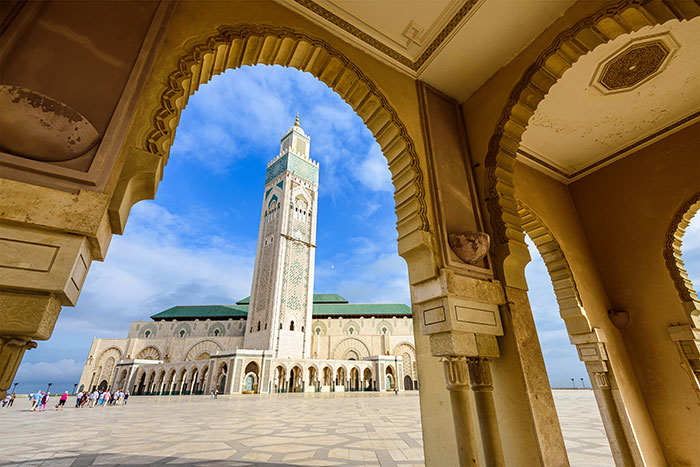 As the sun began to set on a glorious blue-sky spring afternoon in Casablanca, I approached the sprawling complex of the Hassan II Mosque that, from afar, achieves the illusion of floating on its promontory on the city's Atlantic coast. I wasn't there for a peek at the sumptuous prayer hall lined with marble walls and floors, or to tour its art museum devoted to traditional Moroccan crafts. No, I was there to indulge in self-care.
Just as countless synagogues throughout the Jewish world house mikvehs adjacent to prayer spaces, mosques, especially in Morocco, frequently contain hammams—public baths and steam rooms—on their premises. This is no doubt an evolution of the Islamic practice of Wudu, which involves ritually purifying the face, arms, hands and feet prior to prayer. My evening would be spent in the elaborately tiled, single-gender subterranean baths of this mammoth, magnificent mosque inaugurated by the late King Hassan II in 1993.
Beyond monumental structures like the mosque, King Hassan II left his mark in other notable ways, including planting the seeds of ties between his nation and Israel. Indeed, even before Morocco and Israel signed normalization agreements in December 2020 under the United States-orchestrated Abraham Accords, the two countries had for decades been moving toward greater economic, cultural and tourism cooperation. Since 2000, an estimated 50,000 to 80,000 Israelis of Moroccan descent—of which there are nearly one million—annually make pilgrimages to their hometowns and cities, and to visit graves of revered rabbis on the dates of their death, a custom known as hiloula.
But with formal diplomatic relations now in place, that initial seeding by King Hassan II during his reign from 1961 to 1999 has turned into a flowering of Jewish heritage preservation often funded by his son, King Mohammed VI. It was a chance to witness those efforts to restore Jewish sights and promote religious understanding that brought me and several other Jewish journalists to Morocco.
In Casablanca, a northern hub of international business, a number of encounters reinforced the commonalities between people of Abrahamic faiths—beginning with the hammam experience that I shared with two fellow writers.
Clad modestly in one-piece bathing suits, we tried our best, in an environment of Arabic and French speakers, to comprehend the process of soaping, washing off and vigorous scrubbing that our bodies were to endure. Peering around at the dozens of local women bathing and socializing—for the most part, comfortably in the nude—I wondered at any similarities between Jewish women who ritually immerse in the mikveh and Muslim women who regularly cleanse in the hammam, and whether some element of faith unites the two customs.
That sense of familiarity, even of kinship, with Muslim Moroccans stayed with me throughout our weeklong circuit of the North African nation, home to more than 250,000 Jews prior to 1948 but today hosting a community of about 2,000.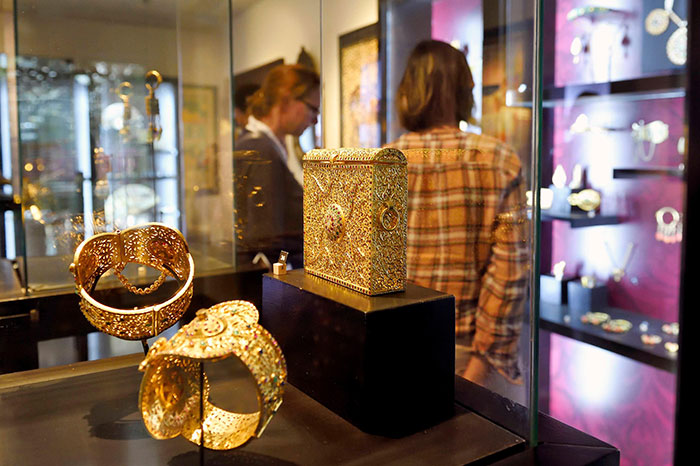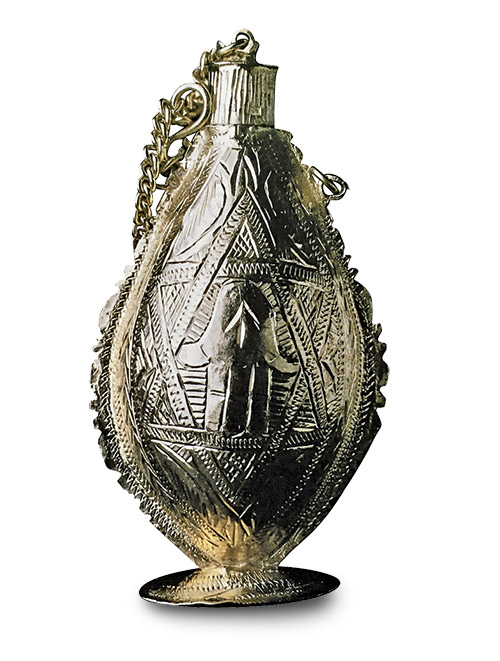 I experienced that connection yet again at the Abderrahman Slaoui Foundation Museum, a hidden gem on a bougainvillea-lined side street in Casablanca. Displayed over three floors, the late businessman and benefactor Abderrahman Slaoui's stunning collection of vintage North African travel posters, Moroccan jewelry, ceramics and paintings by luminaries Muhammad Ben Ali Ribati and Jacques Majorelle is a delight—but not a Jewish delight, I assumed, since nowhere in the museum's literature was there a mention of Jewish pieces.
But as I lingered over a case of elaborate Moroccan "bijoux" and other gold ornaments, my eye caught a Magen David etched into a kohl flask, a vessel used for holding the black eye makeup once favored by women. The flask had been manufactured in Fez more than 120 years ago for a Jewish client. Even more surprising, I recognized a ceremonial Jewish wedding ring—an oversized gold ring topped with a gabled house. The museum's placards provided few clues to these treasures' backstories, or how and why the Muslim Slaoui added them to his collection.
Yet the symbolism of a golden Jewish presence, albeit a small one, set against the splendor of Morocco is an apt description of Jews' historically warms ties to this land, which they've inhabited since at least 70 CE.
Embers of that warmth still exist. Morocco is a Muslim nation where it often feels safe, as a Jewish tourist, to ask questions—whether they are about Islam; the history of the nation's Jews and why, beginning in the 1950s, they emigrated en masse (you may want to fact-check the answers you get); and even directions to a stubbornly hard-to-find, unmarked synagogue. I wasn't alone in feeling that welcome, as all over the country we bumped into Israeli tourists as well as dozens of observant American Jews traveling with synagogue groups or on women-only programs with itineraries devoted to Jewish sights.
The link between Judaism and Islam, I learned, may even extend to mosque architecture unique to Morocco. The design of the yamurs, or minaret spires, crowning several of the largest mosques in the country feature three spheres of graduated sizes. The largest, at the bottom, is said to signify Judaism, considered by many the oldest monotheistic religion; the middle, Christianity; and the smallest, Islam. Zakarya, our guide, explained the symbolism when pointing out the yamurs of the Hassan II Mosque in Casablanca—whose minaret, at 689 feet, is the tallest in the world—and the Koutoubia Mosque in Marrakesh that dates to the 12th century.
Is it possible, or even likely, that such formidable and grand Islamic spaces credit Judaism so prominently? According to one of many legends about the yamurs, maybe.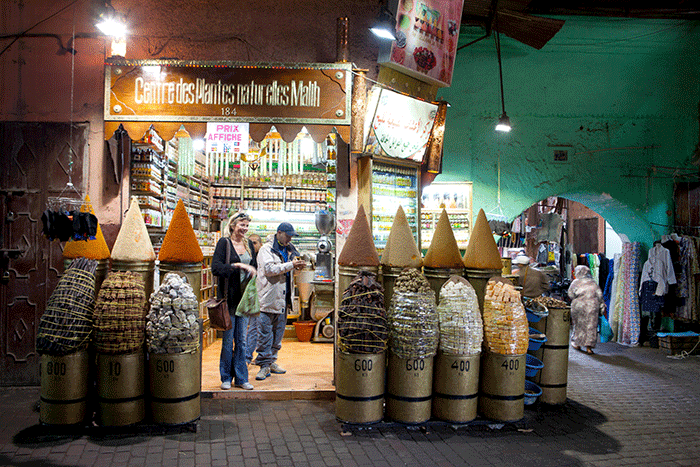 Marrakesh lies at the center of any traveler's map of Morocco. It remains as popular a spot for well-heeled vacationers, backpackers and wandering Jews as it was in the 1950s, when the likes of beat poet Allen Ginsberg and food writer Paula Wolfert—who helped popularize North African cuisine in her cookbooks beginning with the groundbreaking 1973 Couscous and Other Good Food From Morocco—relocated there.
For me, it was in Marrakesh that the proximity of Arabic and Hebrew, both Semitic languages, crystallized. Where three of the must-see destinations are the "mellah," the "souk" and the "medina."
The mellah, or Jewish quarter, derives its name from similar words for salt in both Arabic and Hebrew. The neighborhood is carved out of the southern section of the larger old town, or medina, which means city in Arabic and shares the same linguistic Aramaic heritage as the modern Hebrew word medina, or sovereign state. And souk, like the Hebrew shuk, means street market; in Marrakesh, a teeming web of souk alleys line both the mellah and medina.
Leaving Casablanca and Marrakesh behind, our group zigzagged through dizzying switchbacks in the High Atlas Mountains in search of the once rich Judeo-Arab-Berber culture in the south of Morocco. (Berbers refer to themselves as Amazigh, which means "free man" in Tamazight, one of their native languages. Moroccans generally use the term Amazigh as well.) However, despite the atmospheric magic of a sojourn through this region, finding physical vestiges of Berber Jews south of Marrakesh, let alone accurate information for several sights of purported historical significance, proved challenging.
Our first stop was the Draa Valley city of Ouarzazate, whose two monikers attest to its economic and geographical importance: "Ouallywood," for its thriving film business, and "the door of the desert," for serving as a jumping-off point for those venturing east into the Sahara.
A tour of Kasbah Taourirt, an earthen-clay and mud-brick defensive stronghold built by the local Berber ruler in the 17th century, and the mellah erected in its shadow later that same century, hint at the onetime closeness of the Jewish and Berber populations in Ouarzazate. In the mellah today, Muslim brothers Ayoub, Lhasen and Haoussine have taken over their father's role as custodian of a sight that they refer to as the Old Synagogue—a warren of rooms stuffed with brass Judaica, tribal jewelry and metalware objets d'art of unclear provenance.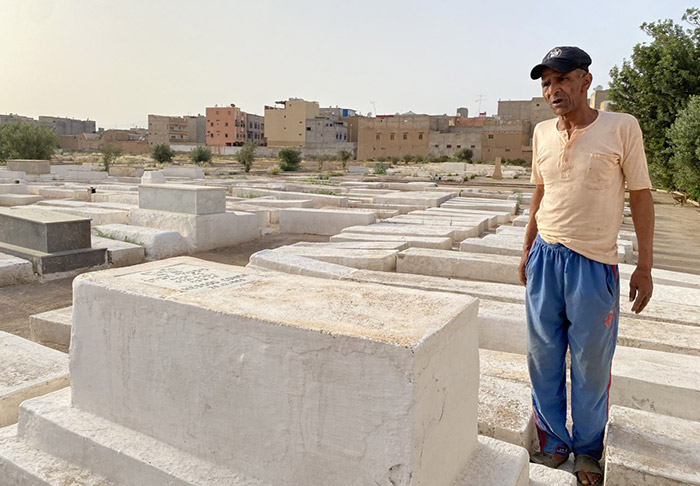 In what's become a familiar reality throughout the Mizrahi Diaspora, Jewish cemeteries in Morocco fortunate enough to have a caretaker usually have one who is Muslim. Such is the case in Taroudant, several hours west of Ouarzazate in the Souss Valley. With its three-and-a-half-miles of crenellated stone ramparts, the city of Taroudant resembles a smaller, and less chaotic, Marrakesh. The main Jewish cemetery here is an enormous dirt field with rows of more than 3,000 white-washed tombs; it lies adjacent to the mellah and is overseen by a Muslim who inherited the responsibility from his father.
In a sense, one of Taroudant's synagogues likewise possesses a Muslim caretaker—the proprietor of a home furnishings store situated in the former synagogue and rabbi's home in the mellah. Wander beneath the rainbow-hued Moorish chandeliers and through the maze of brass-framed mirrors, handwoven rugs and inlaid wooden furniture for sale and try to conjure up the ghosts of Taroudant's Jews, who numbered around 1,000 in the 1950s before almost all emigrated.
Now, post-Abraham Accords, Jews traveling to Morocco may feel more comfortable than their parents and grandparents to reconnect with Jewish ghosts and legends, rediscovering an enchanting, fascinating land redolent with Jewish heritage.
WHAT TO SEE
Casablanca
The majority of Morocco's 2,000 Jews live in Casablanca, so this is where one will find the most robust Jewish services, from more than 15 synagogues to kosher food to the Museum of Moroccan Judaism. Touted as the only one of its kind in the Arab world, the museum recounts the history of the country's Jews through synagogue replicas, costumes and artifacts.
Travel back to the dawn of European tourism to North Africa via the Abderrahman Slaoui Foundation Museum's striking collection of Orientalist posters advertising exotic desert destinations, transatlantic passages from Bordeaux and Michelin driving routes through Morocco, Algeria and Tunisia, among other captivating illustrations. For the museum's few Jewish treasures, head to the jewelry gallery on the first floor.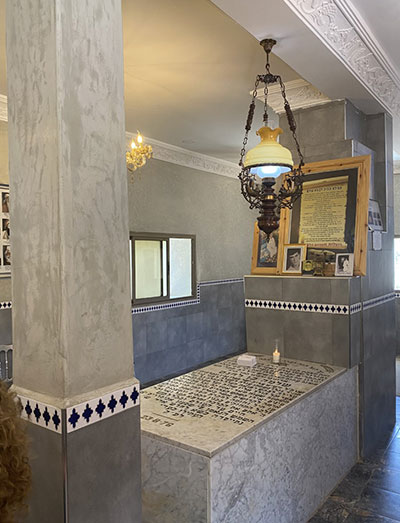 For a break from sightseeing, consider a spa day at the Hammam at the Hassan II Mosque. Curious to tour the prayer hall? This lavish mosque, the seventh largest in the world, is one of very few in Morocco that admits non-Muslims.
Marrakesh and Ourika
After a $20 million restoration project ordered by the king in 2016, Marrakesh's mellah, or Jewish quarter, the second oldest in the country after the original in Fez, is one of the city's top tourist attractions. Pick up spices like cumin, coriander and turmeric or purchase one of the ubiquitous argan oil products as you wind through narrow shopping alleys to one of the mellah's star attractions, the blue-and-white tiled Slat Al Azama Synagogue, arranged around a courtyard in a style evocative of a riad.
From Marrakesh, an hour's drive south through the High Atlas Mountains leads to the verdant Ourika Valley and the tomb of Rabbi Sholom Bel Hench, a religious leader from Jerusalem who, according to most legends, died in the region 500 years ago while on a fundraising mission. The site had been maintained for decades by Hananiyah Alfassi, thought to have been the last Berber Jew in the mountains when he died in 2013. Since his death, Alfassi's long-term housekeeper and quasi-adopted daughter, Fatima, who is Muslim, acts as caretaker and guide for the busloads of Israeli and Diaspora Jews who arrive regularly.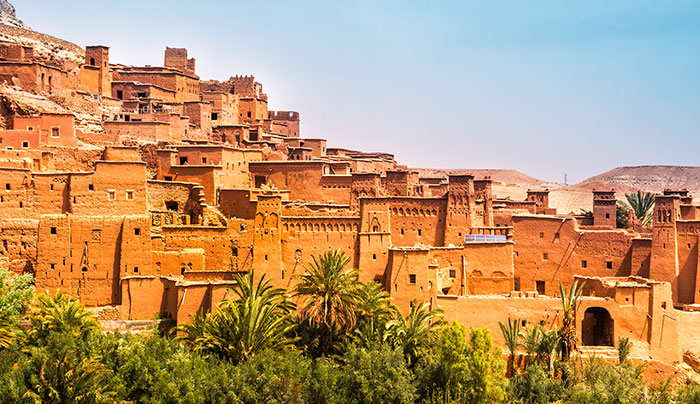 Ouarzazate
At first encounter, the UNESCO World Heritage Site of Ait Benhaddou, a fortified Berber village 30 minutes northwest of Ouarzazate whose origins date to the 11th century, astonishes for the pristine condition of its earthen-clay structures. But the area's continued preservation is due almost entirely to its frequent stand-in for desert landscapes in dozens of films and television series, some of the most recent being Game of Thrones and Gladiator.
Stroll through Ouarzazate's mellah, whose entrance lies adjacent to Kasbah Taourirt and across the street from the Cinema Museum, to get a sense of the very close quarters that Jews would have shared with their neighbors beginning with the area's construction in the 17th century. The Old Synagogue is being maintained as a house of worship, school and residence of a onetime Berber Jewish family. While the site's origins are unclear, what is accurate is that it lies at the heart of what was, until the 20th century, a heavily Jewish enclave.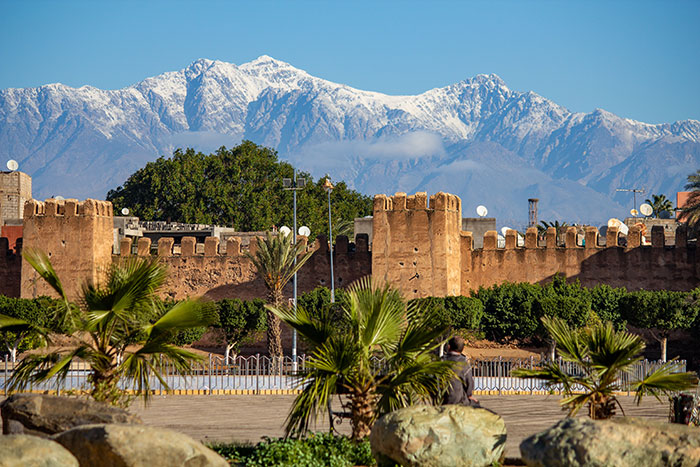 Taroudant
Aladdin Treasure, a high-end Moroccan furniture and interior design emporium, occupies space in the mellah that was once the house of a rabbi, with a synagogue located at the rear of the building (and off limits to tourists).
The city's sprawling Jewish cemetery underwent restoration in 1995. A Muslim caretaker now walks visitors around the approximately 3,000 tombs, including one belonging to tzaddik Rabbi David Ben Baruch Cohen Azugh, also known as Baba Dudu, who died in 1953. The most recent grave dates to 1960.
On the outskirts of Taroudant near the village of Oulad Berhil lies the tomb of another Rabbi David Ben Baruch Cohen Azugh—an Azugh family tzaddik who died circa 1785. Legends abound as to the rabbi's origins and holiness (he may have possessed a facial birthmark that could turn those who saw it blind), but the upshot is that his hiloula, held on the 3rd of Tevet, annually attracts more than a thousand Jews of Moroccan descent from overseas.
Twenty minutes north of Taroudant, the Palais Claudio Bravo is the picturesque home, gardens, studio and burial place of the late Chilean hyperrealistic and surrealist painter. The palace today operates as a mini-boutique hotel and restaurant with majestic views of the Atlas Mountains, with tours available for day-trippers.
Taliouine, more than an hour's drive east of Taroudant, is the saffron capital of Morocco. Learn about the growing, harvesting and certification process of the world's priciest spice—and pick up shockingly affordable jars to bring home—at Dar Azaafaran (House of Saffron).
---
Libby Barnea, deputy editor of Hadassah Magazine, visited Morocco in May 2022 as a guest of the Moroccan National Tourism Office.