Hadassah Medical Organization's New Director-General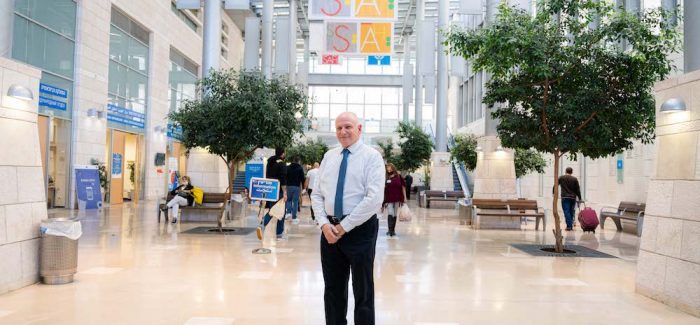 It is still dark at 4:30 a.m. when Dr. Yoram Weiss, 11th director-general of the Hadassah Medical Organization, leaves his Tel Aviv home for the one-hour drive to Hadassah Hospital Ein Kerem. "Luckily, I'm a morning person," he said of his commute to his office. "I do my best thinking early in the day." But, he noted, with his professional responsibilities, he has learned to be "an afternoon and evening person, too."
Dr. Weiss, 63, who is married and has two adult children, earned his medical degree from the Technion Medical Faculty in Haifa and devoted his early career to critical care medicine and anesthesiology. He first came to HMO in 1991 as a resident in anesthesiology.
While Dr. Weiss is a native Israeli, his mother, Marie Louise, spent World War II as a hidden child in Toulouse, France, and his father, Jacob, fought as a partisan in Czechoslovakia. This heritage, he said, "underlays my becoming an Israel Defense Forces paramedic, and later choosing to specialize in intensive care."
That specialization led to him heading surgical critical care at HMO during the second intifada. In 2000, he received a prestigious European Critical Care Research Network Basic Science Award from the European Society of Intensive Care Medicine for research into lung injury.
When an interest in new methodologies for managing hospital care redirected him to hospital administration, Dr. Weiss pursued an MBA in a joint program administered by the NYU Stern School of Business, HEC Paris and the London School of Economics. He then obtained medical administration specialization from Israel's Health Ministry. He served as director of Hadassah Ein Kerem from 2014 to 2021 and became acting director-general of HMO in 2021. In June 2022, he was appointed director-general, a position he feels deeply privileged to hold.
"With my heart and mind," he said, "I believe that the Hadassah Medical Organization is one of the world's greatest centers of healing, compassionate treatment and research."
This interview has been edited for brevity and clarity.
Leading HMO in the 21st century is complicated and multifaceted. What do you see as the chief challenges?
Let me divide them into two broad categories—challenges from without and challenges from within. The external challenge is maintaining Hadassah's financial stability, which has become critical in the past decade. The challenge from within is to sustain our acknowledged excellence in clinical medicine and foster its continuing advance.
How are you addressing these challenges?
The news about both is good. An eight-month campaign by our board of directors, vigorously led by its chair, Dalia Itzik, has resulted in a Knesset amendment that requires Israel's government to cover all manpower and maintenance costs in our two hospitals. This support is long overdue. As a public hospital, we're mandated to provide the same services as Health Ministry hospitals and should therefore receive similar funding. This welcome change brings Hadassah very close to financial stability
As for Hadassah's level of excellence, present and future look bright. (Both hospitals were awarded top scores in a recently published report on health quality indicators from the Health Ministry.) With several of our research groups on medicine's frontlines, we're attracting giant biotech multinationals. We recently reached an agreement with one such company to develop medical robotics and are about to sign with another to investigate molecular cancer diagnosis. I fully expect international ventures in other fields in which we're prominent: precision medicine, stem cells, nanotechnology, immune-modulating treatments and proton therapy for cancers. This is good not only for Hadassah but also for Jerusalem, making it a technological hub that draws young people to live and work.
---
Go behind the scenes at Hadassah Medical Organization with the Hadassah On Call: New Frontiers in Medicine podcast. The September episode features Dr. Gal Goldstein, head of the pediatric hematology-oncology department, talking about childhood cancer. Catch up on recent episodes, including a discussion of hip, joint and knee care with Dr. Gurion Rivkin, head of Hadassah's joint replacement unit and orthopedic department, and a talk about allergies with Dr. Yuval Tal, director of the allergy and clinical immunology unit. Sign up for new episode alerts here.
---
You've said that you see Hadassah's role as extending beyond that of a national hospital. Is that why HMO personnel went to the Polish-Ukrainian border to help refugees?
Of course. Our teams go all over the world: to Haiti, Armenia and Nepal after earthquakes, to Southeast Asia after the tsunami. We've sent over 100 staff members to the Polish-Ukrainian border—15 teams of physicians, nurses, medical clowns and medical and dental students. The missions [which have now ended] treated literally tens of thousands of Ukrainian refugees in the camps at Przemysl and Korczowa and established an infrastructure that supports medical services. The World Health Organization, the Polish and International Red Crosses and Doctors Without Borders have all applauded our efforts.
Another current health crisis is, of course, Covid. What has been the pandemic's impact on Hadassah and how has it helped prepare the medical center for future viruses?
While we hope not to see anything like this coronavirus for a long time and pray that the variants still around remain tame and nonvirulent, we are vigilant. We were able to meet the pandemic head on while larger medical centers worldwide were brought to their knees. We gained enormous experience and developed essential tools, foremost among them the rapid development of telemedicine.
This technology has been around for a while, but we've made long-distance patient diagnosis, monitoring and clinician contact efficient and routine, safely enabling us to treat many hundreds of patients remotely.
Will Hadassah continue using telemedicine now that the Covid threat has eased?
In the Hadassah of the future, only the very sick and those needing complex diagnostics and therapeutics will be in hospital beds. Those who don't require tertiary-level care (specialized equipment or expertise) will be "hospitalized" at home, treated remotely via multidisciplinary telehealth teams.
Telemedicine is also a central tool as we engage with health care in other countries, sharing our experience, proficiency and protocols with medical institutions worldwide. We regularly consult in areas in which we excel, for example, advanced cancer treatments and management of immune diseases such as multiple sclerosis and amyotrophic lateral sclerosis (ALS).
Does that mean face-to-face care at Hadassah will become a thing of the past?
Hadassah will provide tertiary care and help with home hospitalizations, but more and more, diagnosis and treatment—from colonoscopies to cataracts—will be in community clinics. (In Israel, these clinics are run by national health funds, and some HMO personnel have shifts at the clinics.)
Hadassah itself will also be expanding. By the end of next year, we'll have a fully operational satellite medical center in Beit Shemesh, a city 22 miles southwest of Jerusalem, whose population of 120,000 is expected to triple by 2035. Among the new satellite's facilities will be an emergency medicine center, specialist and outpatient surgery units, imaging and dialysis units, daycare hospitalization and an oncology center.
Hospitals have changed significantly in the past decades. Where will they go next?
As with phones, homes, cars and thermostats, artificial intelligence will be used in Hadassah and other hospitals to connect in real time the vast amounts of data about patients, hospital environment and health care information to improve the two core hospital processes: personalized and safe patient care, and efficient high-performance operation.
Hadassah was among the early supporters of digital transformation. Today, we use and develop artificial intelligence programs to ensure the smooth running of our medical and surgical wards, operating rooms, labor and delivery suites, clinics and emergency departments. AI programs are also used to ease hospital patient flow, promote pharmaceutical innovation, keep and (rapidly) analyze patient data and, with that, help with early diagnosis of illnesses such as cancer.
What do you see as Hadassah's place in an unpredictable and rapidly changing medical world?
It's a world in which Hadassah has been a leader for decades, and I don't see that changing. I fully expect our three-pronged foundation of healing, teaching and research, and our core mission of providing the very best to all patients, to guide us surefootedly into the future, just as it has led us in the past.
---
Wendy Elliman is a British-born science writer who has lived in Israel for more than four decades.