A Lost World Found in 'One Hundred Saturdays'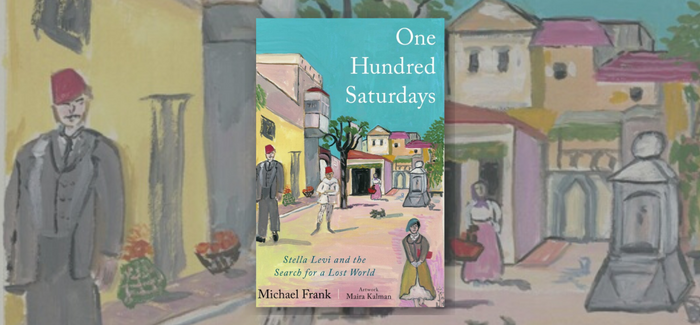 One Hundred Saturdays: Stella Levi and the Search for a Lost World
By Michael Frank. Artwork by Maira Kalman (Avid Reader)
In 1937, when she was 14, Stella Levi was so determined to travel beyond the Juderia on the island of Rhodes that she packed a suitcase to take with her when she grew old enough to attend college. At that point, although Mussolini's Fascist regime ruled Rhodes, Italy's racial laws against the Jews were not yet in full force. That only happened the following year, when all Jews were expelled from school.
By 1943, the Nazis had occupied Rhodes, where Jews had resided in the neighborhood of the Juderia for generations, stretching back to Spain's expulsion of the Jews in 1492. On July 23, 1944, Levi was one of the 1,650 Jews forced to leave Rhodes under very different circumstances than she had envisioned, on an excruciating journey to Auschwitz that included a boat transfer to the mainland and then a cattle car. Of those Jews deported from Rhodes by the Nazis, only 161—Levi among them—survived.
Now a vibrant 99-year-old residing in New York City's Greenwich Village, Levi reveals the many varied passages of her life in One Hundred Saturdays. As recounted by author Michael Frank in the form of 100 conversations taking place over six years, Levi's tale is as captivating as it is devastating, as unflinching in its truth-telling as it is affectionate in its enduring warmth for a family and way of life that she carries with her to this day.
The conversations begin with Levi conjuring the traditions, customs and foods of the Juderia. Living across the street from the synagogue, her family observed the rhythms of the Jewish calendar. Levi absorbed the routines that her mother and grandmother also followed.
"You took your dishes to be baked in the communal oven and spent the hour gossiping with your friends while you waited for them to finish baking," Levi says in the book. "You didn't bathe at home because there were no baths at home, or showers either, but at the Turkish baths, once a week, before Shabbat…. You learned to prepare your grandmothers' sweet and savory dishes; you walked with care across the uneven cobblestones; and you fell asleep inhaling the perfume of the courtyards with their intense, unforgettable brew of jasmine and rosemary, lavender and roses and rue."
Scattered throughout the book, Maira Kalman's Matisse-like illustrations, evocations of the lost world of Jewish Rhodes, are enchanting. At the same time, her darkly metaphorical representation of the Holocaust is horrific and her portrait of Levi resonates with wisdom and endurance.
In Auschwitz, while some female prisoners would try to stave off starvation by reminiscing about their favorite foods, Levi focused solely on the present and the survival of herself, her sister, Renée, and their small band of friends.
"We stole, we cheated, we organized, we slept with our bread under our pillows," she tells Frank.
After their liberation from the Nazis, Levi and her sister went to Italy and then to Los Angeles, where family members who had left Rhodes before the war had settled. In 1948, she decided to make a life for herself in New York.
Already fluent in Italian, French and Spanish, she took night classes in English and embarked on a successful career in the import-export textile business. She traveled the world—including periodic visits to Rhodes, starting in the 1970s—married, raised a son, divorced, and today remains actively involved with her many friends and in organizations such as New York's Centro Primo Levi.
Although she never managed to receive the higher education she had looked forward to when she was 14, she pursued her own studies in subjects such as Jewish history, even embarking on courses in ancient Hebrew in her mid-90s.
"She is one of the best models I've ever found of how to age with grace and grit," Frank writes.
Diane Cole is the author of a memoir, After Great Pain: A New Life Emerges, and writes for The Wall Street Journal, The Washington Post and other publications.