Teen Essay Contest: How's Your Mental Health?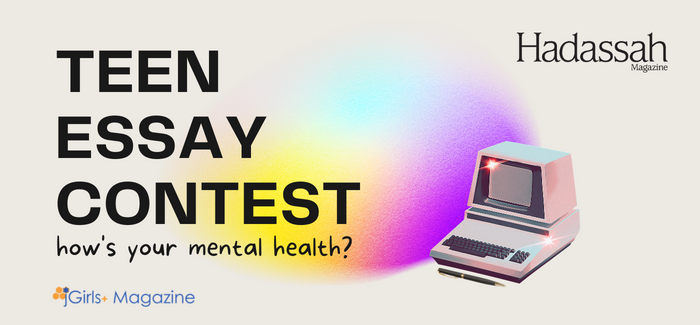 We live in complicated times. For teenagers experiencing and/or worried about gun violence, antisemitism, Covid, the impact of social media, the war in Ukraine, climate change and many other issues, the toll can be devastating.
Studies in recent years have shown an unprecedented level of anxiety, sadness and hopelessness among American youth, a trend that has gotten worse since the Covid pandemic began.
We want to hear about those experiences. To that end, Hadassah Magazine and jGirls+ Magazine, an online publication by and for self-identifying Jewish girls, young women and nonbinary teens, announce their third annual teen essay contest, which this year asks:
Tell us a personal story about an issue that has affected your mental health.
We are interested in personal narratives about how and why your mental well-being has been impacted by experiences related to your personal life and/or the world around you. And If you wish, share how you are coping with your mental health challenges.
The contest is open to self-identifying Jewish girls, young women and nonbinary teens between the ages of 13 and 19 who reside in the United States, the District of Columbia and the State of Israel, except where prohibited by law. Deadline for submission is October 30, 2022.
The winner will receive a $300 educational scholarship, the winning essay will be published in Hadassah Magazine, both in print and online, and in jGirls+ Magazine. And a one-year subscription to Hadassah Magazine is part of the prize as well.
For details and guidelines click here. For the entry form click here.