A Bear With a Healing Heart
At first glance, a Mishe Bear looks like any other teddy bear—brown and cuddly, with cute button eyes and an upturned smile. But this bear comes with a prayer. In the pocket sewn into its belly, a laminated heart features the traditional Mi Sheberach prayer—with the Hebrew script and transliteration—recited for those in need of physical or spiritual healing.
Mishe Bear is the brainchild of Aden Horowitz and Audrey Singer, both seniors at the University of Pennsylvania, where they met on the executive board of Penn Hillel.
"When Covid happened, we experienced a ton of despair and loss," said Horowitz, 21. "We created Mishe Bear as a way to spread love and unity in hard times. It symbolizes tikkun olam—fixing things when they are broken."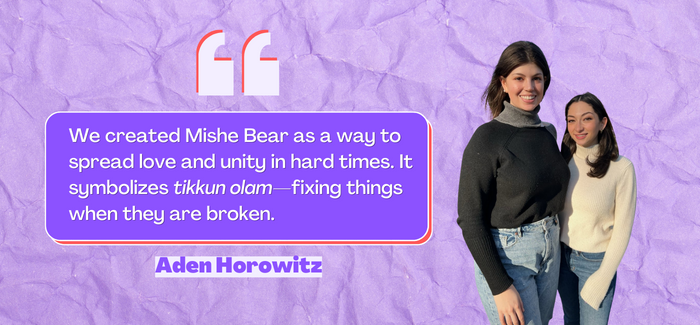 The idea was born of personal experience: When an aunt of Horowitz's was hospitalized in January 2021, her family brought her a teddy bear and told her they were saying the Mi Sheberach for her recovery.
Horowitz, who grew up in an active Reform home in Manhasset, N.Y., and attended a Reconstructionist synagogue, is a Hadassah member as are her mother, grandmother and aunt. She shared her idea to produce teddy bears that include a healing prayer with Singer, a New Orleans native who also grew up Reform. They pooled their bat mitzvah savings and launched the business in April 2021. Hillel provided encouragement and logistical support, mentorship, networking and promotion.
Can a teddy bear really help someone heal?
"Absolutely," said Singer, 22. "In my academic study of the health care industry, I've looked at holistic care. The people around you are really crucial to your recovery. Mishe Bear is a physical representation of that love and support."
Horowitz and Singer have sold over 170 bears ($24 each) and donate 10 percent of each sale to Jewish nonprofits and summer camps. Learn more about the stuffed animals, including how to order them, on the Mishe Bear website.
"Mishe Bear," said Horowitz, is a "message of hope and a little bit of divine goodness."
---
Rahel Musleah leads virtual tours of Jewish India and other cultural events and has scheduled her first post-pandemic, in-person tour for November 2022.