Coins, Rings and Natural Splendor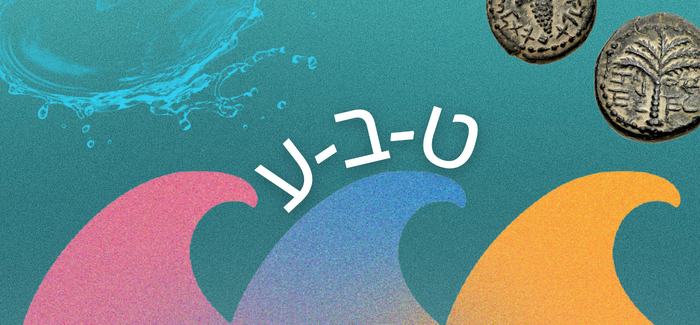 Some things never stop giving. Take the example of the Hebrew root ט-ב-ע (tet-vet-ayin). As a noun, it gives us nature, of the physical world, and human nature as well as coins and rings. As a verb, the root "sinks," sometimes "drowns" and often "embeds." And as an adjective, it describes properties that can be "inherent," "imprinted" or "coined."
In Exodus, after the Egyptian soldiers pursuing them are drowned, Moses and his people break into jubilant song. Finding this scene problematic, a later midrash rewrites it, using our root to paint the portrait of a compassionate God who admonishes the Israelites, "Humans created by Me, טוֹבְעִים בַּיָּם (tov'im ba-yam), drown in the sea, and you recite poetry?"
In a biblical story filled with the עַל-טִבְעִי (al-tiv'i), supernatural, God chastens a doubting Job by reminding him that he has no standing to debate; after all, he was not present when the foundations of the world הֻטְבְּעוּ (hotba'u), "were fastened." Royal decrees in the time of Queen Esther were sealed בְּטַבַּעַת הַמֶּלֶךְ (be-taba'at ha-melekh), with the king's signet ring. And then there is the Bar Kokhba revolt against Roman rule and the striking of מַטְבְּעוֹת (matbe'ot), coins, bearing images of Jewish national sovereignty.
In Samuel ibn Tibbon's Hebrew translation of Maimonides's Guide to the Perplexed, originally written in Arabic, languages are described as לֹא טִבְעִיּוֹת (lo tivi'iot), "not inherent" to humanity. Looking into the history of Hebrew usage, a scholar could make a case that ibn Tibbon הִטְבִּיעַ (hitbi'a), coined, today's widespread Hebrew adjective טִבְעִי (tiv'i), natural.
While Israeli author S.Y. Agnon analyzed with empathy one of his character's inclination לְהַטְבִּיעַ צַעֲרִי בְּמַשְׁקֶה (le-hatbi'a tsa'ari be-mashkeh), "to drown my sorrows in drink," Zionist campers were singing lyricist Effy Netzer's moving words about fastening טַבָּעוֹת לַשַּׁרְשֶׁרֶת (tabba'ot la-sharsheret), "links to the chain."
Modern Hebrew uses our root in a host of terms and idioms. Today, dinner guests are often טִבְעוֹנִי (tiv'oni), vegan, and a place that's damp and boggy may be called טוֹבְעָנִי (tovani), swampy. A biologist studies מַדְּעֵי הַטֶּבַע (mada'ei ha-teva), natural sciences, and one's טְבִיעוֹת (tevi'ut), natural inclination, is to follow דֶּרֶךְ הַטֶּבַע (derekh ha-teva), the way of the world.
Finally, there are Israel's universally venerated nature reserves, שְׁמוּרַת הַטֶּבַע, (shemurat ha-teva), literally "protection of nature," under the supervision of SPNI, the Society for the Protection of Nature in Israel. When personified into a new מַטְבֵּעַ לָשׁוֹן (matbe'a lashon), "word coinage," reports Israeli language maven Ruvik Rosenthal, whose book on Hebrew slang was a best seller in Israel, the idiom becomes a metaphor for expressing admiration, as in, "Israeli volunteers at disaster sites abroad are truly shemurat ha-teva!" It is, perhaps, in their nature to never stop giving.
---
Joseph Lowin's columns for Hadassah Magazine are collected in the books HebrewSpeak, Hebrew Talk and the recently published Hebrew Matters.