Morals Matter in 'The Thread Collectors'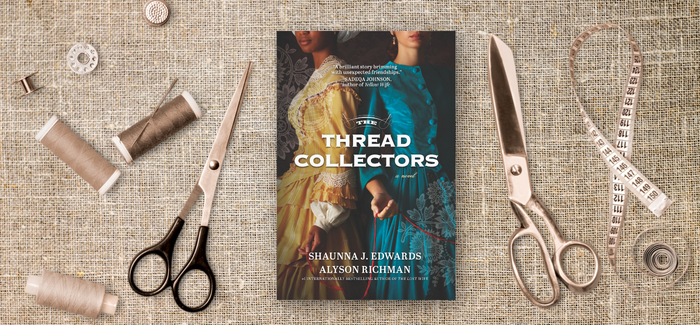 The Thread Collectors
By Shaunna J. Edwards and Alyson Richman (Graydon House)
Best-selling author Alyson Richman teams up with debut novelist Shaunna J. Edwards to tell this unique story of two women whose lives are connected by the Civil War.
Lily is a Jewish abolitionist in New York, and Stella is a slave in New Orleans, living among other "light-skinned women, the so-called favorites of wealthy White men." Lily's husband, Jacob, a Union army musician, is stationed in Louisiana, where he sounds his cornet to lead soldiers into battle. Stella's secret lover, William, is also a gifted musician. He flees his owner to join the Louisiana Native Guard, the first Black troops to fight for the Union, clutching one unusual possession—a flute.
Stationed in the same battalion, the two men are brought together by music. But it's their mutual sense of otherness that cements their bond. The only Jew in his regiment, Jacob "wore his background quietly, never fully revealing himself, but his sense of vulnerability and foreignness was always with him," write the authors. William risked being caught by the slave catchers in order to fight for freedom, but he and the other Black volunteers find themselves far from the battlefield, relegated to digging graves for fallen white soldiers. Only when playing music together do the two men feel at home.
Unknowingly, Lily and Stella are also joined by the arts—in their case, needlework. Stella repurposes bits of cloth and salvaged threads to embroider detailed maps to help escaping slaves, drawing upon information gleaned from her master when he comes to her bed. Lily rolls bandages and sews quilts for Union soldiers at the behest of her idol, real-life Jewish abolitionist and suffragist Ernestine Rose, "a female figure who was brimming with courage and conviction." The two also share the fervent desire for their beloved men to come home safe.
The Thread Collectors weaves together familiar themes: the ravages of war, the disparities in treatment of white and Black soldiers, antisemitism in the South and racism in the North. When Lily stops receiving letters from Jacob, the plot takes a compelling turn as she sets out to find him, with the begrudging help of Jacob's brother, Samuel, who owns a successful mercantile emporium in the South and lost a leg fighting for the Confederacy.
Inevitably, there is an imbalance between the stories of Lily and Stella. Rolling bandages in the comfort of a wealthy New York home hardly compares to stitching escape routes amid the hunger, desperation and fear of slave life in the South. Crucially, Lily and Jacob manage to communicate through letters, while Stella and William are denied all means of contact. Ultimately, Lily's trip south brings both couples together in a resolution made possible by one of Stella's hand-sewn maps.
The Thread Collectors is enriched by the two authors' diverse family histories. Edwards grew up surrounded by African American folk art and textiles. Richman's Jewish great-great-great-uncles fought on different sides in the Civil War. Together, these authors explore underrepresented points of view on a frequently novelized piece of American history.
---
Elizabeth Edelglass is a fiction writer, poet and book reviewer living in Connecticut.