'The Choice: A Novel of Love, Faith, and the Talmud'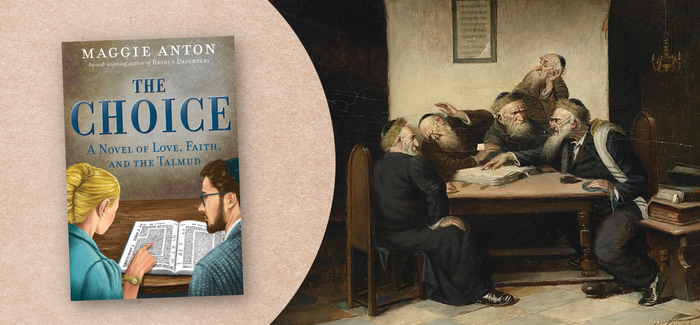 The Choice: A Novel of Love, Faith, and the Talmud
By Maggie Anton (Banot Press)
In rereading two of her favorite Jewish books, Chaim Potok's classic The Chosen, and its sequel, The Promise, acclaimed author Maggie Anton noticed that the women in the text are nameless, silent characters. So for her newest novel, The Choice, she decided not only to create characters based on older versions of Potok's protagonists but also, she explains in the preface to The Choice, to add a female protagonist as a way of giving a voice to the women in the background of Potok's novels.
Set in Brooklyn in 1955, The Choice begins as Columbia University-trained journalist Hannah Eisen interviews Orthodox Talmud scholar and former childhood classmate Rabbi Nathan Mandel, a professor of rabbinics at a Jewish college, for her column in the Yiddish socialist newspaper The Daily Freiheit. She convinces him to teach her Talmud, which is forbidden at that time to women in Orthodox circles. Through secret study sessions, their relationship blossoms. As it grows, their devotion to each other, their communities and their faith is tested.
Early in the book, Hannah champions women's rights in Judaism. "The Sages' arguments against women studying Talmud were merely an excuse," Hannah concludes after one of their study sessions. "It was a matter of power. If women didn't know how halacha was formulated and established, then they couldn't challenge it or change it."
A Talmudic scholar in her own right and author of the award-winning trilogy Rashi's Daughters, Anton wrote The Choice, she writes in the preface, to comment on and criticize "Jewish women's unequal and inferior legal status" in halacha. She wants to expose the many ways the Torah and Talmud have been interpreted unfavorably toward women. Indeed, threaded throughout The Choice are mini-Talmudic lessons on sex, mikveh, candlelighting during Hanukkah and Shabbat and more. With lessons that parallel the events in the book, the Talmud itself becomes a character.
Readers might recognize Nathan Mandel as an adult version of Reuven Malter, the narrator from The Chosen who eventually becomes a rabbi. Nathan's confidant, Benny Stockser, a psychologist treating victims of child sexual abuse in the yeshiva world, is based on Reuven's friend Danny Saunders, whose Hasidic father raised him in near silence.
Anton sets her sprawling saga against the backdrop of real-life events—the McCarthy hearings; Salk's polio vaccine; the Peekskill Riots of 1949 incited by the Ku Klux Klan; the Yankees-Dodgers 1955 World Series.
The drama plays out as Hannah and Nathan contend with their own inner turmoil and conflicts with a host of relatives, colleagues and friends who span the Hasidic, Orthodox, Conservative, Zionist and non-Jewish worlds. Hannah earns her place among the ranks of Anton's female characters who are guiding their communities toward a more sustainable, equitable and less rigid Judaism.
---
Rahel Musleah leads virtual tours of Jewish India and other cultural events and has scheduled her first post-pandemic, in-person tour for November 2022.