Jewish Matchmaking? There's an App For That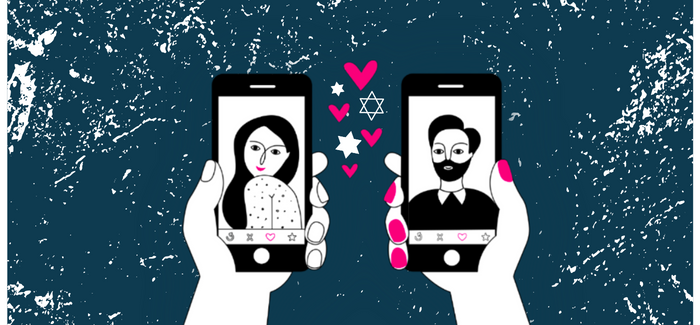 The Talmud says that matchmaking is as difficult for God as the parting of the Red Sea. I beg to differ. Finding my bashert is undoubtedly harder. The reverberating tick from my biological clock is a relentless reminder that, at the ripe old age of 28, I have yet to be fruitful and multiply.
This greatly concerns my mother, who at my age was pregnant with her second child. She desperately wants grandchildren, but not at the cost of a schmuck for a son-in-law.
"Don't go out with people who have substance abuse problems. Don't go out with people who show you that they are selfish and only talk about themselves," my mother, Navah, has warned me. "Don't go out with narcissists, those are the worst people."
Oy, there goes the majority of the New York City dating pool, I thought. As I tuned out my mother's unhelpful advice, I couldn't help but wonder: Why did I elect to go on my Birthright Israel trip with my then-boyfriend when I could have met so many eligible Zionist Jews as a single traveler? What's the point of having three older brothers if they won't set me up with their friends? Why aren't Jewish leaders doing more to find me a boyfriend—I mean, ensure Jewish continuity?
Turns out, I had been too busy crying over undatable duds on the Hinge app to notice the shidduch renaissance that started during the Covid-19 pandemic. From generation to generation, Jews have relied on the tradition of matchmaking to adapt to the ever-changing landscape of dating. Now, two of the newest and buzziest post-social distancing dating apps are going beyond the algorithms of established platforms like Jdate and JSwipe to incorporate a matchmaker component as well as in-person gatherings.
These innovations are coming as matchmakers also are making their mark in popular culture, from a shadchan plotline on Amazon's The Marvelous Mrs. Maisel to the upcoming Jewish Matchmaking reality show on Netflix.
With raunchy stunts like launching a Pickle Vibrator, cleverly dubbed the "dill-do," Lox Club is undoubtedly the hottest Jewish dating app for 20- and 30-something Jews. Self-described as the digital place for Jews with "ridiculously high standards," Lox Club is an exclusive members-only group where singles must apply to join. But one need not be Jewish to join. Indeed, as stated in their online FAQs, "Lox Club is like a deli; it's culturally Jewish, but you don't have to be Jewish to enjoy it."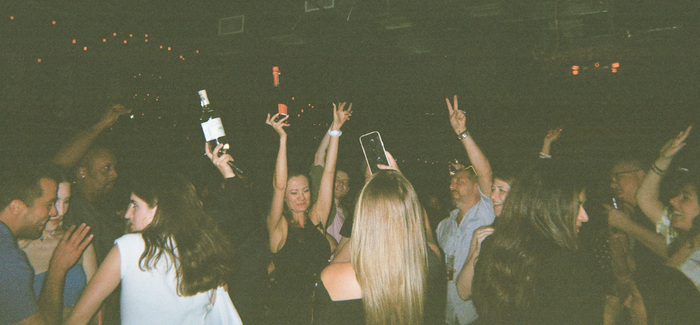 In Lox Club's early days in December 2020, CEO Austin Kevitch gifted me a free membership to the app, which costs $36 for three months. (At the time, I was working as an influencer on Instagram.) Its success rides on a sleek user experience, a matchmaker whom singles can text within the app and a heavy dose of nostalgia. Upon entering the app, users are welcomed into a digital speakeasy with a fictional tale based on Kevitch's belated grandparents.
Above all, Lox Club is known for hosting rowdy in-person events in New York City, Miami, Austin and Los Angeles.
From comedy shows and fitness classes to live podcast events and happy hour mixers, the app for elite Jews has gatherings for everyone. That is, unless you're intimidated by glitzy socialites who look like they'd bully you in high school. Those vain and vapid mean girls who rejected me from the "cool" Jewish sorority at Indiana University, relegating me to Sigma Delta Tau, snidely nicknamed "Slutty Dumpy Trolls." But, I figured, I joined Lox Club to meet eligible guys, not necessarily befriend women.
As for the men, many of the ones I met took great pride in likening themselves to Curb Your Enthusiasm's Larry David, only with better fashion sense. I'll never understand the draw of a materialistic nebbish momma's boy. Where's the sex appeal? Give me a hunk of a mensch like Mel Brooks or Harpo Marx; heck, I'll even take Zero Mostel!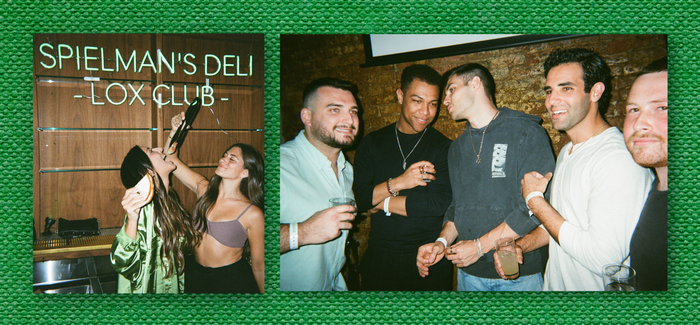 Over the course of several months, and following a handful of unremarkable first dates, I did have a brief fling with a Lox Club suitor. He was handsome and witty and paid for our Friday night dates at Shalom Japan in the Williamsburg section of Brooklyn. Despite his weed dependency, my mom would have approved of his generosity—he spoiled me with trinkets and chocolates—but the relationship was short lived. I broke it off when I learned he was actively anti-Zionist.
I, a cultural Jew and Zioness who was increasingly feeling like a herring out of water, exclusively date Zionists.
If searching for Mr. Right on an app that prioritizes aesthetics over Jewish values isn't your thing, allow me to introduce you to MeetJew, a nonprofit matchmaking service without Lox Club's "ridiculously high standards."
In lieu of an app, the platform operates on Facebook through a handful of groups catering to singles of different cohorts: "MeetJew University Dating" (ages 18 to 26); "MeetJew Post-Grad Dating" (23 to 34); and "MeetJew Professional Dating" (30 and older). Boasting around 60,000 global members, singles are encouraged to post flattering photos with colorful about me blurbs, inviting interested parties to "slide into their DMs" (slang for reaching out).
Touting seven marriages and 36 engagements since launching in 2020, MeetJew co-founders Aaron Raimi and Daniel Ebrahimi are masterful shadchanim. As their Facebook groups exploded, the Los Angeles-based duo drafted an in-depth "MeetJew IQ" questionnaire with prompts like: "Do you consider yourself a Zionist?"; "Do you want to make aliyah?"; "Are you looking for a serious relationship? Yes, no, if the vibe is right, not sure?"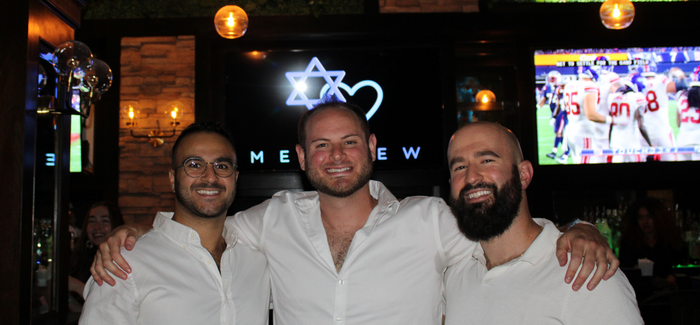 They also enlisted the help of coder Justin Cohen, who met his fiancé through MeetJew, to devise an algorithm that matches participants based on their answers. Now, each week on "Match Monday," Raimi and Ebrahimi personally email members from the various groups with two to three matches. Singles are encouraged to reach out to their possible basherts.
According to Ebrahimi, the criteria that single Jews seem most adamant about is location, location, location. Long distance is a deal breaker because "Jews don't like difficulties or hardships," Ebrahimi asserts, only partly in jest. Above all, he adds, "people just want to meet someone who is Jewish."
And, crucial to me, someone who is a Zionist. MeetJew proudly organizes Yom Ha'atzmaut and Tel Aviv-themed mixers. The founders are committed to "fostering Zionism," Ebrahimi stresses, and doing "everything to support Jews and Israel."
The Facebook groups and the questionnaire are the social dating platform's bread and butter, but like Lox Club, MeetJew hosts house parties as well as events at Instagrammable clubs in Los Angeles, New York City and Boston. As an extrovert weighed down by social anxiety, I find it difficult to approach potential suitors at these types of soirees. MeetJew addresses my timidity by collaborating on a number of their gatherings with FilterOff, a video speed-dating app created by Zach Schleien in 2020.
By arranging speed-dating sessions ahead of some MeetJew events, FilterOff allows nervous nellies like me to ensure that there'll be someone of romantic interest at the party. FilterOff was Schleien's response to the mental health risks posed by Tinder, the popular swipe-right hookup app that celebrated its 10th anniversary in September.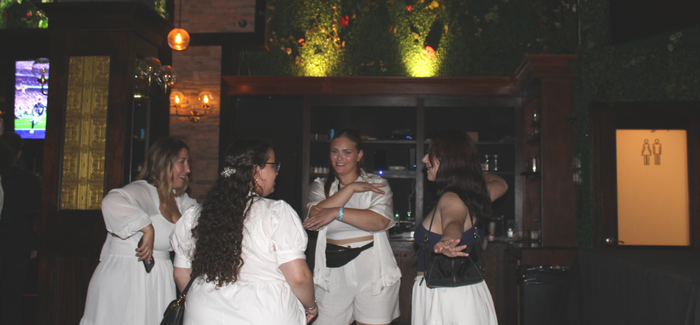 I went to a MeetJew Tu B'Av-themed party in August at The Dean, an elegant bar in Manhattan with walls covered in greenery. I arrived just a minute before the open bar closed and managed to snag a White Claw. I quickly chugged the hard seltzer and joined my new friends on the dance floor, swinging my hips to whatever the DJ was playing three decibels too loud.
Surrounded by Jewesses in white dresses in a nod to the Hebrew calendar's holiday of love, I felt as though we were the daughters of Jerusalem dancing in the vineyards waiting to be plucked by an eligible bachelor. I didn't meet my King David that night, but for the first time since my biological clock began ticking, I felt a wave of reassurance knowing that the matchmaking renaissance was in full swing. Tradition!

---
Arielle Kaplan is the digital editor of Hadassah Magazine. She writes Jewcy Magazine's Hey Bubbela column and has written for Hey Alma, Kveller, The Nosher and JTA. Follow Arielle on Instagram and Twitter.