OneTable Helps Young Jews Celebrate Shabbat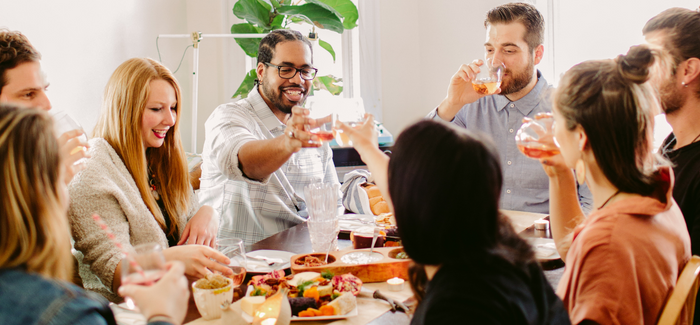 New to Jewish practice and alone on Thanksgiving weekend last year, Stephen Cadoux of Miami signed up with OneTable, an organization that connects 20- and 30-something hosts and guests for homestyle Shabbat dinners.
"Everyone was so kind and understanding, and slowed the prayers down so I could participate," Cadoux, 26, recalls of his "Friendsgiving," the first of many OneTable Shabbats he has attended.
Cadoux is among the 180,000 American Jews who have celebrated Shabbat through the 8-year-old organization, which now sponsors dinners in more than 470 cities. OneTable began as a joint project of the Paul E. Singer Foundation and the Steinhardt Foundation for Jewish Life to foster community and low-pressure engagement among Jews who often have yet to put down family and communal roots.
Slightly more than half of OneTable participants are single, a plurality is secular and a quarter identify as non-white—reflecting, said spokeswoman Eva Laporte, its appeal to "people who may not have had access to a formal Jewish community." She credits the program's peer-to-peer digital platform, which OneTable has customized for Hillel and other Jewish organizations, with giving users "agency over creating the community they want," including vaccinated-only gatherings.
OneTable hosts receive reimbursement, known as Nourishment Credits, from the organization based on the number of RSVPs for each dinner. New this fall, hosts of some larger-scale dinners can qualify for increased credits. Meanwhile, guests pick their desired dinner by searching the platform for nearby offerings. On its website, OneTable likens the process to "Airbnb for Shabbat dinners where hosts create online profiles, post their dinners, and invite guests."
While the average dinner size shrunk from 10 to 7 during the pandemic, and some gatherings are still on Zoom, enrollment has skyrocketed as isolated young people have sought to mark time through rituals and to celebrate holidays communally. In Cincinnati, for instance, OneTable Field Ambassador Ari Rubin has organized December Shabbats themed around ugly sweaters as well as "A Rugrats Hanukkah."
But Shabbat remains the core focus.
"That weekly practice elevates through intention," Laporte observed, "and helps people feel connected to each other and to their own Judaism."
---
Hilary Danailova writes about travel, culture, politics and lifestyle for numerous publications.