Family Betrayal and Espionage in 'Ethel's Song'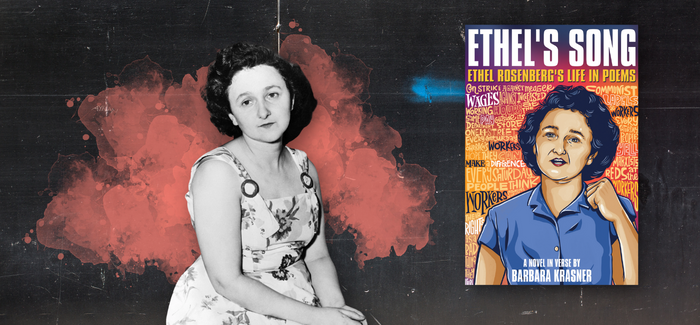 Ethel's Song: Ethel Rosenberg's Life in Poems (A Novel in Verse)
By Barbara Krasner (Calkins Creek)
Ethel's Song by Barbara Krasner opens with the line, "Wash out your baby brother's diapers." This is a portentous beginning for the fictional first-person story based on the life of Ethel Greenglass Rosenberg, from her Lower East Side childhood to her 1953 execution for espionage alongside her husband, Julius Rosenberg. Although the Rosenberg case remains a subject of debate, unearthed documents and further testimony show that Ethel was falsely accused of typing out United States nuclear secrets to be passed to the Soviets. Her beloved younger brother, David Greenglass, known here as Dovey, had lied about her involvement during the trial.
Krasner, who has a master's degree in children's writing and a Ph.D. in Holocaust and genocide studies, has written numerous books for young people, including several in verse. And because Ethel Rosenberg was an accomplished singer, poetry is an apt lyrical form for Krasner to tell her story.
Most of the poems are free verse, although some have more complex forms of repetition and rhyme. A repeated motif throughout is Ethel's Four Questions: "Why does a government allow its people to live in such poverty?/ Why can't we all believe in whatever makes sense to us?/ Why must there be hate in the world?/ Why must there be war?"
Indeed, the young Ethel was a Communist and labor activist even before she met Julius Rosenberg. Recently declassified government records reveal that her husband recruited spies for the Soviet Union—which, Krasner writes, Ethel knew. Julius "compiles documents, drawings, specifications," Ethel says in the book. "He takes them to this Russian man with a code name."
Yet Krasner's Ethel blames her prosecution and conviction on innocent mistakes and the actions of others. Her signature on a Communist Party petition was just "A knock on the door.… I scribble my name." When she tells us that Julius has recruited Dovey "into his network," she adds: "I prefer to stay out of it/ I don't need a code name other than Mommy." When Julius and she are accused of passing atomic secrets, she insists they had no knowledge of Dovey's wartime work on the Manhattan Project.
Krasner's collection is extensively researched and packed with fascinating details, yet it feels a bit problematic: How are young readers, perhaps encountering the Rosenbergs for the first time, to know which parts of the story are truth and which are conjecture? This "novel in verse" is explicit that Ethel was a Communist, not a spy. But the historical record is still controversial, despite general agreement that neither Rosenberg deserved execution.
In addition, although all the characters in this tragic American story are Jewish—the accused, lawyers, witnesses and judge—Krasner makes little mention of either Judaism or antisemitism. Ethel says Kaddish over postwar reports of Jewish corpses at Bergen-Belsen, but her commitment to helping the Soviets during the war is about fighting fascism, not protecting Jews. Nevertheless, Krasner presents Hitler as a prime determinant of Ethel's choices.
"How could helping/ the Soviet Union/ defeat Hitler," Ethel asks, "make us the bad guys?"
---
Elizabeth Edelglass is a fiction writer, poet and book reviewer living in Connecticut.