Review: 'The Incandescent Threads'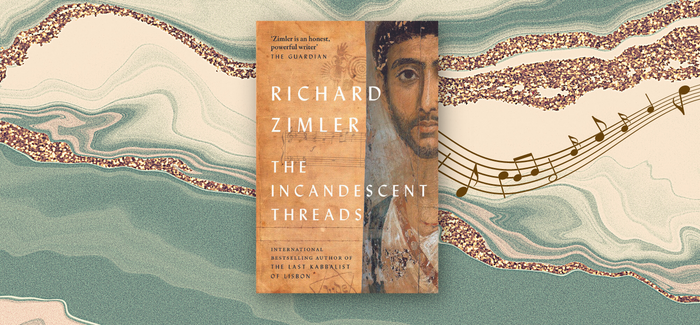 The Incandescent Threads
By Richard Zimler (Parthian Books)
The latest in Richard Zimler's Sephardic Cycle—a series of novels that explore the lives of an extended Portuguese Jewish family across several centuries—The Incandescent Threads interweaves history and mysticism, ghosts and lovers, tragedy and transcendence. Readers already familiar with Zimler's exceptional gift for multigenerational storytelling will find this work among his best; those new to his work will surely want to make up for what they have been missing. The textured themes of exile, secrecy, mysticism, resilience and illumination echo in each of the volumes, making Zimler one of our most important and essential modern Jewish writers.
The American-born author, who has been living in Portugal for more than three decades, brings intricate depth to the members of his imagined Zarco family, who endure epic losses as well as sensational metamorphoses. In The Incandescent Threads, Benjamin "Benni" Zarco and his cousin Shelly are the only two members of their family to survive the Holocaust, and each man struggles with a variation of survivor guilt—from deliberately suppressing the past to fiercely engaging in sexual freedoms.
The six sections of the book are nonlinear and told through multiple narrators who are an array of Benni and Shelly's friends and relatives. They recount the cousins' move from a Poland decimated by World War II to contemporary New York City and Boston. The novel's core questions explore what it means to be haunted as well as healed by our ancestors.
Neuroscientists are confirming what many already know from astute self-awareness—that catastrophic experiences shape not only those who live through them, but also their descendants. Zimler's characters reveal this truth in their own epiphanies.
"While holding the receiver in my hands, listening to the dial tone, I continued counting," thinks Benni's son, Eti, of the silence on the phone after he comes out to his father. "I pictured my future self, looking back at this moment, and remembering that it was precisely at the count of twelve that I'd learned that I was separate from everything in the world, but most especially from my father."
Page by lyrical page, Zimler offers insight into the costs of untold suffering alongside the rewards of passionate love. Shimmering through every scene is an understanding of human capacities for profound sorrow as well as stubborn hope.
---
Elizabeth Rosner is the author of five books, most recently, Survivor Cafe: The Legacy of Trauma and the Labyrinth of Memory. Her debut novel, The Speed of Light, won Hadassah Magazine's Ribalow Prize in 2002.