'Tomorrow, and Tomorrow, and Tomorrow'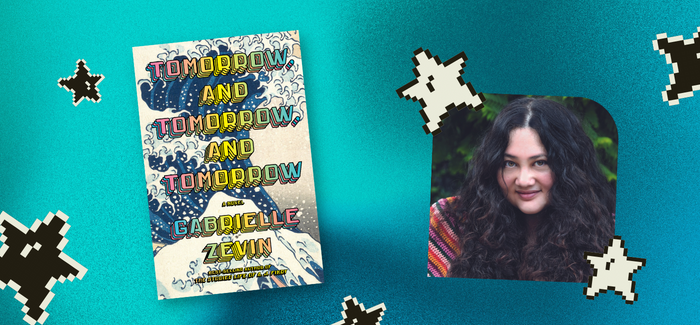 Tomorrow, and Tomorrow, and Tomorrow By Gabrielle Zevin (Knopf)
This eminently readable and engaging novel centers on Sadie Green and Samson "Sam" Masur, two smart Jewish kids from Los Angeles. (Sam is biracial, with one Jewish parent and one Korean.) After falling out of friendship as teenagers over an ethical breach, the pair meet again as university students in Cambridge, Mass.—Sadie at MIT, Sam at Harvard—and launch, with Sam's college roommate, Marx Watanabe, a highly successful video gaming company. The novel follows 30 years of their intersecting lives and friendship.
Those who worry that Tomorrow, and Tomorrow, and Tomorrow will become mired in the geeky complexities of gaming or alternate universes will soon find their concerns unfounded. Though author Gabrielle Zevin, who mines her own mixed Jewish and Korean background for the character of Sam, is an avid gamer, she is far more interested in exploring questions of friendship than video games: What brings people together to form an enduring bond? What prevents them from crossing the divide from platonic to romantic? How do friends retain a warm connection when they work together professionally? Through rich, sharp character portraits, the New York Times best-selling novel deftly examines how friends compete with each other, hurt each other, withdraw from each other and, ultimately, provide tender loving care for each other.
---
Tomorrow, and Tomorrow, and Tomorrow is Hadassah Magazine's One Book One Hadassah book club pick for February. Join us on Thursday, February 16 at 7 PM ET/4 PM ET, as Executive Editor Lisa Hostein interviews author Gabrielle Zevin about her New York Times best-selling novel. This event is free and open to all. Register here.
---
Along the way, Zevin floats interesting ideas about intersectional identities, living with disabilities and the strictures placed on friendships. Early on, for instance, Sadie's grandmother, Freda, a Holocaust survivor, pointedly says, "Friendship is friendship, and charity is charity…. You know very well that I was in Germany as a child…[and] I can tell you that the people who give you charity are never your friends. It is not possible to receive charity from a friend."
Throughout, the author makes a game of literary references—the book's title is one of Macbeth's famous soliloquys—and peppers her prose with allusions to Greek mythology and Emily Dickinson, among others. She also has fun with puns and names. Why, for example, does Sam change his surname from Masur to Mazer?
Parsing the plentiful meanings behind characters' names is just one of the many pleasures readers will enjoy in this beautifully written, complex and meaningful novel.
---
Robert Nagler Miller writes frequently about the arts, literature and Jewish themes from his home near New York City.